I always hate trying to come up with interesting information to put in biographies like this. Where do I start? How much information should I put here? Will I bored people because my life really isn't that exciting?
The last time I had to put together a job resume, I actually turned to the page about me on Wikipedia.org. I'm not sure who put all that information on that page, but it's pretty damn accurate. At one point, the page included my full name, the name I was given at birth, where I was born, etc. Since that time it has been modified to just show my work experience (I'm not sure who made those edits either). I would have had to do some serious digging to come up with all those dates of previous jobs. A big THANK YOU to whomever it was that took the time to input all that info — and keep it updated for the most part. There is new information that needs to be added, but the "page last modified" time stamp says August 17, 2018, so something must have been changed or added fairly recently.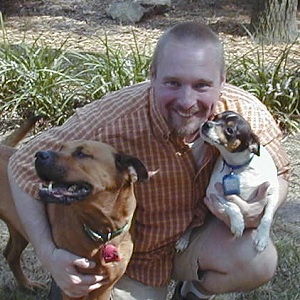 People always ask about my personal life… once again it's pretty boring, but I'm enjoying life. I live in northern Kent County on 10 wooded acres with my dog Moose. (My other dog, Scooby, passed away in October 2018.) I'm happily single and probably will be the rest of my life, but I'm not complaining.
After 30 years, you can still find me on the radio! I'm on 98,7 WFGR in Grand Rapids weekdays from 3-8 pm and on Saturday from 2-6 pm. From time to time you will hear me filling in for JoJo Girard on the morning show and occasionally radio legend Andy Rent on 100.5 The River.
My full time job now days is Real Estate. Selling homes was something I had always thought about doing, so back in 2014 I decided it was time to get my license and give it a shot. I love working with people and helping them buy and/or sell their home. It's very rewarding when you are sitting at a closing and a buyer gets the keys to their new home…and you know that you were part of that experience for them! If you (or someone you know) are considering a move, please let me know. I can also assist with moving into, or out of the area when it comes to relocation. My real estate email is scottwinters@grar.com.
In 2016, I decided to pursue some other things I've wanted to do, but never had the time. In the spring I took the National Weather Service Weather Spotter Training. So now I'm a certified "Weather Spotter"! (am I a weather geek or what?!). I also took the class to become a Certified Tourism Ambassador in Grand Rapids. Having grown up and worked in the area all these years, I figured I might as well be certified to share that information with others from time to time.
In 2017, I became a member of the Board of Directors with Paws With A Cause. I have worked with this organization for many years. Their goal is to enhance the independence and quality of life for people with disabilities nationally through custom-trained Assistance Dogs. Currently they are serving over 400 client-dog teams in 34 states!
Thanks for stopping by! Be sure to bookmark my blog and stop back again soon!
If you have a certain issue or topic that you would like me to consider addressing on my blog, please send me a message by clicking the link at the bottom of the page.