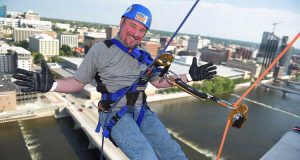 I always hate trying to come up with interesting information to put in biographies like this. Where do I start? How much information should I put here? Will I bore people because my life really isn't that exciting?
People always ask about my personal life… once again it's pretty boring, but I'm enjoying life. I live in northern Kent County on 10 wooded acres. I'm happily single and probably will be the rest of my life — but I'm not complaining.
After 33 years, you can still find me on the radio! I'm on 98,7 WFGR in Grand Rapids weekdays from 3-7 pm, Saturday from 10 am-3 pm, and on Sunday from 12 Noon-3 pm. From time to time you may also hear me filling in for JoJo Girard on the WFGR morning show and occasionally radio legend Andy Rent on 100.5 The River.
I even have a Wikipedia page! The last time I had to put together a job resume, I actually turned to the page about me on Wikipedia.org. I'm not sure who put all that information on that page, but it's pretty damn accurate. At one point, the page included my full name, the name I was given at birth, where I was born, etc. Since that time it has been modified to just show my work experience (I'm not sure who made those edits either). I would have had to do some serious digging to come up with all those dates of previous jobs. A big THANK YOU to whomever it was that took the time to input all that info — and keep it updated for the most part.
Thanks for stopping by! Be sure to bookmark my blog and stop back again soon!
If you have a certain issue or topic that you would like me to consider addressing on my blog, please send me a message by clicking the link at the bottom of the page.