Friday, July 7th, 2017 was a sad day for me. I said goodbye to a 4-wheeled friend…my 2002 Toyota Celica.
Back in 2002, I decided it was time for a new car. I wanted something smaller than the SUV's I had been driving, and just wanted a nice looking, fun, economical car. I searched just about every car lot in Grand Rapids and just couldn't find a car that I liked, or that fell within the price range of what I wanted to spend.
Finally, one evening, I happened to drive through the lot of the Toyota dealer on Plainfield. It was Kool Toyota. They were still in their previous location, just past the old North Kent Mall. There, on the lot, was this little silver car that grabbed my attention. I fell in love with it immediately! I had just about given up hope of finding anything until my eyes saw the Celica.
I happened to mention this on the air, while doing mornings on WGRD and shortly afterwards I received a call from Steve Galloway at Kool. After talking to him for a few minutes, I decided I needed to go and test drive this little automobile…and I did. And at that point the deal was just about sealed!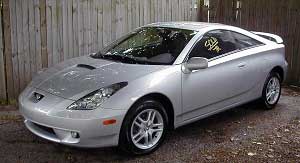 Sure enough, within a few days I was driving my new car off the lot. It wasn't long and friends and family started referring to the car as "The Silver Bullet", and the name stuck.
That automobile has been a GREAT car for me. It never needed any major repairs. It still had the original exhaust system, waterpump, radiator, wheel bearings, ball joints, timing chain and more. The only money I had to put into that car was maintenance items like belts, hoses, oil changes and tires. The "Silver Bullet" served me well over the years.
In April of 2017, the odometer hit 333,334 miles…one third of a million miles. I knew that my time driving the Celica was coming to an end. I had goals of maybe hitting 350,000 miles.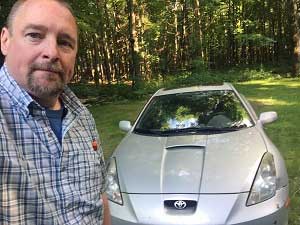 On July 4th, 2017, while driving down the freeway, the little Celica hiccuped and started losing power. I'm not a mechanic by any means, but I think perhaps the timing chain slipped. It ran very rough from idle to about 35 mph. Then it wasn't too bad from 35-50 mph. And 50-55 mph was about the maximum speed you were going to get out of it. The time had come to make the decision…repair or replace.
Engine work is never cheap and the car really owed me nothing. Even though I was shy of my 350,000 mile dream goal before retiring the car,..the time had come.
On Friday night, July 7th, I drove the chugging car to the car lot for it to be hauled away for salvage. How does a person get so attached to a car? it was kind of a sad time as I knew it would be the last time I would drive the car, or even see it for that matter. I spent a lot of time in that car going a lot of places.  Even if I averaged 55 mph while driving that car, that meant I spent about 6,218 hours behind the wheel of the "Silver Bullet". And I put every mile on that car with the exception of maybe 10 miles. It made numerous trips to Florida, St. Louis, the northeast, Route 66, all over the roads of Michigan, Cedar Point, New Orleans and too many other places to mention.
When I dropped the car off, the final mileage was 342,042! The circumference of the Earth at the equator is about 24,874 miles. That means I drove that car the equivalent of 13¾ miles around the world! If there were a road to the moon I could have made it to the moon and about half way back home to Earth. The perimeter of the United States (minus Alaska and Hawaii) is 8,878. I could have circled the U.S. 38½ times!
I'll miss that car. I spent 15 years of my life driving it. Goodbye my 4-wheeled friend. You may be gone, but certainly never forgotten.
And yes, I did buy a new car…another silver Toyota — from Steve Galloway, who is still at Kool Toyota 15 years later!