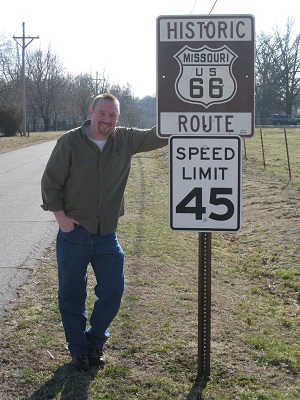 Out with the old, and in the with new. That's exactly what happened on June 27, 1985 when Route 66 was officially removed from the United States Highway System. In it's place…Interstate highways.
Over the years I have traveled a lot of the interstates and highways in the United States. Those roads have led me to a variety of destinations in different locations around the country. It was Route 66 that was probably the most memorable for me.
About 15 years ago, I decided that I would include "Driving ALL of the old Route 66" on my bucket list. This route was originally established in 1926, and was at one time a very popular route from Chicago, IL to Los Angeles, CA. I even remember my grandparents talking of driving parts of Route 66 during their vacations so many years ago.
In March of 2008 I was able to at least start my goal of traveling all of Route 66. I started the first part of my journey in St. Louis, MO and headed southeast on the old Route 66.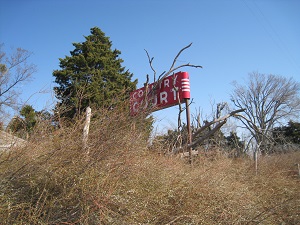 I'm kind of a weirdo when it comes to nostalgia. It was fun to drive along the old two lane roads and think about what it would have been like decades earlier. So many of the hotels, restaurants and tourist attractions along the way had been re-purposed into some other business, or in some cases, just abandoned all together.
Before starting the trip I had purchased several books to plan the route. You'd think it would be simple to just look for the signs and travel the old highway, but that was not the case. Not all of the old roads are marked. In some cases there is actually some debate over just which road may have been Route 66. A sizable portion of the old "Route 66" runs along the Interstates as a service road. You often find yourself driving along one side of the interstate and then crossing to the other side for a mile or two and then back again.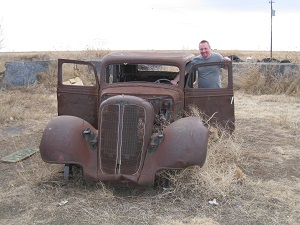 Along the way you would see some of the old bridges, abandoned vehicles, drive ins (some still in use), and some tourist attractions that at one point were popular places to visit while families were on vacation. There is a leaning water tower that was actually build with a tilt just to grab the attention of people driving by. Swimming holes that became family tourist attractions like the Blue Whale in Catoosa, Oklahoma.
You will find numerous museums along the way too. I stopped at a couple of "Route 66" museums. There is also a "Barbed Wire" museum, or "devil's rope" museum in McLean, Texas. (Yes I stopped by it was closed the day I was there).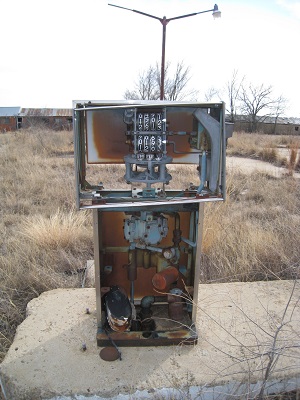 In El Paso, Texas, you will find the Cadillac Ranch. A farmer took old Cadillac automobiles and planted them into his pasture. The cars still remain and are surrounded by cows wandering around. You have to actually walk into the pasture to get up close to the cars. When you get up close you will notice the Caddies are covered in graffiti. Numerous spray paint cans can be found alongside the cars. You are actually encouraged you to add to the "artwork" on the cars. The cows enjoy watching you as well!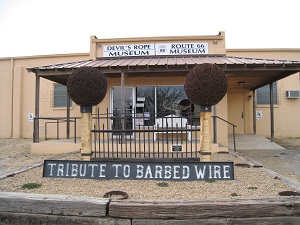 There is also the Big Texan Restaurant. This restaurant has been featured on many different travel TV shows. They have a 72 ounce steak on their menu.  If you can eat the steak and all the other items that comes with it (Shrimp Cocktail, Baked Potato, Salad, with Roll, Butter) in under 1 hours time (while sitting on stage with a clock next to you), the meal is free. No, I didn't even consider trying this as an option for my evening meal.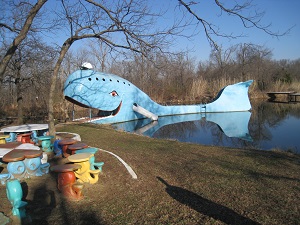 I only made it from St. Louis to El Paso on the first stretch of my Route 66 journey. A year later I did the portion from St. Louis northward to Springfield, IL. Some day I hope to complete the first section from Chicago, IL down to Springfield and then complete the last leg from El Paso to Los Angeles, CA.
Have you ever traveled any "Route 66"? I would love to hear your stories. Please leave comments below.
For more information on the various places mentioned in this post, please click on the links that will take you to websites for more details.