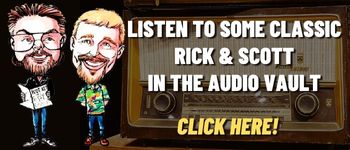 A quick look at Today in History, check out some Celebrity Birthdays, and find out what Days of the Year to celebrate.
TODAY IN HISTORY:
1862 – National cemeteries were authorized by the U.S. government.
1866 – Authorization was given to build a tunnel beneath the Chicago River. It was a three-year project that cost $512,709.
1867 – The first dental school in the United States was established. It was the Harvard School of Dental Medicine in Boston, MA.
1941 – The longest hitting streak in baseball history ended. Cleveland Indians pitchers held New York Yankee Joe DiMaggio hitless for the first time in 57 games.
1950 – The television show "The Colgate Comedy Hour" debuted. It featured Dean Martin and Jerry Lewis.
1955 – Disneyland was dedicated and opened by Walt Disney in Anaheim, CA.
1975 – An Apollo spaceship docked with a Soyuz spacecraft in orbit. It was the first link up between the U.S. and Soviet Union.
1984 – The national drinking age in the U.S. was changed from 18 to 21 years of age.
1987 – The movie "Robocop" premiered in theaters.
1989 – The first flight of the B-2 Spirit Stealth Bomber.
1992 – The movie "Honey, I Blew Up the Kid" premiered in theaters.
1995 – The Nasdaq composite stock index rose above 1,000 for the first time.
1996 – TWA Flight 800, a Paris-bound Boeing 747, exploded and crashed off Long Island, NY, killing all 230 people aboard.
1996 – Shaquille O'Neal starred as a 5,000 year old genie when the movie "Kazaam" premiered in theaters.
1997 – After 117 years, the Woolworth Corp. closed the last of its 400 stores.
1998 – An entire village was swept away in Papua, New Guinea by a 23-foot wave that was triggered by an undersea earthquake. Eight days later, reports list 3,183 dead, 2,000 were missing, and thousands were homeless.
2001 – The Concorde was brought back into service nearly a year after a July 2000 crash. It ended operations completely on October 24, 2003.
2007 – Atlanta Falcons' quarterback Michael Vick and three other men were indicted by a federal grand jury for their roles in a dog-fighting ring.
2018 – Scott S. Sheppard announced that his team had discovered a dozen irregular moons of Jupiter.
2022 – Lt. Amanda Lee was named the first woman to serve as a demonstration pilot for the Blue Angels.
BIRTHDAYS:
Donald Sutherland – 88 years old (1935) – Actor ("M*A*S*H", "Ordinary People", "Space Cowboys")
Camilla Parker-Bowles – 76 years old (1947) – Duchess of Cornwall, second wife of Britain's Prince Charles
Geezer Butler – 74 years old (1949) – Bassist (Black Sabbath)
Lucie Arnaz – 72 years old (1951) – Actress ("The Jazz Singer", "Second Thoughts", TV's "Lucie Arnaz Show")
David Hasselhoff – 71 years old (1952) – Actor, singer (TV's "Knight Rider," "Baywatch", "The Young and the Restless", judge on "America's Got Talent")
Mark Burnett – 63 years old (1960) – Reality TV producer (TV's "The Voice", "Survivor", "The Apprentice", "Are You Smarter Than a Fifth Grader?")
TODAY IS:
National Get Out of the Dog House Day
National Wrong Way Corrigan Day
World Day for International Justice
For additional information check out websites like: www.on-this-day.com, www.born-today.com, www.famousbirthdays.com, www.daysoftheyear.com, and www.nationaldaycalendar.com.