If you lived in west Michigan in 1978 and someone mentioned the name "Big Sid" — you knew exactly what they were talking about.
For those of  you who weren't around, here's the story.
"Big Sid" was a 7 year old, 16 foot python (some articles said 20 foot), who weighed 140 pounds. He  just happened to spend about a month loose in the Standale, MI, area during the summer of 1978. He was part of the Wonderful World Circus and was one of the star attractions. The clever serpent escaped from his plywood and rope cage…and slithered away into the woods on June 23rd, 1978.
People from the area searched for weeks looking for the elusive "Big Sid". Several businesses took advantage of the added publicity to the area. LaVeen's Department Store created "Standale: Home of Big Sid" t-shirts that sold like hotcakes. Other merchants named pizza or donuts after the snake.
Finally on July 24th, 1978, Steve Rapolevich, and his wife Patty, were bicycling on Maynard Avenue around 7:30 pm on that summery Monday night. As they biked along, they spotted "Big Sid".  Steve got off his bike and grabbed the tail of the snake. He tried to hold on while his wife called the Police. It took six men to hold Big Sid. As they were trying to capture and contain the snake, about 500 people gathered to watch. "Bid Sid" had been captured!
Sid's owner, Kenneth Heller, was thankful for all of the help he received from Standale residents during his search. After the snake's capture, Heller agreed to exhibit the snake as part of the Standale "Sid-walk" Sale that year.
The month of freedom took it's toll on "Sid". When he was captured he weighed only 70 pounds. In the month or so he had been on the loose, he lost about half of his body weigh. Overall he was in pretty good health.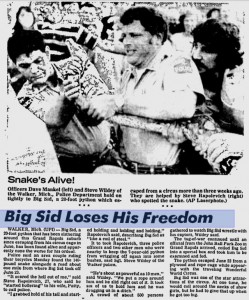 The day after Sid's capture there were stories in newspapers across the country, including the Nashua Telegraph (New Hampshire) and the Spokane Daily Chronicle (Washington). (Click on the newspaper clippings to see them full size)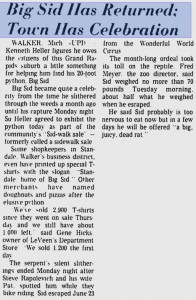 A few years ago, mlive.com did a story on "Big Sid". They also have a photo gallery of some of the photos from 1978. Here is the link to that story and photographs.
One thing I've noticed over the years when talking to people about this story…it seems that everyone has a relative that helped capture "Big Sid". "My mother…", "It was my uncle…", "Big Sid was captured by my grandfather…".
Do you remember "Big Sid"? Did you help capture him? Please leave a reply by hitting the "submit comment" button below!
Photo Credit: Tigerpython