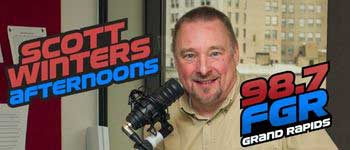 A quick look at Today in History, check out some Celebrity Birthdays, and find out what Days of the Year to celebrate.
TODAY IN HISTORY:
1701 – Detroit, MI was founded by Antoine Cadillic.
1847 – Richard M. Hoe patented the rotary-type printing press.
1880 – The first electric light was used in Grand Rapids, MI. The power was generated by water at the Grand Rapids Electric Light and Power Company. The light fixtures were leased on an annual basis for a cost of $120 per year.
1915 – The passenger ship the S.S. Eastland capsized while it was tied to a dock in the Chicago River. A total of 844 passengers and crew were killed. It was the largest loss of life disaster from a single shipwreck on the Great Lakes.
1935 – The Dust Bowl heat waves reached their peak, sending temperatures to 109 degrees in Chicago, IL and 104 degrees in Milwaukee, MI.
1938 – Instant coffee was invented.
1950 – Cape Canaveral Air Force Station began operations with the launch of a Bumper rocket.
1956 – Dean Martin and Jerry Lewis called it quits as a comedy team. Their partnership began on July 25, 1946.
1969 – The Apollo 11 astronauts splashed down in the Pacific Ocean.
1971 – WUHQ TV-41 in Battle Creek, MI signed on for the first time.
1974 – The Supreme Court unanimously ruled that President Richard Nixon did not have the authority to withhold subpoenaed White House tapes, and they ordered him to surrender the tapes to the Watergate special prosecutor.
1978 – Escaped 16 ft. python "Big Sid" was captured in Standale, MI. He had escaped his playwood and rope cage on June23rd. Read more about "Big Sid" here.
1983 – George Brett, in a game with the Kansas City Royals against the New York Yankees, had a game winning home run nullified because of pine tar.
1985 – Walt Disney released their 25th full-length cartoon called "The Black Cauldron."
1987 – At the age of 91 years old, American climber Hulda Crooks reached the peak of Mt. Fuji to become the oldest woman to climb Japan's highest peak. (She passed way in 1997 at the age of 101.)
1988 – The first West Michigan Grand Prix took place on the streets of downtown Grand Rapids, MI. The event was approved for three years, but only lasted two because of difficulties finding a main sponsor for the third year.
1998 – Russell Eugene Weston, Jr., burst into the U.S. Capitol and opened fire killing two police officers. He was later ruled to be incompetent to stand trial.
1998 – The movie "Saving Private Ryan", starring Tom Hanks, debuted in theaters.
2014 – Air Algérie Flight 5017 lost contact with air traffic controllers 50 minutes after takeoff. It was travelling between Ouagadougou, Burkina Faso and Algiers. The wreckage was later found in Mali. All 116 people onboard were killed.
BIRTHDAYS:
Ruth Buzzi – 86 years old (1936) – Actress-comedian (TV's "Rowan and Martin's Laugh-In")
Robert Hays – 75 years old (1947) – Actor ("Airplane!", "Homeward Bound")
Michael Richards – 73 years old (1949) – Actor, comedian (TV's "Fridays", "Seinfeld")
Lynda Carter – 71 years old (1951) – Actress (TV's "Wonder Woman")
Kristin Chenoweth – 54 years old (1968) – Actress, singer ("The Pink Panther", "Bewitched", TV's "The West Wing")
Laura Leighton – 54 years old (1968) – Actress (TV's "Melrose Place")
Jennifer Lopez – 53 years old (1969) – Singer, actress ("The Back-Up Plan", "Monster-in-Law", "Shall We Dance", "The Wedding Planner", "Selena", judge on TV's "American Idol")
Rose Byrne – 43 years old (1979) – Actress ("Annie", "X-Men: First Class and Apocalypse", "Bridesmaids", "Star Wars: Episode II – Attack of the Clones", TV's "Damages")
Anna Paquin – 40 years old (1982) – Actress ("The Piano", "X-Men" movies, TV's "True Blood")
Bindi Irwin – 24 years old (1998) – Daughter of the late Australian "Crocodile Hunter" Steve Irwin
TODAY IS:
For additional information check out websites like: www.on-this-day.com, www.born-today.com, www.famousbirthdays.com, www.daysoftheyear.com, and www.nationaldaycalendar.com.