Saturday, May 6th, 2023 is World Naked Gardening Day!
According to the World Naked Gardening Day organization, people across the globe are encouraged, on this day, to tend their portion of the world's garden unclothed as nature intended.
Why garden naked?
According to WNGD: "First of all, it's fun! Second only to swimming, gardening is at the top of the list of family-friendly activities people are most ready to consider doing nude. Moreover, our culture needs to move toward a healthy sense of both body acceptance and our relation to the natural environment. Gardening naked is not only a simple joy, it reminds us–even if only for those few sun-kissed minutes — that we can be honest with who we are as humans and as part of this planet."
Now I can understand swimming in the buff being at the top of the "things to do naked" list, but I would have never figured "gardening" would be second. I'm hoping that "frying bacon" is nowhere on that list!
I live in the middle of 10 wooded acres. No one would see me if I were out in my lawn, doing my yardwork — naked. So in 2017, I decided I would give it a try! I never want to be that person that grows too old to try new things.
With temperatures in the mid-50's, Mother Nature wasn't fully cooperating. The wind was blowing — but at least the sun was shining. OK, maybe for just a quick minute…
But then I began to think about what my "gardening" activities would be. I certainly was not going to mow my lawn nude. I've been hit with flying pebbles and dirt while clothed — and it hurt — I was not going to try that naked. How about digging up the garden — have you ever tried to step on a shovel with a barefoot? I've also seen and heard way too many stories about people who have sliced up their feet or legs with a weed whacker — so that was checked off the list as well. I was running out of activities. It basically came down to either picking up sticks in the yard or applying weed & feed — and even then I wasn't sure about the herbicides and nakedness.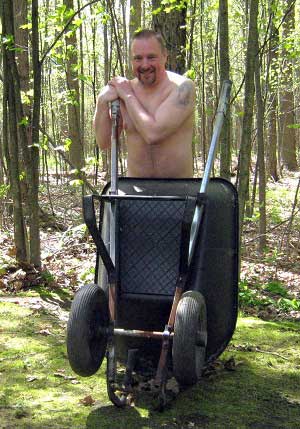 So I ventured outside with the camera with it's self timer and the tripod so I could at least get a picture or two. I got the wheelbarrow to put the sticks in and posed for my first picture.
After just a few minutes of being without clothing I decided that the weather was just not nice enough for my participation in World Naked Gardening Day in 2017. A forecast of sunny and 80 would be ideal. Maybe it should be rescheduled until sometime in July or August…then I would definitely give it another try.
Oh, and I did end up picking up the yard and applying weed and feed…but I took a few minutes to get dressed before doing it.