"Random Thoughts" for Tuesday, July 14th, 2020
Let's jump right into it today…Here are my Random Thoughts" for Tuesday…
EMERGENCY ALERT TO TELL US TO WEAR A MASK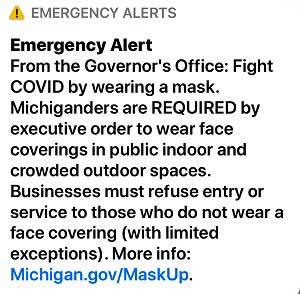 Most people received an emergency alert on their smartphone on Monday afternoon telling us to wear a mask.
We've been hearing about this Executive Order from Governor Gretchen Whitmer for almost a week. Was it really necessary to send out an emergency message to remind us?
As a child I remember being told the story about the boy that cried "wolf" too many times. How eventually people stopped listening to him. Then, when there really was a wolf, nobody listened to him. I don't want the same thing to happen with these emergency alerts.  If used properly they are a good thing to receive on our phones. If we start getting them too often they are going to lose their importance. Some people may even find a way to deactivate the messages.
I get it…wear a mask in public, but don't send out non-emergency messages on my phone. Thank you!
CELEBRITY DEATH
If you were a big fan of the TV show "Myth Busters" like I am, you will know this person…
Grant Imahara, who was a big part of the "MythBusters" team, has died from a brain aneurysm at the age of only 49.
Grant was a trained roboticist who joined the show in its third season. He left in 2014, but later reunited with co-hosts Tory Belleci and Kari Byron for the short-lived Netflix series, "White Rabbit Project."
Before becoming a TV star, Grant worked behind the scenes for 9 years at LucasFilm. He cranked out inventions for the THX and Industrial Light and Magic divisions that showed up in some of the biggest sci-fi films of all time.
KALAMAZOO AIR-ZOO RE-OPENS
If you are a big plane, space, and history buff like I am — make sure you plan a visit to the Kalamazoo Air Zoo.
They re-opened their doors on Monday. Of course there are many changes and safety precautions now in place to keep everyone safe from the coronavirus.
It's only about an hour drive from Grand Rapids down to the Air Zoo. It's definitely worth checking out.
Read more about the re-opening here.
TODAY IS…
Today is National Nude Day.
The observance offers a way to keep cool on a hot, sticky summer day. Nudist groups around the world celebrate this holiday and take it quite seriously, too!
Did you know that Benjamin Franklin would reportedly take air baths by the open window of his room allowing the fresh air to drift around his birthday suit?
I have given Naked Gardening Day (in May) a try. Read more about that experience here.
Go ahead…give it a try. You know you want to!
A LOOK BACK
On this date in 1975, Disney announced plans for Epcot Center in Orlando, FL.
What was supposed to be a look into the future is now 45 years in our past!
Find out what else has happened on July 14th.
WRAPPING UP
Have a TREMENDOUS Tuesday! I will be on the air this afternoon — local and live — from 3-7 pm on 98.7 WFGR! I'll talk to you then!
If you have any comments on the above stories, please leave your remarks below…