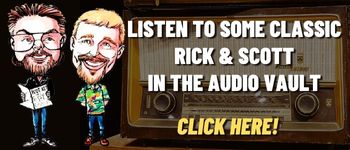 A quick look at Today in History, check out some Celebrity Birthdays, and find out what Days of the Year to celebrate.
TODAY IN HISTORY:
1782 – Washington, NC, was incorporated as the first town to be named for George Washington.
1796 – The first elephant to arrive in the United States came from Bengal, India.
1808 – William "Juda" Henry Lane perfected the tap dance.
1860 – The first mail was delivered via Pony Express when a westbound rider arrived in Sacremento, CA from St. Joseph, MO.
1861 – After 34 hours of bombardment, the Union-held Fort Sumter surrendered to Confederates.
1870 – The Metropolitan Museum of Art was founded in New York, NY.
1902 – James C. Penney opened his first store in Kemmerer, WY.
1916 – The first hybrid, seed corn was purchased for 15 cents a bushel by Samuel Ramsay.
1933 – The first flight over Mount Everest was completed by Lord Clydesdale.
1941 – It was a warm spring day in Michigan. Temperatures reached the 80s across lower Michigan. Record highs were set in Detroit (at 87°) and Lansing (at 82°). Grand Rapids set a record high temperature when the thermometer hit 80°.
1942 – A German U-Boat was sunk off the coast of North Carolina.
1943 – President Franklin D. Roosevelt dedicated the Jefferson Memorial in Washington, DC, on the 200th anniversary of President Thomas Jefferson's birth.
1949 – Philip S. Hench and associates announced that cortizone was an effective treatment for rheumatoid arthritis.
1954 – Baseball player Hank Aaron debuted with the Milwaukee Braves.
1954 – Ernie Harwell made his debut as the announcer for the Detroit Tigers at Briggs Stadium in Detroit, MI.
1960 – The first navigational satellite, Transit 1-B, was launched into Earth's orbit.
1962 – In the U.S., major steel companies rescinded announced price increases. The John F. Kennedy administration had been applying pressure against the price increases.
1963 – Baseball player Pete Rose, of the Cincinnati Reds, got his first hit in the major leagues.
1964 – Sidney Poitier became the first black actor to win an Oscar for Best Actor. It was for his role in the movie "Lilies of the Field."
1970 – An oxygen tank aboard Apollo 13 exploded, putting the crew in great danger and causing major damage to the spacecraft while en route to the Moon. The explosion prevented a planned Moon landing.
1972 – The first player strike in the history of major league baseball ended. Players had walked off the field 13 days earlier.
1974 – Western Union, in cooperation with NASA and Hughes Aircraft, launched the United States' first commercial geosynchronous communications satellite, Westar 1.
1976 – The U.S. Treasury Department reintroduced the two-dollar bill as a Federal Reserve Note on Thomas Jefferson's 233rd birthday as part of the U.S. Bicentennial celebration.
1979 – The world's longest doubles ping-pong match ended after 101 hours.
1981 – Washington Post reporter Janet Cooke received a Pulitzer Prize for her feature about an 8-year-old heroin addict named "Jimmy." Cooke relinquished the prize two days later after admitting she had fabricated the story.
1985 – The single "We Are the World" hit #1 in the U.S.
1985 – "The Grand Ole Opry" debuted on television.
1992 – The Great Chicago Flood devastated much of central Chicago, IL.
1997 – Tiger Woods became the youngest person to win the Masters Tournament at the age of 21. He also set a record when he finished at 18 under par.
1998 – NationsBank and BankAmerica announced a $62.5 billion merger, creating the country's first coast-to-coast bank.
1998 – Dolly, the world's first cloned sheep, gave natural birth to a healthy baby lamb.
1998 – The television show "The Love Boat" sets sail again, with Robert Urich (replacing Gavin MacLeod) at the helm as Captain Jim Kennedy III.
1999 – In Pontiac, MI, Jack Kervorkian was sentenced to 10 to 25 years in prison for the second-degree murder of Thomas Youk. Youk's assisted suicide was videotaped and shown on "60 Minutes" in 1998.
2000 – Richard Gordon was charged with trying to extort $250,000 from comedian Louie Anderson in exchange for not telling the tabloid media about Anderson once asking him for sex. Gordon was held without bail pending a court hearing.
2000 – Metallica filed suit against Napster, the University of Southern California, Yale University and Indiana University for copyright infringement, unlawful use of digital audio interface device and violations of the Racketeering Influenced & Corrupt Organizations Act (RICO).
2005 – American terrorist Eric Rudolph pleaded guilty to the bombings at the 1996 Olympics, a gay club and a family planning clinic in Atlanta, GA, and an abortion clinic in Birmingham, AL. Rudolph was sentenced to four consecutive life sentences.
2020 – The U.S. Treasury Department began sending out $1,200 stimulus checks that were part of President Donald Trump's COVID-19 CARES Act.
2021 – Voice actor Hank Azaria apologized for voicing Indian character Apu on "The Simpsons" for 30 years.
BIRTHDAYS:
Edward Fox – 86 years old (1937) – Actor ("The Big Sleep", "Portrait of a Lady", "The Day of the Jackal")
Bill Conti – 81 years old (1942) – Composer ("Rocky" and four of its sequels, "For Your Eyes Only", "Dynasty", "The Right Stuff")
Jack Casady – 79 years old (1944) – Bass guitarist (Jefferson Airplane)
Al Green – 77 years old (1946) – Singer, songwriter ("Let's Stay Together")
Ron Perlman – 73 years old (1950) – Actor (TV's "Beauty and the Beast")
Peabo Bryson – 72 years old (1951) – Singer
Max Weinberg – 72 years old (1951) – Drummer (E Street Band, His Max Weinberg 7 and Max Weinberg and "The Tonight Show Band" served as Conan O'Brien's TV house bands 1993-2010)
Jimmy Destri – 69 years old (1954) – Keyboardist (Blondie)
Gary Kroeger – 66 years old (1957) – Actor (TV's "Saturday Night Live")
Saundra Santiago – 66 years old (1957) – Actress (TV's "Miami Vice")
Garry Kasparov – 60 years old (1963) – Chess champion
Page Hannah – 59 years old (1964) – Actress ("On the Right Track")
Davis Love III – 59 years old (1964) – Golfer
Caroline Rhea – 55 years old (1968) – Actress, comedian (TV's "Sabrina, the Teenage Witch")
Rick Schroder – 53 years old (1970) – Actor (TV's "Silver Spoons", "NYPD Blue", "Strong Medicine", movie "The Champ")
Bokeem Woodbine – 50 years old (1973) – Actor ("Ray", "Almost Heroes", "Jason's Lyric")
Lou Bega – 48 years old (1975) – Singer ("Mambo No. 5")
Courtney Peldon – 42 years old (1981) – Actress (TV's "Home Improvement", "Boston Public")
TODAY IS:
International FND Awareness Day
World Sarcoidosis Awareness Day
For additional information check out websites like: www.on-this-day.com, www.born-today.com, www.famousbirthdays.com, www.daysoftheyear.com, and www.nationaldaycalendar.com.