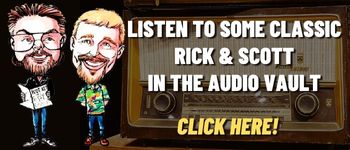 A quick look at Today in History, check out some Celebrity Birthdays, and find out what Days of the Year to celebrate.
TODAY IN HISTORY:
1629 – Horses were first imported into the colonies by the American Massachusetts Bay Colony.
1704 – John Campbell published what would eventually become the first successful American newspaper. It was known as the Boston "News-Letter."
1810 – Pineapple cheese was patented by Lewis M. Norton.
1861 – Virginia became the eighth state to secede from the Union.
1865 – Mary Surratt was arrested as a conspirator in the President Abraham Lincoln assassination.
1907 – The Ellis Island immigration center processed 11,747 people…more than on any other day.
1917 – A bill in Congress to establish Daylight Saving Time was defeated. It was passed a couple of months later.
1937 – "Daffy Duck" made his debut in a "Porky Pig" cartoon titled "Duck Hunt".
1941 – Igor Sikorsky accomplished the first successful helicopter lift-off from water near Stratford, CT.
1941 – The office of Price Administration was established in the U.S. to handle rationing.
1947 – Jackie Robinson (Brooklyn Dodgers) performed a bunt for his first major league hit.
1961 – About 1,400 U.S.-supported Cuban exiles invaded Cuba at the Bay of Pigs in an attempt to overthrow Fidel Castro. It was an unsuccessful attack.
1964 – Jerrie Mock became first woman to fly an airplane solo around the world.
1964 – The FBI lab reported that it could not determine the lyrics to "Louie Louie."
1964 – The Ford Motor Company unveiled its new Mustang model. Base price was $2,368.
1967 – "The Joey Bishop Show" debuted on ABC-TV.
1967 – The U.S. Supreme Court barred Muhammad Ali's request to be blocked from induction into the U.S. Army.
1969 – In Los Angeles, CA, Sirhan Sirhan was convicted of assassinating Senator Robert F. Kennedy.
1970 – Apollo 13 returned to Earth safely after an on-board accident with an oxygen tank.
1973 – George Lucas began writing the treatment for "The Star Wars".
1973 – Federal Express (later shortened to just FedEx) began operations when 14 planes carrying 186 packages took off from Memphis (TN) International Airport, headed to 25 U.S. cities.
1980 – Lansing, MI police arrested three adult sisters. They had been running around naked after smearing mustard on their bodies. They said they were looking for the Garden of Eden.
1985 – The U.S. Postal Service unveiled its new 22-cent, "LOVE" stamp.
1993 – A federal jury in Los Angeles, CA, convicted two former police officers of violating the civil rights of beaten motorist Rodney King. Two other officers were acquitted.
1996 – Erik and Lyle Menendez were sentenced to life in prison without parole for killing their parents.
2002 – The television show "Ally McBeal" went off the air after five seasons.
2011 – The TV show "Game of Thrones" debuted on HBO.
2014 – NASA's Kepler space telescope confirmed the discovery of the first Earth-size planet in the habitable zone of another star.
2021 – The funeral of Prince Philip, Duke of Edinburgh, took place at St George's Chapel, Windsor Castle.
BIRTHDAYS:
Dennis Hextall – 80 years old (1943) – Hockey player (Detroit Red Wings 1975-1979)
Jan Hammer – 75 years old (1948) – Composer, musician (TV's "Miami Vice" Theme)
Pedro Garcia – 73 years old (1950) – Baseball player (Detroit Tigers 1976)
Olivia Hussey – 72 years old (1951) – Actress ("Ice Cream Man", "Psycho 4: The Beginning", "Romeo and Juliet")
Michael Sembello – 69 years old (1954) – Composer, musician ("Maniac" from "Flashdance")
Teri Austin – 66 years old (1957) – Actress (TV's "Knots Landing")
Nick Hornby – 66 years old (1957) – Novelist ("High Fidelity", "About a Boy", "Fever Pitch", screenplay "An Education")
Sean Bean – 64 years old (1959) – Actor ("Goldeneye", "The Lord of the Rings" series)
Boomer Esiason – 62 years old (1961) – Football player, TV commentator
Lela Rochon – 59 years old (1964) – Actress ("Why Do Fools Fall in Love", "Waiting to Exhale")
William Mapother – 58 years old (1965) – Actor (TV's "Lost)
Henry Ian Cusick – 56 years old (1967) – Actor (TV's "Lost", "Scandal", "The 100")
Kimberly Elise – 56 years old (1967) – Actress ("The Great Debaters", "Pride", "Diary of a Mad Black Woman", "John Q", "Beloved", "Set It Off", TV's "Close to Home")
Marquis Grissom – 56 years old (1967) – Baseball player
Liz Phair – 56 years old (1967) – Singer, songwriter
Redman – 53 years old (1970) – Rapper, actor ("How High", "Seed of Chucky")
Jennifer Anne Garner – 51 years old (1972) – Actress ("Daredevil", "Electra", "Alias", "Draft Day", "Dallas Buyers Club", "The Odd Life of Timothy Green", "Juno", "13 Going on 30", "The Kingdom", "Catch and Release")
Victoria Beckham – 49 years old (1974) – Singer (Posh Spice of the Spice Girls)
Rooney Mara – 38 years old (1985) – Actress ("Pan", "Her", "Side Effects", "The Girl With the Dragon Tattoo", "The Social Network")
TODAY IS:
International Bat Appreciation Day
International Haiku Poetry Day
National Ellis Island Family History Day
For additional information check out websites like: www.on-this-day.com, www.born-today.com, www.famousbirthdays.com, www.daysoftheyear.com, and www.nationaldaycalendar.com.