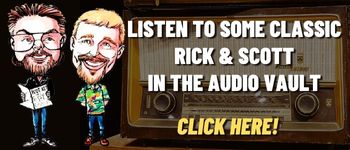 A quick look at Today in History, check out some Celebrity Birthdays, and find out what Days of the Year to celebrate.
TODAY IN HISTORY:
1789 – John Adams was sworn in as the first U.S. Vice President.
1850 – Grand Rapids, MI was incorporated as a city (it became a village back in April 1838).
1856 – The Mississippi River was crossed by a rail train for the first time (between Davenport, IA, and Rock Island, IL).
1862 – Congress established the U.S. Mint in Denver, CO.
1865 – President Abraham Lincoln's funeral train left Washington, DC.
1892 – The first Buffalo was born in Golden Gate Park.
1895 – Woodville Latham and his sons demonstrated their Panopticon. It was the first movie projector developed in the United States.
1898 – The Spanish-American War began.
1918 – German fighter ace Manfred von Richthofen, "The Red Baron," was shot down and killed during World War I.
1928 – First U.S. Aircraft show featuring 63 different planes shown by 40 manufacturers in Detroit, MI.
1934 – The "Surgeon's Photograph", the most famous photo allegedly showing the Loch Ness Monster, was published in the Daily Mail. In 1999, it is revealed to be a hoax.
1952 – Secretary's Day (now Administrative Professionals' Day) was first celebrated.
1959 – Alf Dean caught a 16-foot, 10-inch white shark that weighed 2,664 pounds. At the time it was the largest catch with a rod and reel.
1960 – Dick Clark testified before a congressional committee investigating payola. He admitted that he had a financial interest in 27 percent of the records he played on his show in a period of 28 months.
1962 – The Seattle World's Fair (Century 21 Exposition) opened. It was the first World's Fair in the U.S. since World War II.
1965 – The 1964-1965 New York World's Fair opened for its second and final season.
1972 – Apollo 16 astronauts John Young and Charles Duke explored the surface of the moon.
1982 – Rollie Fingers, of the Milwaukee Brewers, became the first pitcher to record 300 saves.
1984 – In France, it was announced that doctors had found virus believed to cause AIDS.
1986 – Geraldo Rivera opened a vault that belonged to Al Capone at the Lexington Hotel in Chicago, IL. Except for a few empty beer bottles, the vault was empty.
1987 – Special occasion stamps were offered for the first time by the Postal Service. "Happy Birthday" and "Get Well" were among the first to be offered.
1989 – The movie "Field of Dreams" premiered in theaters. The film starred Kevin Costner, Amy Madigan, James Earl Jones, Ray Liotta and Burt Lancaster (in his final role).
1989 – The Game Boy handheld video game device was released in Japan.
1996 – Michael Jordan and the Chicago Bulls set an NBA record by winning their 72nd game in a season.
1998 – Astronomers announced in Washington that they had discovered possible signs of a new family of planets orbiting a star 220 light-years away.
1998 – While Bill Gates was demonstrating his new Window 98 computer operating system to a convention group in Chicago, IL, the software crashed.
2000 – North Carolina researchers announced that the heart of a 66 million-year-old dinosaur was more like a mammal or bird than that of a reptile.
2000 – The 1998 Children's Online Privacy Protection Act went into effect.
2009 – UNESCO launched The World Digital Library. The World Digital Library (WDL) is an international digital library operated by UNESCO and the United States Library of Congress.
2014 – Flint, MI switched their water source to the Flint River, beginning the ongoing Flint water crisis which has caused lead poisoning in up to 12,000 people, and 15 deaths from Legionnaires disease, ultimately leading to criminal indictments against 15 people, five of whom have been charged with involuntary manslaughter.
BIRTHDAYS:
Elaine May – 91 years old (1932) – Actress, comedienne ("Heaven Can Wait", "Primary Colors", "A New Leaf", "The Heartbreak Kid", "Mikey and Nicky")
Iggy Pop – 76 years old (1947) – Singer, songwriter (Psychedelic Stooges). Born in Muskegon, MI.
Patti LuPone – 74 years old (1949) – Actress ("Evita", "Driving Miss Daisy")
Tony Danza – 72 years old (1951) – Actor (TV's "Who's the Boss," "Taxi," movie "Angels in the Outfield")
Andie MacDowell – 65 years old (1958) – Actress ("Groundhog Day", "St. Elmo's Fire," "Four Weddings and a Funeral", "Sex, Lies, and Videotape", TV's "Cedar Grove")
Robert Smith – 64 years old (1959) – Lead singer/guitarist (The Cure)
John Cameron Mitchell – 60 years old (1963) – Actor, director ("Hedwig and the Angry Inch")
Glen Hansard – 53 years old (1970) – Singer, actor ("The Commitments", "Once")
Nicole Sullivan – 53 years old (1970) – Actress, comedian (TV's "MadTV," "King of Queens")
James McAvoy – 44 years old (1979) – Actor ("X-Men" series, "Atonement", "The Last King of Scotland", "Victor Frankenstein")
Tony Romo – 43 years old (1980) – Football player
Robbie Amell – 35 years old (1988) – Actor ("True Jackson", "The Tomorrow People")
TODAY IS:
National Bulldogs Are Beautiful Day
National Chocolate Covered Cashews Day
National Clean Out Your Medicine Cabinet Day
World Creativity and Innovation Day
For additional information check out websites like: www.on-this-day.com, www.born-today.com, www.famousbirthdays.com, www.daysoftheyear.com, and www.nationaldaycalendar.com.