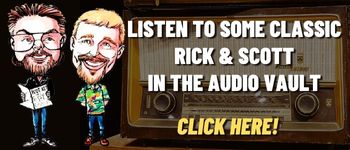 A quick look at Today in History, check out some Celebrity Birthdays, and find out what Days of the Year to celebrate.
TODAY IN HISTORY:
1864 – Congress passed legislation the Coinage Act of 1864 that mandated that the inscription "In God We Trust" be placed on all coins minted as United States currency.
1876 – The first official National League baseball game took place in Philadelphia, PA. Boston beat Philadelphia 6-5.
1889 – At noon, the Oklahoma land rush officially started as thousands of Americans raced for new, unclaimed land. Within hours the cities of Oklahoma City and Guthrie were formed with populations of at least 10,000.
1914 – Babe Ruth made his pitching debut with the Baltimore Orioles.
1915 – The New York Yankees wore pinstripes and the hat-in-the-ring logo for the first time.
1931 – James G. Ray landed an autogyro on the lawn of the White House in Washington, DC.
1933 – Residents 18 years old or older were granted the right to drink beer and wine in Michigan following the repeal of Prohibition.
1938 – Briggs Field in Detroit, MI, was dedicated. The Detroit Tigers Field was formally called Navin Field. This name was to honor Tiger owner Walter Briggs. It was later named Tiger Stadium until it closed in 1999.
1952 – An atomic test conducted in Nevada was the first nuclear explosion shown on live network television.
1956 – Elvis Presley made his Las Vegas, NV debut at the Frontier Hotel.
1964 – The 1964-65 New York World's Fair opened for its first season.
1967 – Randy Matson set a new world record with a shot put toss of 71 feet, and 5 1/2 inches in College Station, TX.
1970 – The first "Earth Day" was observed by millions of Americans.
1976 – ABC announces that Barbara Walters had been hired to be the first female nightly network news anchor. She co-anchored with Harry Reasoner.
1977 – Optical fiber was first used to carry live telephone traffic.
1978 – The Blues Brothers made their debut on TV's "Saturday Night Live". John Belushi and Dan Aykroyd introduced the show by performing "Hey Bartender".
1987 – The American Physical Society said that the "Star Wars" missile system was "highly questionable" and would take ten years to research.
1993 – The U.S. Holocaust Memorial Museum was dedicated in Washington, DC.
1993 – Version 1.0 of the Mosaic web browser was released.
1994 – President Richard M. Nixon died at 81.
1998 – Disney's Animal Kingdom opened at Walt Disney World near Orlando, FL.
1999 – The Watson Family received a star on the Hollywood Walk of Fame.
1999 – Investigators in the Columbine High School shootings report finding large homemade bombs in the school kitchen and speculate that the killers planned on destroying the school.
2000 – Elian Gonzalez was reunited with his father in Cuba. He was taken away from his Miami, FL relatives by federal agents in a predawn raid.
2005 – Zacarias Moussaoui entered a guilty plea and denied involvement in the September 11th terrorist attack. He did admit to being involved in a plan to fly a plane into the White House in Washington, DC.
2008 – The U.S. Air Force retired the remaining F-117 Nighthawk aircraft that were still in service.
2010 – The Boeing X-37 began its first orbital mission. It successfully returned to Earth on December 3, 2010.
2010 – Bret Michaels, of the band Poison, was rushed to the hospital. It was discovered that he had suffered from a brain hemorrhage. Two weeks earlier he had been taken to the hospital and underwent an emergency appendectomy.
2011 – In Los Angeles, CA, Lindsay Lohan was found guilty of misdemeanor theft and probation violation, and sentenced to 120 days in jail, 360 hours of community service at the Downtown Women's Center and 120 hours at the L.A. County morgue.
2016 – The Paris Agreement was signed, an agreement to help fight global warming.
BIRTHDAYS:
Mark Damon – 90 years old (1933) – Actor ("The Fall of the House of Usher")
Jack Nicholson – 86 years old (1937) – Actor ("The Shining", "Batman", "The Witches of Eastwicke", "A Few Good Men", "One Flew Over the Cuckoo's Nest", "Terms of Endearment", "As Good as It Gets", "Easy Rider", "Chinatown", "Prizzi's Honor", "The Bucket List", "About Schmidt")
Mel Carter – 84 years old (1939) – Singer, actor ("Hold Me, Thrill Me, Kiss Me")
Cleve Francis – 78 years old (1945) – Country singer ("Walkin'")
John Waters – 77 years old (1946) – Director ("Pink Flamingos", "Polyester", "Hairspray", "Serial Mom")
Larry Groce – 75 years old (1948) – Singer, songwriter ("Junk Food Junkie")
Peter Frampton – 73 years old (1950) – Musician (Humble Pie)
Paul Carrack – 72 years old (1951) – Singer, musician (Ace, Squeeze, Mike & the Mechanics)
Joseph Bottoms – 69 years old (1954) – Actor ("Surfacing", "Inner Sanctum")
Ryan Stiles – 64 years old (1959) – Actor, comedian (TV's "Whose Line is It Anyway")
Jeffrey Dean Morgan – 57 years old (1966) – Actor (TV's "Grey's Anatomy", "The Walking Dead")
Sheryl Lee – 56 years old (1967) – Actress (TV's "Twin Peaks")
Sherri Shepherd – 56 years old (1967) – Talk show host, actress (TV's "Suddenly Susan", "Everybody Loves Raymond", "The Jamie Foxx Show", "Less than Perfect", "The View", "Sherri")
Eric Mabius – 52 years old (1971) – Actor ("Welcome to the Dollhouse", TV's "Ugly Betty")
Ingo Rademacher – 52 years old (1971) – Actor (TV's "General Hospital", "Dancing with the Stars", movie "Alex Cross")
Amber Heard – 37 years old (1986) – Actress ("The Danish Girl", "Magic Mike XXL", "Zombieland", "Pineapple Express")
TODAY IS:
International Mother Earth Day
International Girls In ICT Day
National Girl Scout Leader's Day
For additional information check out websites like: www.on-this-day.com, www.born-today.com, www.famousbirthdays.com, www.daysoftheyear.com, and www.nationaldaycalendar.com.