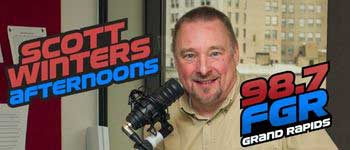 A quick look at Today in History, check out some Celebrity Birthdays, and find out what Days of the Year to celebrate.
TODAY IN HISTORY:
1821 – Missouri was admitted as the 24th state.
1846 – The Smithsonian Institution was chartered by Congress. The "Nation's Attic" was made possible by $500,000 grant given by scientist Joseph Smithson.
1859 – In Boston, MA, the first milk inspectors were appointed.
1869 – The motion picture projector was patented by O.B. Brown.
1885 – The first electric streetcar, to be used commercially, was operated in Baltimore, MD, by Leo Daft.
1918 – The Grand Rapids, MI Police Court Docket for the day was blank, something that had only happened twice in 25 years.
1921 – Franklin D. Roosevelt was stricken with polio.
1927 – Mount Rushmore was formally dedicated. The individual faces of the Presidents were dedicated later.
1937 – The first electric guitar, the Rickenbacker Frying Pan, was patented.
1946 – The nation's first streamlined train built since World War II, the Pere Marquette, began operation. It made the trip from Grand Rapids, MI to Detroit, MI in 160 minutes.
1947 – A 4.7 magnitude earthquake was centered at Coldwater, MI. It was felt as far away as Wisconsin and Illinois.
1947 – William Odom completed an around-the-world flight. He set the solo record by completing the flight in 73 hours and 5 minutes.
1948 – On ABC, "Candid Camera" made its TV debut. The show was hosted by its creator, Allen Funt. The TV show ran for 56 years.
1949 – The National Military Establishment changed its name to the Department of Defense.
1954 – Construction began on the St. Lawrence Seaway.
1965 – In Austin, TX, a fire burned part of the 20th floor of the 27-story University of Texas main building. A collection that contained items once owned by escape artist Harry Houdini and circus magnate P.T. Barnum were damaged by smoke and water.
1977 – In Yonkers, NY, 24 year old postal worker, David Berkowitz, was arrested for New York's "Son of Sam" slayings.
1981 – Pete Rose hit a single and broke the National League all-time hit record with his 3,631 hit.
1985 – Michael Jackson paid $47.5 million for the ATV catalog, which owned and controled 251 songs written by John Lennon and Paul McCartney. McCartney was outbid in the sale by Jackson.
1990 – The Magellan space probe reached the planet Venus.
1993 – Ruth Bader Ginsburg took office as only the second woman to serve on the U.S. Supreme Court.
1994 – President Bill Clinton claimed presidential immunity. He asked a federal judge to dismiss a sexual harassment lawsuit filed by Paula Jones.
1995 – Timothy McVeigh and Terry Nichols were indicted for the bombing of the Oklahoma City Federal Building. Michael Fortier pleaded guilty in a plea-bargain for his testimony.
2001 – The movie "American Pie 2" premiered in theaters.
2004 – The iTunes Music Store became the first store to have a catalog of more than one million songs.
2020 – A derecho in Iowa became the most costly thunderstorm disaster in U.S. history.
BIRTHDAYS:
Ian Anderson – 75 years old (1947) – Lead vocalist, flautist, acoustic guitarist (Jethro Tull)
Daniel Hugh Kelly – 70 years old (1952) – Actor (Played Mark "Skid" McCormick on TV's "Hardcastle and McCormick")
Rosanna Arquette – 63 years old (1959) – Actress ("Desperately Seeking Susan", "After Hours", "Pulp Fiction")
Antonio Banderas – 62 years old (1960) – Actor ("Women on the Verge of a Nervous Breakdown", "Desperado", "Evita", "The Mask of Zorro", "Spy Kids")
Jon Farriss – 61 years old (1961) – Drummer (INXS)
Todd Nichols – 55 years old (1967) – Guitarist (Toad The Wet Sprocket)
Riddick Bowe – 55 years old (1967) – Boxer
Justin Theroux – 51 years old (1971) – Actor ("Mulholland Drive", "Inland Empire")
Angie Harmon – 50 years old (1972) – Actress ("Law and Order", "Baywatch Nights")
Devon Aoki – 40 years old (1982) – Model and actress ("War", "DOA: Dead or Alive", "Sin City", "2 Fast 2 Furious")
Kylie Jenner – 25 years old (1997) – TV personality (Youngest member of the Kardashian clan)
TODAY IS:
For additional information check out websites like: www.on-this-day.com, www.born-today.com, www.famousbirthdays.com, www.daysoftheyear.com, and www.nationaldaycalendar.com.