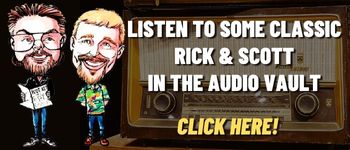 A quick look at Today in History, check out some Celebrity Birthdays, and find out what Days of the Year to celebrate.
TODAY IN HISTORY:
1886 – In New York, NY, Chinese Ambassador Li Hung-chang's chef invented chop suey.
1898 – The Goodyear Tire Company was founded.
1949 – A nuclear device was used for the first time to treat cancer patients at the University of Illinois.
1957 – Senator Strom Thurmond of South Carolina set a filibuster record when he spoke against a civil rights bill for 24 hours and 18 minutes.
1958 – The United States Air Force Academy opened in Colorado Springs, CO.
1965 – The Gemini V space craft, carrying astronauts Gordon Cooper and Charles ("Pete") Conrad, splashed down in the Atlantic Ocean after eight days in space.
1966 – The Beatles performed their last concert in front of fans at Candlestick Park in San Francisco, CA.
1967 – The final episode of "The Fugitive" aired. It drew a record 72% share of the prime time audience.
1973 – President Richard Nixon was ordered by Judge John Sirica to turn over the so-called Watergate tapes of conversations secretly recorded in the Oval Office. Nixon refused and appealed the order.
1977 – Three people were arrested in Memphis after trying to steal Elvis' body. As a result his body was moved to Graceland.
1997 – You could start renting DVDs through the mail when Netflix began.
1998 – Northwest Airlines pilots went on strike after their union rejected a last-minute company offer.
2005 – Hurricane Katrina devastated much of the Gulf Coast from Louisiana to the Florida Panhandle, killing an estimated 1,836 people and causing over $108 billion in damages.
2007 – It was revealed that Leona Helmsley, the billionaire real estate tycoon who died earlier in August, had left $12 million to her pet dog.
BIRTHDAYS:
William Friedkin – 87 years old (1935) – Film director ("The French Connection", "The Exorcist" "Cruising", "To Live and Die in L.A.", "Rules of Engagement", "The Hunted"
Elliott Gould – 84 years old (1938) – Actor ("M*A*S*H", "Bob & Carol & Ted & Alice", "Bugsy", "Ocean's 11", "Ocean's 12", "Ocean's 13")
Deborah Van Valkenburgh – 70 years old (1952) – Actress (Placed Jackie Rush on TV's "Too Close for Comfort", movies "The Warriors", "Road to Hell")
Rebecca DeMornay – 63 years old (1959) – Actress ("Risky Business", "The Hand That Rocks the Cradle", "Guilty as Sin", "Backdraft")
Carla Gugino – 51 years old (1971) – Actress (TV's "Entourage", "Chicago Hope", "Wayward Pines", movies "Spy Kids", "San Andreas", "Sin City", "Snake Eyes")
Lea Michele – 36 years old (1986) – Actress (TV's "Glee")
Nicole Anderson – 32 years old (1990) – Actress (TV's "J.O.N.A.S!", movie "Mean Girls 2")
Liam Payne – 29 years old (1993) – Singer (One Direction)
TODAY IS:
International Day against Nuclear Tests
For additional information check out websites like: www.on-this-day.com, www.born-today.com, www.famousbirthdays.com, www.daysoftheyear.com, and www.nationaldaycalendar.com.