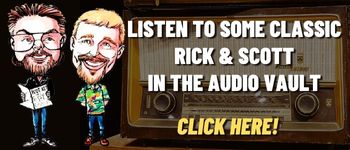 A quick look at Today in History, check out some Celebrity Birthdays, and find out what Days of the Year to celebrate.
TODAY IN HISTORY:
1876 – Thomas Edison received a patent for his mimeograph.
1899 – The refrigerator was patented by A.T. Marshall.
1908 – Wilbur Wright made his first flight at a racecourse at LeMans, France. It was the Wright Brothers' first public flight.
1911 – The number of representatives in the U.S. House of Representatives was established at 435. There was one member of Congress for every 211,877 residents.
1920 – The Detroit Tigers shut out the New York Yankees 1-0 in one hour and 13 minutes. It was the shortest nine inning game in American League History at the time.
1945 – The United Nations Charter was signed by President Harry S. Truman.
1949 – Grand Rapids, MI's first television station went on the air. It was WLAV Channel 7. It would later become WOOD TV Channel 8.
1966 – Michael DeBakey became the first surgeon to install an artificial heart pump in a patient.
1974 – In the wake of Watergate, President Richard M. Nixon, in a nationwide television address, announced his resignation from the office of President of the United States effective at noon the next day.
1978 – The U.S. launched Pioneer Venus II, which carried scientific probes to study the atmosphere of Venus.
1989 – The Space Shuttle Columbia (STS-28) took off from Cape Canaveral, FL, on a secret five-day military mission.
1992 – The "Dream Team" clinched the gold medal at the Barcelona Summer Olympics. The U.S. basketball team beat Croatia 117-85.
BIRTHDAYS:
Nita Talbot – 92 years old (1930) – Actress (Played Marya, the "White Russian" spy on TV's "Hogan's Heroes", played Sheila Fine on "Soap")
Dustin Hoffman – 85 years old (1937) – Actor ("Kramer vs. Kramer", "Rain Man", "Wag the Dog", "Tootsie", "Midnight Cowboy", "The Graduate")
Connie Stevens – 84 years old (1938) – Singer
Larry Wilcox – 75 years old (1947) – Actor (Played Officer Jonathan "Jon" Baker on TV's "CHiPs")
Keith Carradine – 73 years old (1949) – Actor, singer ("Nashville", "Deadwood", "Dexter", "Madam Secretary")
Robin Quivers – 70 years old (1952) – Radio Personality ("The Howard Stern Show")
Donny Most – 69 years old (1953) – Actor (Played Ralph Malph on TV's "Happy Days")
Chris Foreman – 66 years old (1956) – Guitarist (Madness)
Deborah Norville – 64 years old (1958) – TV personality (TV's "Inside Edition", "Today")
Rikki Rockett – 61 years old (1961) – Drummer (Poison)
The Edge (David Evans) – 61 years old (1961) – Lead guitarist, keyboardist, backing vocalist (U2)
Scott Stapp – 49 years old (1973) – Lead vocalist (Creed)
JC Chasez – 46 years old (1976) – Singer ('N Sync)
Drew Lachey – 46 years old (1976) – Singer (98 Degrees)
Odie – 44 years old (1978) – from the "Garfield" comic
Countess Vaughn – 44 years old (1978) – Actress ("The Parkers", "Moesha")
Michael Urie – 42 years old (1980) – Actor (TV's "Ugly Betty")
TODAY IS:
Global Sleep Under The Stars Night 
National Happiness Happens Day
National Sneak Some Zucchini Into Your Neighbor's Porch Day
For additional information check out websites like: www.on-this-day.com, www.born-today.com, www.famousbirthdays.com, www.daysoftheyear.com, and www.nationaldaycalendar.com.