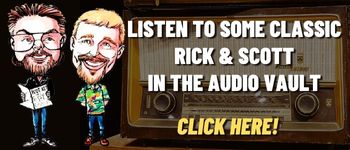 A quick look at Today in History, check out some Celebrity Birthdays, and find out what Days of the Year to celebrate.
TODAY IN HISTORY:
1173 – Construction of the campanile of the Cathedral of Pisa (now known as the Leaning Tower of Pisa) began. It would take two centuries to complete.
1790 – The first ship to carry the American Flag around the world, The Columbia, returned to Boston Harbor after a three-year voyage.
1831 – The first steam locomotive began its first trip between Schenectady and Albany, NY.
1859 – The escalator was patented by Nathan Ames.
1892 – Thomas Edison received a patent for a two-way telegraph.
1910 – A.J. Fisher received a patent for the electric washing machine.
1930 – Betty Boop made her cartoon debut in "Dizzy Dishes", created by Max Fleischer.
1944 – The United States Forest Service and the Wartime Advertising Council released posters featuring "Smokey the Bear" for the first time.
1945 – The U.S. dropped an atomic bomb on Nagasaki. The bombing came three days after the bombing of Hiroshima. About 74,000 people were killed. Japan surrendered August 14.
1945 – The first network television broadcast occurred in Washington, DC. The program announced the bombing of Nagasaki, Japan.
1947 – An earthquake damaged chimneys and cracked plaster in Michigan. Damage reached as far north as Muskegon and Saginaw.
1969 – In the early morning hours of August 9th, pregnant actress Sharon Tate was stabbed to death and four others were killed (knives and gunshots) in a home in the Hollywood Hills, CA. Charles Manson and his cult are later convicted of the crime.
1974 – President Richard M. Nixon formally resigned. His Vice President, Gerald R. Ford, took his place, and became the 38th President of the United States.
1975 – The New Orleans Superdome was officially opened when the Saints played the Houston Oilers in exhibition football. The new Superdome cost $163 million to build.
1981 – Major league baseball teams resumed play at the conclusion of the first mid-season players' strike.
1985 – The movie "Pee-Wee's Big Adventure" debuted in theaters.
1989 – Director James Cameron's undersea movie, "The Abyss", premiered in theaters.
2000 – Bridgestone/Firestone announced the recall of 6.5 million tires implicated in hundreds of accidents and at least 46 deaths.
2001 – President George W. Bush announced he would support federal funding for limited medical research on embryonic stem cells.
2004 – Donald Duck received the 2,257th star on the Hollywood Walk of Fame.
2004 – Trump Hotel and Casion Resorts announced plans to file for Chapter 11 bankruptcy.
2009 – The TV show "Shark Tank" premiered on ABC.
2014 – Michael Brown, an unarmed 18 year old African American male in the St. Louis suburb of Ferguson, MO, was shot and killed by a Ferguson police officer. It sparked protests and unrest in the city.
BIRTHDAYS:
David Steinberg – 80 years old (1942) – Canadian comedian (Appeared on TV's "The Tonight Show Starring Johnny Carson" more than 130 times)
Sam Elliott – 78 years old (1944) – Actor ("Up in the Air", "The Lifeguard", "The Contender", TV's "Buffalo Girls")
Rinus Gerritsen – 76 years old (1946) – Bassist (Golden Earring)
Melanie Griffith – 65 years old (1957) – Actress ("Working Girl", "Body Double", "Something Wild", "Born Yesterday", "Lolita")
Amanda Bearse – 64 years old (1958) – Actress (Played Marcy on TV's "Married With Children")
Hoda Kotb – 58 years old (1964) – TV Personality (TV's "Today" co-host)
Deion Sanders – 55 years old (1967) – Football/Baseball Player
Gillian Anderson – 54 years old (1968) – Actress (TV's "X-Files")
Eric Bana – 54 years old (1968) – Actor ("The Time Traveler's Wife", "Funny People", "Star Trek", "Troy", "Hulk", "Black Hawk Down")
Kevin McKidd – 49 years old (1973) – Actor (TV's "Grey's Anatomy", "Rome", movie "Trainspotting")
Anna Kendrick – 37 years old (1985) – Actress ("Up in the Air", "Twilight", "Pitch Perfect", "Into the Woods")
TODAY IS:
International Day of the World's Indigenous People
For additional information check out websites like: www.on-this-day.com, www.born-today.com, www.famousbirthdays.com, www.daysoftheyear.com, and www.nationaldaycalendar.com.