An iconic home from our youth is up for sale. "The Brady Bunch" house is on the market. It was the house used for the exterior shots of the popular TV show of the 70s.
The interior of the home looks nothing like the set used in the TV show, but the outside of the home was used in just about every episode. One thing to note, there is a missing window on the left side of the front of the home. The window never really existed! But before they filmed the exterior shots, someone decided that there should be a window there. A fake window was added for them to film the exterior shots and was then removed. You'll also notice that a brick wall/fence has been installed around the front of the home over the years. And I never noticed the weird offset concrete front walkway up to the front of the home before! The house is located in Studio City, CA.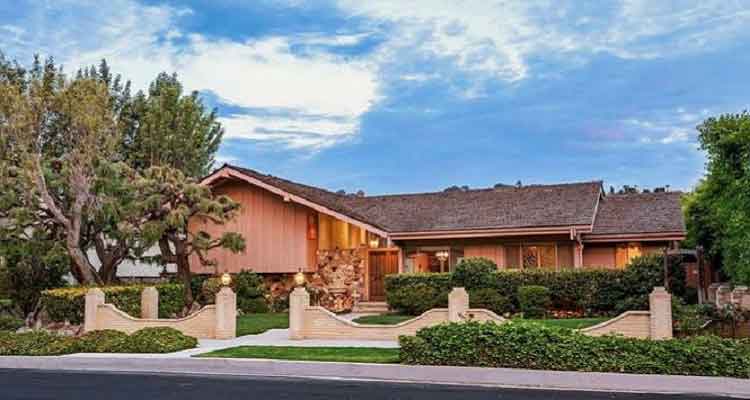 Details from the listing: "The beloved television home of 'The Brady Bunch' has come to market after almost 50 years. This iconic residence is reportedly the 2nd most photographed home in the United States after the White House. Featuring perfectly preserved 1970's decor, it boasts one of the largest lots in the neighborhood– over 12,500 sq ft. Enormous, lush backyard gardens & lawn, completely private & serene. Located on a quiet residential block, property also borders the Los Angeles River, which is a unique street-to-river orientation." The home features "Two Master Suites, one up/one down plus generous entertaining spaces that flow uniformly from one to the next and to the outdoors. Gated motorcourt plus large separate garage provide parking convenience. Whether inspired by the TV family or the real life surrounding neighborhood, this residence is a perfect postcard of American 70's style and its special culture."
The home features three bedrooms, three bathrooms and has 2,477 square feet. It could be your's for only $1,885,000! The owners are expecting a ton of buyer calls, but they say they won't sell it to the biggest bidder, especially if it will be knocked down. They'd like to sell it to someone who will preserve it.
Here is the listing if you would like to see what the home looks like now and also the interior of the home. Let's just say it could use a little updating!
A coupe of years ago,there was a story of someone breaking into the home.
Top Photo: ABC TV
Listing Photo: Redfin