So you think now that the City of Grand Rapids has passed an ordinance to make it legal to have a "recreational fire" in your backyard, you can get the ingredients ready for your s'mores? Guess again!!!
As I stated in an earlier post, the city has made it almost impossible for you to meet the requirements to have a fire in your backyard.
The City of Grand Rapids will start selling permits for a "Recreational Fire" on Thursday, September 22nd, 2016. The permits will cost you $50 and that money is non-refundable.
Before you take the time to fill out the application for the permit…do your homework and talk to your neighbors.
Your neighbors will be instrumental in you getting (or not getting) your permit. The city will send out a notifications to all properties within 2 lots of the property where the recreational fire is proposed. The city will have to get their permission to issue you a permit. (I couldn't figure out on the city's website if that also includes properties across the street from your lot. It does state that any property that touches your lot, even if just a corner, will be notified.) If even ONE of the neighbors objects — NO permit for you! (Oh, those 50 smackeroos you sent with your permit…so sorry…it's non refundable!)
Getting neighborhood permission may actually be the easiest of the requirements for you to meet. Here are a few of the other restrictions:
Your lot must be at least 5,000 square feet (from what I could see, the average city lots are about 40-50 feet wide and about 100 feet long — or 4,000-5,000 square feet.)
Your fire container must be at least 20 feet from an structure
Your fire container must be at least 20 feet from any lot line or fence
Your fire container must be at least 15 feet from any overhead wire.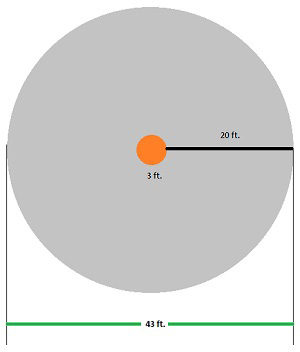 Now I'm not any big math wizard, but let's play with some numbers… Let's say you have a 3 foot by 3 foot fire container that needs to be 20 feet from a structure, fence or lot line…that means you would need a minimum area of about 43 feet x 43 feet with your fire container placed in the middle of that area.
So, keeping that in mind, I went on to the accessKent website and did some property searches to get a map of various city lots. I randomly chose a handful of properties on the north, south, east and west sides of the city. Of the properties I checked, very few had enough space to meet all the requirements.
Let's say you did have a big enough yard to meet the distance requirements… How long will it take to get the permit? Well, start planning for about Halloween time. The city will start accepting applications on the 22nd of September. They are then going to send notices to your neighbors (that should take a couple of days). Your neighbors then have 21 days to respond. If no one objects to your request, the city will then issue you your permit (that will probably take a few days as well). So, plan on about 30 days before you can light up that fire in your yard.
Oh, by the way, you can only burn "seasoned dry firewood". No branches or twigs from your yard…that would be considered yard waste and that's not acceptable.
There are other requirements as well. You can find them all on the City's Question and Answers webpage.
So, bottom line, don't get too excited about the possibility of a "recreational fire" in your backyard. I wouldn't be going to buy that fire container anytime soon. Save your money.