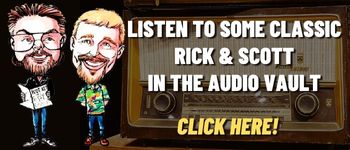 A quick look at Today in History, check out some Celebrity Birthdays, and find out what Days of the Year to celebrate.
TODAY IN HISTORY:
1719 – The first recorded sighting of the aurora borealis took place in New England.
1769 – Edward Beran of London received a patent for venetian blinds.
1816 – Indiana was admitted to the Union to become the 19th American state.
1844 – Dr. Horace Wells became the first person to have a tooth extracted after receiving an anesthetic. Nitrous Oxide (laughing gas) was the anesthetic.
1901 – Marconi sent the first transatlantic radio signal.
1929 – Stout Airlines, which had been flying between Grand Rapids, MI and Detroit, MI, and was the country's first scheduled airline, became the USA's first airline to carry 100,000 passengers.
1929 – Kellogg of Battle Creek, MI was incorporated.
1934 – Bill Wilson, co-founder of Alcoholics Anonymous, took his last drink and entered treatment for the last time.
1941 – Germany and Italy declared war on the United States. The U.S in turn declared war on the two countries.
1946 – The United Nations International Children's Emergency Fund (UNICEF) was established by the U.N. General Assembly. The fund provided relief to children in countries devastated by war.
1957 – Jerry Lee Lewis secretly married his 13-year-old third cousin Myra Gale Brown. The marriage caused Lewis to be blacklisted from many radio stations and he was dropped from Dick Clark's shows.
1972 – Apollo 17 became the sixth and last Apollo mission to land on the Moon.
1980 – President Jimmy Carter signed into law legislation creating $1.6 billion environmental "superfund" that would be used to pay for cleaning up chemical spills and toxic waste dumps.
1980 – The TV show "Magnum, P.I.", starring Tom Selleck, debuted on TV.
1981 – Muhammad Ali fought for the last time, losing to Trevor Berbick.
1985 – The single "The Super Bowl Shuffle", by Chicago Bears Shufflin' Crew, was released.
1985 – The General Electric Company agreed to buy RCA Corporation for $6.3 billion. Also included in the deal was NBC Radio and Television.
1987 – Charlie Chaplin's trademark cane and bowler hat were sold at Christie's for $139,000.
1987 – The movie "Wall Street", starring Michael Douglas and Charlie Sheen, premiered in theaters.
1990 – Ivana Trump was divorced from Donald Trump after 12 years of marriage.
1991 – The movie "Hook", starring Robin Williams, premiered in theaters.
1991 – William Kennedy Smith was found not guilty of rape charges.
1991 – Salman Rushdie, under an Islamic death sentence for blasphemy, made his first public appearance since 1989 in New York, NY, at a dinner marking the 200th anniversary of the First Amendment, which guarantees freedom of speech in the U.S.
1992 – The movie "The Muppet Christmas Carol" premiered in theaters.
1996 – In Crystal City, VA, "The Art of the Toy" opened. The exhibit was at the Patent and Trademark Office Museum.
1998 – Scientists announced that they had deciphered the entire genetic blueprint of a tiny worm.
1998 – The Mars Climate Orbiter blasted off on a nine-month journey to the Red Planet. The probe disappeared in September of 1999, apparently destroyed because scientists had failed to convert English measures to metric values.
1998 – Republicans on the House Judiciary Committee push through three articles of impeachment against President Bill Clinton.
1999 – President Bill Clinton admitted that the official policy toward gays in the military was not being carried out as intended, due to military leaders' lack of enforcement. The policy was meant to reduce harassment of homosexuals.
2000 – Mario Lemieux, owner of Pittsburgh Penquins, announced that he would end his three-plus year retirement and become an active National Hockey League player again. When Lemieux returned officially he became the first owner/player in NHL history.
2001 – Ted Turner purchased 12,000 acres in Nebraska for bison ranching.
2001 – Federal agents seized computers in 27 U.S. cities as part of "Operation Buccaneer." The raids were used to gain evidence against an international software piracy ring.
2007 – TV's "Jeopardy" host Alex Trebek suffered a heart attack but survived and ultimately returned to the show.
2008 – Bernard Madoff was arrested and charged with securities fraud in a $50 billion Ponzi scheme.
2009 – The game "Angry Birds" was released.
2013 – Standard & Poors announced that Facebook would join its S&P 500 index "after the close of trading on December 20."
2020 – The Food and Drug Administration issued an Emergency Use Authorization for the Pfizer–BioNTech COVID-19 vaccine — the first COVID-19 vaccine to be approved.
BIRTHDAYS:
Rita Moreno – 91 years old (1931) – Actress ("West Side Story", "TV's "The Rockford Files", "The Muppet Show", "The Electric Company", "Oz")
David Gates – 82 years old (1940) – Singer (Bread)
Donna Mills – 82 years old (1940) – Actress ("Play Misty for Me", TV's "Knots Landing")
Teri Garr – 78 years old (1944) – Actress ("Tootsie", "Young Frankenstein", "Close Encounters of the Third Kind")
Lynda Day George – 78 years old (1944) – Actress (TV's "Mission: Impossible")
Brenda Lee – 78 years old (1944) – Singer ("I'm Sorry", "Rockin' Around the Christmas Tree")
Susan Seidelman – 70 years old (1952) – Director ("Desperately Seeking Susan", "Smithereens")
Bess Armstrong – 69 years old (1953) – Actress (TV's "House of Lies", "My So-Called Life", movies "Pecker", "Jaws 3D")
Jermaine Jackson – 68 years old (1954) – Singer (The Jackson 5)
Nikki Sixx – 64 years old (1958) – Bassist (Mötley Crüe)
Lisa Gastineau – 63 years old (1959) – Reality TV star (TV's "The Gastineau Girls")
Darryl Jones – 61 years old (1961) – Bass player (The Rolling Stones, Sting, Miles Davis)
Mo'Nique – 55 years old (1967) – Actress, comedian, TV host ("Precious", TV's "The Parkers", "Hangin' With Mr. Cooper", "The Mo'Nique Show", "Showtime at the Apollo")
Mos Def – 49 years old (1973) – Rapper. actor ("Cadillac Records", "The Hitchhiker's Guide to the Galaxy", "The Woodsman", "The Italian Job", "Brown Sugar")
Rider Strong – 43 years old (1979) – Actor (TV's "Boy Meets World", "Girl Meets World")
Hailee Steinfeld – 26 years old (1996) – Actress, singer ("True Grit")
TODAY IS:
For additional information check out websites like: www.on-this-day.com, www.born-today.com, www.famousbirthdays.com, www.daysoftheyear.com, and www.nationaldaycalendar.com.