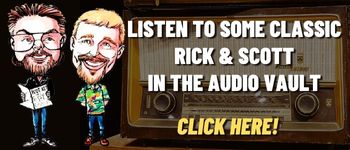 A quick look at Today in History, check out some Celebrity Birthdays, and find out what Days of the Year to celebrate.
TODAY IN HISTORY:
1654 – A meteorological office established in Tuscany began recording daily temperature readings.
1791 – The first ten amendments to the Constitution, known as the Bill of Rights, went into effect following ratification by the state of Virginia.
1854 – The first street cleaning machine was put into use in Philadelphia, PA.
1877 – Thomas Edison received a patent for the phonograph.
1933 – The Twenty-first Amendment to the Constitution officially became effective, repealing the Eighteenth Amendment that prohibited the sale, manufacture, and transportation of alcohol.
1938 – President Franklin D. Roosevelt presided over the ground-breaking ceremonies for the Jefferson Memorial in Washington, DC.
1939 – "Gone With the Wind", based on the novel by Margaret Mitchell, premiered at Loew's Grand Theater in Atlanta, GA. The movie starred Vivien Leigh and Clark Gable.
1941 – President Franklin D. Roosevelt signed into practice Bill of Rights Day.
1944 – Dr. R. Townley Paton and a small group of doctors laid the groundwork for the Eye-Bank for Sight Restoration.
1965 – Two U.S. manned spacecraft, Gemini 6 and Gemini 7, maneuvered within 10 feet of each other while in orbit around the Earth.
1979 – Chris Haney and Scott Abbott created their own trivia game called "Trivial Pursuit". It is now available in over 26 countries and 17 languages.
1981 – Congress passed $200 billion spending bill. At the time it was the largest in U.S. history.
2000 – The third reactor at the Chernobyl atomic power plant in Kiev, Ukraine, was shut down.
2000 – New York Senator-elect Hillary Rodham Clinton agreed to a $8 million book deal with Simon & Schuster. The book would be about her eight years in the White House. The advance was the highest ever to be paid to a member of the U.S. Congress.
2001 – The Leaning Tower of Pisa reopened after 11 years and $27 million spent to fortify it, without fixing its famous lean.
2001 – It was announced that Siena Heights University would begin offering a class called "Animated Philosophy and Religion." The two-credit class would cover how religion and philosophy are part of popular culture and is based on the television series "The Simpsons".
2005 – The Lockheed Martin F-22 Raptor was introduced into U.S. Air Force active service.
2009 – Boeing's new 787 Dreamliner made its maiden flight from Seattle, WA.
2013 – In the animated TV show "Family Guy", the family dog, Brian, was hit and killed by a car. Public outrage resulted in the writers bringing him back just a few episodes later.
2019 – A few additional snow flurries broke the record in Grand Rapids, MI for the most annual precipitation. The old record was 48.8″. That is the most precipitation that has been recorded in a calendar year in Grand Rapids since records started being kept in 1892.
BIRTHDAYS:
Cindy Birdsong – 83 years old (1939) – Singer (The Supremes)
Dave Clark – 83 years old (1939) – Singer (The Dave Clark Five)
Don Johnson – 73 years old (1949) – Actor (TV's "Nash Bridges," "Miami Vice", movies "Tin Cup", "The Hot Spot", "The Harrad Experiment", "Harley Davidson and the Marlboro Man")
Alex Cox – 68 years old (1954) – Movie director ("Repo Man," 'Sid and Nancy')
Paul Simonon – 67 years old (1955) – Bassist (Clash)
Helen Slater – 59 years old (1963) – Actress ("City Slickers," "Ruthless People", "Happy Together", "The Secret of My Success", "The Legend of Billie Jean", "Supergirl")
Molly Price – 56 years old (1966) – Actress (TV's "Third Watch", movies "Sweet and Lowdown", "Chasing Sleep", "Not Fade Away")
Michael Shanks – 52 years old (1970) – Actor (TV's "Stargate SG-1", "Saving Hope", "The Call of the Wild: Dog of the Yukon")
Stuart Townsend – 50 years old (1972) – Actor ("Venice Project," "24 Hours")
Adam Brody – 43 years old (1979) – Actor (TV's "The O.C.", movies "Jennifer's Body", "In the Land of Women," "Thank You for Smoking", "Mr. & Mrs. Smith")
Michelle Dockery – 41 years old (1981) – Actress (TV's "Downton Abbey")
George O. Gore II – 40 years old (1982) – Actor (TV's "My Wife and Kids", "New York Undercover")
TODAY IS:
For additional information check out websites like: www.on-this-day.com, www.born-today.com, www.famousbirthdays.com, www.daysoftheyear.com, and www.nationaldaycalendar.com.