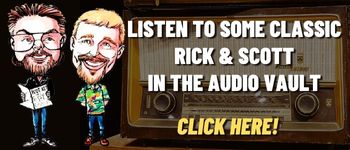 A quick look at Today in History, check out some Celebrity Birthdays, and find out what Days of the Year to celebrate.
TODAY IN HISTORY:
1732 – Benjamin Franklin began publishing "Poor Richard's Almanac".
1777 – General George Washington led his army of 11,000 men to Valley Forge, PA, to camp for the winter.
1842 – Hawaii's independence was recognized by the U.S.
1843 – Charles Dickens' "A Christmas Carol" was first published in London, England.
1856 – Celery was served at Kalamazoo, MI's Burdick Hotel. It was the first time the vegetable was served to the public. Celery was introduced to the state of Michigan by a Scottish immigrant named George Taylor. He brought the celery seed from Scotland to southwest Michigan. For a time, Kalamazoo promoted themselves as the "Celery City".
1871 – Albert L. Jones received a patent for his corrugated paper.
1903 – The Williamsburg Bridge opened in New York, NY. It was the first major suspension bridge in America. It opened as the largest suspension bridge and remained the largest until 1924. It was also the first major suspension bridge to use steel towers to support the main cable.
1917 – The first games of the new National Hockey League were played. Five teams made up the league: Toronto Arenas, Ottawa Senators, Quebec Bulldogs, the Montreal Canadiens and the Montreal Wanderers.
1918 – Robert Ripley began his "Believe It or Not" column in "The New York Globe".
1924 – The last Rolls-Royce Silver Ghost was sold in London, England.
1957 – Elvis Presley had his draft notice served on him for the U.S. Army. He joined the 32nd Tank Battalion third Armor Corps based in Germany.
1970 – President Richard Nixon commended MGM Records president Mike Curb for dropping from the label 18 acts who supposedly advocate drug use.
1971 – The movie "A Clockwork Orange", based on Anthony Burgess's novel of the same name, premiered in theaters.
1972 – Apollo 17 splashed down in the Pacific (crewed by Eugene Cernan, Ron Evans, and Harrison Schmitt) ending the Apollo program of manned lunar landings.
1973 – Johnny Carson started a fake toilet-paper scare on the "Tonight Show".
1974 – Nelson Rockefeller was sworn in as Vice President under President Gerald Ford under the provisions of the twenty-fifth Amendment of the Constitution.
1975 – John Paul Stevens was appointed a Justice of the Supreme Court of the United States.
1979 – The movie "Kramer vs. Kramer", starring Dustin Hoffman and Meryl Streep premiered in theaters. It becoming the highest-grossing film of 1979 and received a leading nine Oscar nominations at the 52nd Academy Awards, winning five: Best Picture, Best Director, Best Actor (for Hoffman), Best Supporting Actress (for Streep), and Best Adapted Screenplay.
1979 – ESPN televised its first NHL game, between the Washington Capitals and the Hartford Whalers.
1980 – Dolly Parton's first feature film, "9 to 5", with the Oscar nominated title tune she wrote and sang, opened in theaters nationwide.
1985 – ABC Sports announced that it is severing ties with Howard Cosell, who continued to broadcast on ABC Radio for another five years.
1986 – Michael Sergio, who parachuted into New York's Shea Stadium during the first inning of Game 6 of the 1986 World Series, was fined $500 and sentenced to 100 hours of community service. On October 25th he landed on the infield with a "Let's Go Mets" banner in the game between the New York Mets and the Boston Red Sox.
1990 – Baseball and football player Bo Jackson became the first athlete to be chosen for All Star Games in two sports.
1995 – Queen Elizabeth told Prince Charles and Princess Diana to get a divorce.
1996 – The school board of Oakland, CA, voted to recognize Black English, also known as "ebonics." The board later reversed its stance.
1997 – James Cameron's "Titanic", starring Kate Winslet and Leonardo DiCaprio, opened in theaters.
1998 – After nearly 14 hours of debate, President Bill Clinton was impeached on two charges of perjury and obstruction of justice by the House of Representatives. He became the second President of the U.S. to be impeached.
2001 – The movie "The Fellowship of The Ring" premiered in theaters in the United States. It was based on the first volume of J. R. R. Tolkien's "The Lord of the Rings".
2003 – Images for the new design for the Freedom Tower at the World Trade Center site were released. The building sloped into a spire that reached 1,776 feet.
2006 – Donald Trump showed a little holiday-season compassion and allowed the underage drinking and possibly drug using Miss USA, Tara Conner, to keep her crown.
2008 – President George W. Bush signed a $17.4 billion rescue package of loans for ailing auto makers General Motors and Chrysler.
2015 – Michael Jackson's "Thriller" album became the first to sell more than 30 million copies in the United States. The album was released 33 years earlier.
BIRTHDAYS:
Tim Reid – 78 years old (1944) – Actor (Played Venus Flytrap on TV's "WKRP in Cincinnati", "Simon & Simon", "Frank's Place", "Snoops", "Sister Sister")
Elaine Joyce – 77 years old (1945) – Actress, panelist (TV's "The Young and the Restless", "Days of Our Lives", "The Andy Griffith Show", "The Red Skelton Show", "Love, American Style", "Kojak", "Green Acres", "Hawaii Five-O", "The Feather and Father Gang", panelist "Match Game", "Tattletales", "What's My Line?", "I've Got a Secret")
John McEuen – 77 years old (1945) – Musician (The Nitty Gritty Dirt Band)
Janie Fricke – 75 years old (1947) – Country singer
Mike Lookinland – 62 years old (1960) – Actor (Played Bobby Brady on TV's "The Brady Bunch")
Jennifer Beals – 59 years old (1963) – Actress ("Flashdance", "Devil in a Blue Dress", "The Anniversary Party", "Rodger Dodger", "The Grudge 2", TV's "The L Word")
Robert MacNaughton – 56 years old (1966) – Actor (He played Elliot's brother in the movie "E.T. the Extra-Terrestrial")
Tyson Beckford – 52 years old (1970) – Actor, model ("Biker Boyz", "Zoolander")
Amy Locane – 51 years old (1971) – Actress ("CryBaby", "Blue Sky", "Bongwater", TV's "Melrose Place")
Alyssa Milano – 50 years old (1972) – Actress (TV's "Charmed", Played Samantha Micelli on "Who's the Boss", "Melrose Place", "Mistresses", movies "Hall Pass", "Hugo Pool", "Fear")
Warren Sapp – 50 years old (1972) – Football player, TV analyst (Showtime's "Inside the NFL")
Jake Gyllenhaal – 42 years old (1980) – Actor ("Brokeback Mountain", "Donnie Darko", "Bubble Boy", "Moonlight Mile", "Jarhead", "Zodiac", "Source Code", "Brothers", "Prince of Persia: The Sands of Time")
Marlo Sokoloff – 42 years old (1980) – Actress (TV's "Big Day", "The Practice", "Full House", "Dude Where's My Car?")
TODAY IS:
For additional information check out websites like: www.on-this-day.com, www.born-today.com, www.famousbirthdays.com, www.daysoftheyear.com, and www.nationaldaycalendar.com.