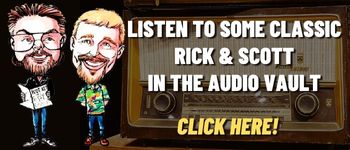 A quick look at Today in History, check out some Celebrity Birthdays, and find out what Days of the Year to celebrate.
TODAY IN HISTORY:
1790 – The first successful cotton mill in the United States began operating in Pawtucket, RI.
1803 – The United States Senate ratified a treaty that included the Louisiana Territories from France for $15 million. The transfer was completed with formal ceremonies in New Orleans.
1812 – Many of the fairy tales we all learned were first published as "Grimm's Fairy Tales" in Germany. The first edition included 86 stories. Some of the stories had some pretty dark themes, despite being written for children. Through "Grimm's Fairy Tales" were introduced to many characters including Snow white, Rapunzel, Rumpelstiltskin, and Hansel and Gretel.
1820 – The state of Missouri enacted legislation to tax bachelors between the ages of 21-50 for being unmarried. The tax was $1 a year.
1860 – South Carolina became the first state to secede from the American Union.
1879 – Thomas A. Edison privately demonstrated his incandescent light in Menlo Park, NJ.
1880 – New York's Broadway became known as the "Great White Way" when it was lighted by electricity.
1892 – Alexander T. Brown and George Stillman patented the pneumatic tire.
1920 – The first automatic tri-colored traffic signal is installed in Detroit, MI
1928 – Mail delivery by dog sled began in Lewiston, ME.
1946 – The Frank Capra film. "It's A Wonderful Life". had a preview showing for charity at New York City's Globe Theatre, a day before its "official" world premiere. James Stewart and Donna Reed starred in the film.
1951 – The EBR-1 in Arco, ID became the first nuclear power plant to generate electricity. The electricity powered four light bulbs.
1954 – Buick Motor Company signed Jackie Gleason to one of the largest contracts ever entered into with an entertainer. Gleason agreed to produce 78 half-hour shows over a two-year period for $6,142,500.
1957 – Elvis Presley received his Army draft notice.
1957 – The initial production version of the Boeing 707 made it's first flight.
1962 – The Osmond Brothers appeared on NBC-TV's "Andy Williams Show" for the first time.
1962 – A world indoor pole-vault record was set by Don Meyers when he cleared 16 feet, 1-1/4 inches.
1963 – The Berlin Wall was opened for the first time to West Berliners. It was only for the holiday season. It closed again on January 6, 1964.
1965 – The TV show "The Dating Game", with host Jim Lange, aired for the first time on ABC.
1967 – A Pennsylvania Railroad Budd Metroliner exceeded 155 miles per hour on their New York Division.
1971 – Al Kaline signed a new Detroit Tiger contract that made him the first Detroit player to top $100,000 a year.
1990 – The world's first website and server go live at CERN. The first website was http://info.cern.ch/hypertext/WWW/TheProject.html.
1991 – The movie "Father of the Bride", starring Steve Martin, premiered in theaters.
1991 – Oliver Stone's film, "JFK", opened in the U.S.
1996 – NeXT merged with Apple Computer, starting the path to Mac OS X.
1996 – The first "Scream" movie opened in theaters.
1998 – In Houston, TX, a 27-year-old woman gave birth to the only known living set of octuplets. Seven of the eight octuplets are currently alive, one died one week after birth.
1999 – The Vermont Supreme Court ruled that homosexual couples were entitled to the same benefits and protections as wedded couples of the opposite sex.
2007 – Queen Elizabeth II became the oldest monarch of the United Kingdom, surpassing Queen Victoria, who lived for 81 years and 243 days.
2019 – The United States Space Force became the first new branch of the United States Armed Forces since 1947.
BIRTHDAYS:
Kim Weston – 83 years old (1939) – Singer ("Love Me All the Way", "Take Me in Your Arms (Rock Me a Little While)"). Born in Detroit, MI.
Angel Tompkins – 80 years old (1942) – Actress ("Walking Tall, Part II," "The Bees")
Bobby Colomby – 78 years old (1944) – Drummer (Blood, Sweat & Tears)
Peter Criss – 77 years old (1945) – Drummer (KISS)
Uri Geller – 76 years old (1946) – Self-proclaimed psychic
Jenny Agutter – 70 years old (1952) – Actress ("The Snow Goose," "Logan's Run", "An American Werewolf in London", "Child's Play 2")
Michael Badalucco – 68 years old (1954) – Actor (TV's "The Practice")
Blanche Baker – 66 years old (1956) – Actress ("The Seduction of Joe Tynan", "Sixteen Candles", "Cold Feet", "Taking Chance")
Chris Robinson – 56 years old (1966) – Singer (The Black Crowes)
David Cook – 40 years old (1982) – Singer (Winner of TV's "American Idol: Season 7")
Jonah Hill – 39 years old (1983) – Actor ("The Wolf of Wall Street", "21 Jump Street", "Moneyball", "Get Him to the Greek", "Superbad")
Bob Morley – 38 years old (1984) – Actor (TV's "The 100," "Neighbours")
TODAY IS:
International Human Solidarity Day
For additional information check out websites like: www.on-this-day.com, www.born-today.com, www.famousbirthdays.com, www.daysoftheyear.com, and www.nationaldaycalendar.com.