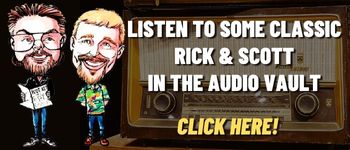 A quick look at Today in History, check out some Celebrity Birthdays, and find out what Days of the Year to celebrate.
TODAY IN HISTORY:
1832 – The first Grand Rapids, MI post office opened.
1882 – Edward Johnson was the first person to string light bulbs together to decorate his Christmas tree.
1894 – The United States Golf Association was formed in New York, NY.
1895 – German physicist Wilhelm Röntgen made the first X-ray. It was an x-ray of his wife's hand.
1910 – U.S. Postal savings stamps were issued for the first time. They were discontinued in 1914.
1937 – The Lincoln Tunnel opened to traffic in New York, NY.
1939 – Gloria Jacobs became the first girl to hold a world pistol record when she shot 299 out of a possible 300 points. She was 17 years old at the time.
1943 – Sporting goods manufacturers received permission to use synthetic rubber for the core of baseballs.
1954 – WMAX radio in Grand Rapids, MI began broadcasting.
1956 – Colo, the first gorilla to be born in captivity, was born at the Columbus Zoo and Aquarium in Ohio.
1958 – "The Chipmunk Song" hit #1 on the charts.
1968 – President-elect Richard Nixon's daughter Julie married David Eisenhower, son of the former President.
1976 – Isaac Hayes declared bankruptcy, five years after topping the charts and winning both an Oscar and a Grammy for "Theme from Shaft".
1976 – The last episode of the original "Let's Make A Deal" TV game show aired. It was hosted by Monty Hall.
1978 – Michigan's drinking age was raised to 21.
1984 – New York City resident Bernhard Goetz shot four black youths on a Manhattan subway. Goetz claimed they were about to rob him. He was later convicted on a charge of illegal weapons possession and spent eight months in prison.
1998 – Comerica Bank spent $66 million for the naming rights on Comerica Park in Detroit, MI.
2000 – The movie "Castaway", starring Tom Hanks, premiered in theaters.
2001 – A terrorist dubbed the "shoe bomber" was foiled in the air. Londoner Richard Reid, 28, was subdued on an American Airlines flight from Paris to Miami as he attempted to detonate an explosive device hidden in his sneaker.
2006 – The movie, "A Night at the Museum", starring Ben Stiller, premiered in theaters.
2010 – The repeal of the Don't Ask, Don't Tell policy. The 17 year old policy banning homosexuals serving openly in the U.S. military was signed into law by President Barack Obama.
2018 – The government was partially shut down after the House and Senate failed to pass a spending bill. President Donald Trump insisted he would not sign any spending bill that did not include $5 billion for a border wall.
BIRTHDAYS:
Hector Elizondo – 86 years old (1936) – Actor ("Valentine's Day", "The Princess Diaries", "Runaway Bride", "Pretty Woman", "The Flamingo Kid", "American Gigolo", TV's "Chicago Hope")
Barry Jenkins – 78 years old (1944) – Drummer (The Animals)
Diane Sawyer – 77 years old (1945) – Journalist (TV's "Good Morning America", "Primetime Live", "20/20", "60 Minutes")
Rick Nielsen – 74 years old (1948) – Guitarist (Cheap Trick)
Bern Nadette Stanis – 69 years old (1953) – Actress, author (TV's "Good Times")
Ralph Fiennes – 60 years old (1962) – Actor("The English Patient", "Schindler's List", "Spectre", "The Grand Budapest Hotel", "Skyfall", "Clash… and Wrath of the Titans", "The Hurt Locker", "The Reader", the "Harry Potter" movies, "The Constant Gardener", "The End of the Affair", "Maid in Manhattan", "The Avengers", "Strange Days")
Lauralee Bell – 54 years old (1968) – Actress (TV's "The Young and the Restless", "The Bold and the Beautiful")
Dina Meyer – 54 years old (1968) – Actress ("Birds of Prey", "Starship Troopers", "Saw" films, TV's "Scoundrels")
Ted Cruz – 52 years old (1970) – Politician from Texas
Vanessa Paradis – 50 years old (1972) – Actress ("The Girl on the Bridge")
Heather Donahue – 48 years old (1974) – Actress ("The Blair Witch Project")
Chris Carmack – 42 years old (1980) – Actor (TV's "Nashville", "The OC")
Jordin Sparks – 33 years old (1989) – Singer (Winner of TV's "American Idol: Season Six")
Meghan Trainor – 29 years old (1993) – Singer
TODAY IS:
For additional information check out websites like: www.on-this-day.com, www.born-today.com, www.famousbirthdays.com, www.daysoftheyear.com, and www.nationaldaycalendar.com.