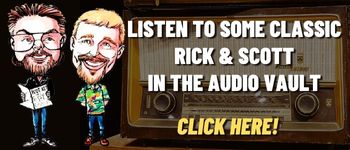 A quick look at Today in History, check out some Celebrity Birthdays, and find out what Days of the Year to celebrate.
TODAY IN HISTORY:
1863 – President Abraham Lincoln announced his plan for the Reconstruction of the South.
1886 – At a convention of union leaders in Columbus, OH, the American Federation of Labor was founded.
1936 – The NAACP filed its first lawsuit in a campaign to equalize the salaries of black and white school teachers.
1941 – President Franklin D. Roosevelt declared December 7 to be "a date which will live in infamy" when the United States entered World War II, declaring war against Japan. The act came one day after the Japanese attacked Pearl Harbor. Britain and Canada also declared war on Japan.
1952 – The television show "I Love Lucy" broke a longstanding television taboo by acknowledging a pregnancy.
1953 – In Grand Rapids, MI, WOOD TV changed from its original Channel 7 to its current Channel 8. It became the first Michigan station to broadcast in color.
1953 – Los Angeles, CA became the third largest city in the United States.
1962 – A strike by the International Typographical Union closed nine New York City newspapers. The strike lasted 114 days and ended April 1, 1963.
1963 – A 19 year old Frank Sinatra Jr. was abducted at gunpoint. His father paid $240,000 in ransom and he was released several days later.
1963 – Pan Am Flight 24, a Boeing 707, was struck by lightning and crashed near Elkton, MD, killing all 81 people on board.
1972 – United Airlines Flight 553, a Boeing 737, crashed after aborting its landing attempt at Chicago, IL, Midway International Airport, killing 45. The crash was the first ever loss of a Boeing 737.
1980 – In New York, NY, John Lennon was murdered by Mark David Chapman as he returned home to The Dakota after a recording session at New York's Record Plant. Earlier in the day, Lennon had autographed an album for Chapman.
1982 – Norman D. Mayer demanding an end to nuclear weapons held the Washington Monument hostage. He threatened to blow it up with explosives he claimed were inside a van. 10 hours later he was shot to death by police.
1982 – The movie "48 Hours", starring Eddie Murphy, opened in movie theaters.
1984 – In Roanoke, VA, a jury found "Hustler" magazine publisher Larry Flynt innocent of libeling Reverend Jerry Falwell with a parody advertisement. However Falwell was awarded $200,000 for emotional distress.
1993 – President Bill Clinton signed into law the North American Free Trade Agreement.
1998 – The U.S. Supreme Court ruled that police could not search a person, or their cars, after ticketing for a routine traffic violation.
1999 – In Memphis, TN, a jury found that Rev. Martin Luther King Jr. had been the victim of a vast murder conspiracy, not a lone assassin.
2000 – Sting received a star on the Hollywood Walk of Fame.
2000 – Mario Lemieux announced to the Pittsburgh Penguins that he planned to return to the National Hockey League as a player at age 35. He would be the first modern owner-player in U.S. pro sports.
2010 – With the second launch of the SpaceX Falcon 9 and the first launch of the SpaceX Dragon, SpaceX became the first private company to successfully launch, orbit and recover a spacecraft.
2013 – Metallica became the first band to perform a concert on all seven of Earth's continents. On this day, Metallica performed at the Argentine Carlini Station in Antarctica.
2019 – The first case of COVID-19 was confirmed in China
BIRTHDAYS:
Bobby Elliott – 81 years old (1941) – Drummer (The Hollies)
John Rubinstein – 76 years old (1946) – Actor ("21 Grams", "Red Dragon", "Mercy", "Another Stakeout", "Someone to Watch Over Me", "Daniel", "The Boys from Brazil", "Rome & Jewel", "Jekyll", "Kid Cop", "Getting Straight", "Zachariah", "The Trouble with Girls", "The Car")
Kim Basinger – 69 years old (1953) – Actress ("LA Confidential", "The Sentinel", "8 Mile", "The Getaway", "Wayne's World 2", "Batman", "My Stepmother Is an Alien", "9 1/2 Weeks", "Never Say Never Again")
Roy Firestone – 69 years old (1953) – Sportscaster
Nathan East – 67 years old (1955) – Bass player, vocalist(Plays in Eric Clapton's and Phil Collins's bands)
Warren Cuccurullo – 66 years old (1956) – Musician (Missing Persons, Duran Duran)
Phil Collen – 65 years old (1957) – Guitarist (Def Leppard)
Paul Rutherford – 63 years old (1959) – Vocalist, keyboardist (Frankie Goes To Hollywood)
Marty Friedman – 60 years old (1962) – Lead guitarist (Megadeth)
Teri Hatcher – 58 years old (1964) – Actress (TV's "Desperate Housewives", "Lois and Clark: The New Adventures of Superman", movies "Spy Kids", "Tomorrow Never Dies")
Matthew Laborteaux – 56 years old (1966) – Actor (Played Albert on TV's "Little House on the Prairie") Interesting fact: Labyorteaux is a skilled video game player. In October 1981 he finished in tenth place for "Centipede" at the Atari, Inc. world championships. In April 1982, he became the United States "Pac-Man" champion at a People-sponsored tournament, with a score of 1,200,000.
Sinéad O'Connor – 56 years old (1966) – Singer ("Nothing Compares 2 U")
Dominic Monaghan – 46 years old (1976) – Actor, TV host (TV's "Lost", "Flash Forward", "Wild Things with Dominic Monaghan", movie "Lord of the Rings")
Ian Somerhalder – 44 years old (1978) – Actor (TV's "Lost," "The Vampire Diaries", movie "The Rules of Attraction")
Ingrid Michaelson – 43 years old (1979) – Singer ("The Way I Am", "Girls Chase Boys")
Nicki Minaj – 40 years old (1982) – Rapper, singer
Kate Voegele – 36 years old (1986) – Singer, actress (TV's "One Tree Hill")
AnnaSophia Robb – 29 years old (1993) – Actress ("Race to Witch Mountain", "Because of Winn-Dixie", Soul Surfer", "Jumper", "Charlie and the Chocolate Factory", TV's "The Carrie Diaries")
Teala Dunn – 26 years old (1996) – Actress, singer (TV's "Are We There Yet?")
TODAY IS:
National Crossword Solvers Day
Pretend to be a Time Traveler Day
For additional information check out websites like: www.on-this-day.com, www.born-today.com, www.famousbirthdays.com, www.daysoftheyear.com, and www.nationaldaycalendar.com.