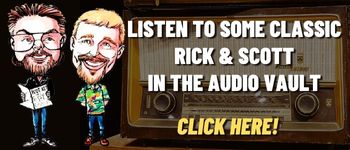 A quick look at Today in History, check out some Celebrity Birthdays, and find out what Days of the Year to celebrate.
TODAY IN HISTORY:
1855 – Michigan State University was established.
1878 – The baseball catcher's mask was patented by Frederick W. Thayer.
1879 – The first artificial ice rink opened in North America. It was at Madison Square Garden in New York City, NY.
1880 – The National Croquet League was organized in Philadelphia, PA.
1892 – President Abraham Lincoln's birthday was declared to be a National holiday.
1909 – The National Association for the Advancement of Colored People (NAACP) was founded.
1915 – The cornerstone of the Lincoln Memorial was laid in Washington, DC.
1918 – All theaters in New York, NY, were shut down in an effort to conserve coal.
1924 – President Calvin Coolidge made the first presidential political speech on radio.
1924 – "The Eveready Hour" became radio's first sponsored network program. The National Carbon Company was the first sponsor of a network show.
1931 – Bela Lugosi starred as Count Dracula when the movie "Dracula" premiered in theaters.
1940 – Mutual Radio presented the first broadcast of the radio play "The Adventures of Superman".
1963 – Construction began on the Gateway Arch in St. Louis, MO.
1971 – The advertising song "I'd Like to Buy the World a Coke" was first used by Coca Cola. The song was rewritten and recorded as "I'd Like to Teach the World to Sing" by The New Seekers, and released a few months later in November of 1971.
1973 – The state of Ohio became the first to go metric, posting distance signs in kilometers.
1973 – American Prisoners of War were released for the first time during the Vietnam conflict.
1985 – Johnny Carson surprised his audience by shaving the beard he had been wearing on "The Tonight Show".
1989 – Tiny Tim declared himself a New York City mayoral candidate. He did not win in the election.
1993 – The movie "Groundhog Day", starring Bill Murray, debuted in theaters.
1997 – The day after the release of his "Earthling" album, David Bowie received his star on the Hollywood Walk of Fame.
1999 – President Bill Clinton was acquitted by the U.S. Senate on two impeachment articles. The charges were perjury and obstruction of justice.
2001 – The U.S. 9th Circuit Court of Appeals ordered Napster to stop its users from trading copyrighted material without charge.
2001 – The space probe NEAR touched down in the "saddle" region of the asteroid 433 Eros. It was the first time that any craft had landed on an asteroid.
2002 – Kenneth Lay, former Enron CEO, exercised his constitutional rights and refused to testify to Congress about the collapse of Enron.
2004 – Mattel announced that "Barbie" and "Ken" were breaking up. The dolls had met on the set of their first television commercial together in 1961.
2008 – The 14-week Writers Guild of America strike finally ended.
2009 – Colgan Air Flight 3407 crashed into a house in Clarence Center, NY, while on approach to Buffalo Niagara International Airport, killing all on board and one person on the ground.
2010 – Mark Grimmette of Muskegon, MI, carried the USA flag during the opening ceremony for the 2010 Olympics in Vancouver.
2010 – The remake of the song "We Are The World" premiered at the opening of the Winter Olympics.
2019 – Mexican drug lord Joaquin "El Chapo" Guzman was found guilty of all 10 federal crimes against him in New York, NY.
BIRTHDAYS:
Abraham Lincoln – February 12, 1809 – 16th President of the United States. Died April 15, 1865.
Joe Don Baker – 87 years old (1936) – Actor ("Walking Tall", "Mitchell", "Final Justice", "Fletch")
Judy Blume – 85 years old (1938) – Author ("Are You There God? It's Me, Margaret", "Tales of a Fourth Grade Nothing", "Deenie", "Blubber")
Moe Bandy – 79 years old (1944) – Country singer
Maud Adams – 78 years old (1945) – Actress ("The Man with the Golden Gun", "Octopussy", "A View to a Kill")
Cliff DeYoung – 78 years old (1945) – Actor, musician ("Harry and Tonto", "The Lindbergh Kidnapping Case", "Captains and the Kings", "The 3,000 Mile Chase", "Centennial", "Blue Collar", "Shock Treatment")
Steve Hackett – 73 years old (1950) – Guitarist (Genesis)
Michael Ironside – 73 years old (1950) – Actor ("Scanners")
Michael McDonald – 71 years old (1952) – Musician (The Doobie Brothers)
Joanna Kerns – 70 years old (1953) – Actress (TV's "Growing Pains")
Arsenio Hall – 67 years old (1956) – Actor, comedian, talk show host ("Coming to America", TV's "The Arsenio Hall Show", "Star Search", "Arsenio")
Christine Elise McCarthy – 58 years old (1965) – Actress (TV's "Beverly Hills 90210″, movie " Child's Play 2″)
Josh Brolin – 55 years old (1968) – Actor ("No Country for Old Men")
Chynna Phillips – 55 years old (1968) – Singer, actress (The Mamas and Papas)
Jim Creeggan – 53 years old (1970) – Bassist (Barenaked Ladies)
Jesse Spencer – 44 years old (1979) – Actor (TV's "House", "Neighbours", "Chicago Fire")
Christina Ricci – 43 years old (1980) – Actress ("Black Snake Moan", "Monster", "The Opposite of Sex", "Prozac Nation", "Buffalo '66", "The Ice Storm", "The Addams Family")
Casey Abrams – 32 years old (1991) – Singer (Finshed 6th on TV's "American Idol: Season 10")
TODAY IS:
For additional information check out websites like: www.on-this-day.com, www.born-today.com, www.famousbirthdays.com, www.daysoftheyear.com, and www.nationaldaycalendar.com.