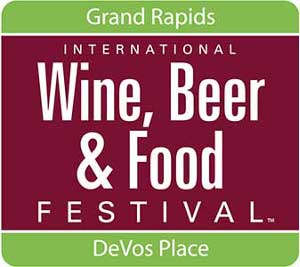 The 10th Grand Rapids International Wine, Beer & Food Festival is coming up this weekend at DeVos Place in Grand Rapids, MI. The event runs Thursday, November 16 from 5-10 pm, Friday, November 17th from 4-10 pm, and Saturday, November 18th from 1-10 pm. It's a chance to savor the largest and finest culinary experience in the Midwest during this annual pre-holiday celebration.
A part of the Festival every year is the Food Pairings. Select restaurants partner with distinguished wineries, breweries and distilleries for special pairings. These gourmet multi-course meals are served on-site in a casual yet intimate "bar top" setting. Several seatings are offered each day by each of the different restaurants. Tickets are $35-$65 each and may be purchased in advance online, or at the Festival, on a first-come, first-served basis.
Over the last ten years, I have been to most of the International Wine, Beer & Food Festivals, but I have never experienced the food pairings. I was invited to a special media preview pairing at New Holland Brewing's "The Knickerbocker" on Tuesday, November 14th, and let me just say it was an eye opener.
Typically when I eat, I find a food I like and a beverage to go with it, however, I've never really put much thought into just WHAT beverage. For me it's more like grab a cold beer out of the refrigerator and eat!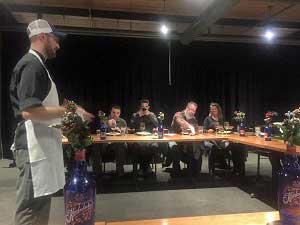 At this special preview food pairing, we had four different food plates and drinks to sample. Each beverage really did compliment the food that went along with it. The food and pairings were put together by Brian Proctor, Chef de Cuisine at The Knickerbocker. Since opening The Knickerbocker, he has crafted the menu by focusing on whole animal butchery and sustainable local purchasing.
We started out with Pork & Pickles Charcuterie (pictured at the top of this post). Paired along with this appetizer was the Barrel Knickerbocker Gin Martinez.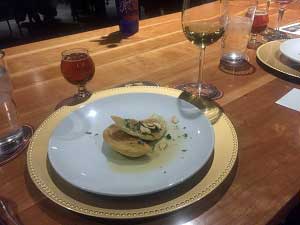 From there we went on to the Pumpkin Pierogi with a Bourbon brown butter. This was paired with two different beverages…New Holland's Ichabod Pumpkin Ale and a Wyncroft Chardonnay. Coming from a Polish family, I loved the choice of food. And Ichabod is one of my favorite beers. This is where my eyes and taste buds began to awaken. There truly was a difference in the taste of the food depending on the beverage that you paired it with!
Our next pairing continued with the Polish food theme. We were served a Golumpki cabbage roll with sauerkraut and smoked tomato. The beverages that were paired with this selection were the Baltic Anomaly, a New Holland Honey Baltic Porter and a Marland Cabernet Franc. Once again two completely different tastes depending on the beverage you chose to pair with the food.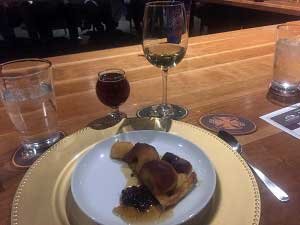 We finished our food pairing with an Apple Tarte Tatin which is an apple raisin pastry. Served with this were both a Pilgrim's Dole Wheatwine and a Marland Late Harvest Riesling.
After my first food pairing, I think I'm hooked! Eating food may never be the same for me again. Now I will have to put some thought into the beverage that I decide to pair with my food!
You can take part in the pairings as well this weekend at the Grand Rapids International Wine, Beer & Food Festival. Here is the link to see the different pairings being offered by different restaurants and the schedule.
Of course the 10th Grand Rapids International Wine, Beer & Food Festival is more than just food pairings. To find out everything the Festival has to offer this weekend, here is their official website. Here is their Facebook page.
And here is a video promoting the Festival…