Coastal Living has announced their 2017 list of the "Happiest Seaside Towns in America". At the very top of the list is Grand Haven, Michigan!! The editors of Coastal Living made the announcement on Friday, January 27, 2017, live on Facebook from Stuart, FL (last year's winner).
Grand Haven is the first town in the Great Lakes area to be given the award.
How did Grand Haven make it's way to the title of the "Happiest Seaside Town in America"? The whole process started with nominations from the public. The publication then whittled down the candidates to 10 finalists based on things like beach healthiness and the number of sunny and clear days. The finalists were then put up for public vote.
Here is what Coastal Living has to say about Grand Haven:
"Anyone who has spent summers on the Great Lakes knows that this American playground has specific charms that vary from shore to shore. But life among the historic storefronts, along the bustling waterfront's boardwalk of this town on Lake Michigan's eastern shore has an old-fashioned spirit that stands out among so many gems. Known as 'Coast Guard City, U.S.A.,' Grand Haven's embrace of every manner of maritime life, including fishing and boating of all kinds, combines small-town living with big-lake pleasures."
Grand Haven was the only city located on an inland lake to make the cut this year. The other finalists are seaside in California, Florida, Maine, Massachusetts, New Jersey, South Carolina, and Washington.
The editors of Coastal Living plan to visit Grand Haven to present city officials with a prize package and the official award.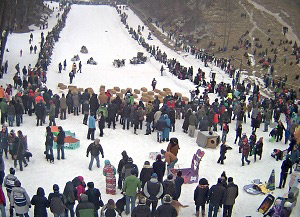 Here is the information on the Coastal Living website. The website also lists the "10 Best Things to Do in Grand Haven". The list includes a lot of the everyday activities that immediately come to mind when you think of a beach town. Things like playing by the lake, visiting the dunes, walking the boardwalk, boating, biking, the food, the Musical Fountains, and the Coast Guard Festival. I didn't realize though, that there was a great place to ski and snowboard in Grand Haven!! I have lived here all my life and I'm just now hearing about this place! It's called Mulligan's Hollow. I checked out their website and it included a live webcam (it is slow to load). There were a lot of people enjoying the winter weather.
It just goes to prove — you can learn something new about your community EVERY day!
Congratulations Grand Haven!!
Here is the "Welcome to Grand Haven" video put together by Visit Grand Haven…
Photo: YouTube/VisitGrandHaven