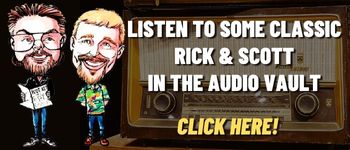 A quick look at Today in History, check out some Celebrity Birthdays, and find out what Days of the Year to celebrate.
TODAY IN HISTORY:
1773 – The first public museum in the United States was established in Charleston, SC.
1835 – Michigan's acting Governor, Stephens T. Mason, addressed the Territory Legislative Council and said that Michigan had the "right" to become a State.
1854 – Anthony Faas patented the accordion.
1875 – Rix Robinson, first white permanent settler in Kent County, died. He is buried in Ada, MI. After his trader days, he went on to be a U.S. Senator for Michigan.
1896 – At Davidson College, several students took x-ray photographs. They created the first X-ray photographs to be made in the United States.
1904 – Henry Ford drove a Ford 999 Racer 91.37 miles per hour on the frozen surface of Lake St. Clair to set a new land speed record.
1908 – A wireless message was sent long-distance for the first time from the Eiffel Tower in Paris.
1915 – The U.S. House of Representatives rejected a proposal to give women the right to vote.
1915 – The U.S. Congress established the Rocky Mountain National Park.
1932 – Hattie W. Caraway became the first woman elected to the U.S. Senate.
1942 – President Theodore Roosevelt created the National War Labor Board.
1949 – "Kukla, Fran and Ollie", the Chicago-based children's television show, made its national debut on NBC.
1959 – Berry Gordy Jr. founded Motown.
1966 – The television show "Batman" debuted on ABC. It ran until March 14, 1968.
1967 – Dr. James Bedford became the first person to be cryonically preserved with intent of future resuscitation.
1967 – The television show "Dragnet" returned to NBC after being off the network schedule for eight years.
1971 – The controversial television sitcom "All in the Family" premiered on CBS.
1986 – Space Shuttle Columbia (STS-61-C) blasted off with a crew that included the first Hispanic-American in space, Dr. Franklin R. Chang-Diaz. Also on board was Congressman Bill Nelson.
1991 – The U.S. Congress passed a resolution authorizing President George Bush to use military power to force Iraq out of Kuwait.
1997 – The animated television show "King of the Hill" debuted on FOX.
1998 – 19 European nations agreed to prohibit human cloning.
1998 – Linda Tripp provided Independent Counsel Kenneth Starr's office with taped conversations between herself and former White House intern Monica Lewinsky.
1999 – Mark McGwire's 70th home run ball was sold at auction in New York for $3 million to an anonymous bidder.
1999 – President Bill Clinton paid $850,000 to end a legal action by a former Arkansas employee, Paula Jones, who had accused him of sexual misconduct.
2000 – The U.S. Supreme Court, in a 5-4 ruling, gave police broad authority to stop and question people who run at the sight of an officer.
2001 – National Geographic gets its own TV channel. It's a joint venture between The Walt Disney Company and the National Geographic Society.
2003 – AOL chairman and founder Steve Case resigned amid falling stock prices and shareholder dissatisfaction.
2004 – The world's largest ocean liner, RMS Queen Mary 2, made its maiden voyage.
2005 – NASA launched "Deep Impact". The spacecraft was planned to impact on Comet Tempel 1 after a six-month, 268 million-mile journey.
2006 – The U.S. Mint released new nickels with an image of Thomas Jefferson taken from a 1800 Rembrandt Peale portrait. Jefferson is looking forward…since 1909, when Presidents were first depicted on circulating coins, they all had been shown in profile.
2007 – Comet C/2006 P1 (McNaught) reached perihelion to become the brightest comet in more than 40 years.
2010 – An estimated 316,000 die after a huge earthquake in Haiti near its capital city, Port-au-Prince. The quake destroyed most of the city, and according to The Red Cross about three million people were affected by the catastrophe.
BIRTHDAYS:
The "Amazing Kreskin" – 88 years old (1935) – Psychic, mentalist
William Lee Golden – 84 years old (1939) – Singer (The Oak Ridge Boys)
Anthony Andrews – 75 years old (1948) – Actor (TV's "Brideshead Revisited")
Walter Mosley – 71 years old (1952) – Author ("Devil in a Blue Dress", "The Man in My Basement")
Ricky Van Shelton – 71 years old (1952) – Country music singer
Howard Stern – 69 years old (1954) – Radio personality, TV judge (TV's "America's Got Talent")
Christiane Amanpour – 65 years old (1958) – Television news reporter, interviewer
Per Gessle – 64 years old (1959) – Singer, guitarist, harmonicist (Roxette)
Oliver Platt – 63 years old (1960) – Actor ("2012", "Dr. Dolittle", "The Three Musketeers", "Please Give", "Love and Other Drugs", "Indecent Proposal", TV's "The Big C", "Huff")
Jeff Bezos – 59 years old (1964) – Amazon founder
Rob Zombie – 58 years old (1965) – Singer, filmmaker (White Zombie, "Halloween", "The Devil's Rejects", "House of 1000 Corpses")
Olivier Martinez – 57 years old (1966) – Actor ("S.W.A.T.", "Unfaithful")
Raekwon – 53 years old (1970) – Rapper (Wu Tang Clan)
Melanie Chisholm – 49 years old (1974) – Singer (Sporty Spice in The Spice Girls)
Andrew Lawrence – 35 years old (1988) – Actor (TV's "Brotherly Love", "Recess")
Zayn Malik – 30 years old (1993) – Singer (One Direction)
Ella Henderson – 27 years old (1996) – Singer (Finished 6th on the ninth series of "The X Factor")
TODAY IS:
For additional information check out websites like: www.on-this-day.com, www.born-today.com, www.famousbirthdays.com, www.daysoftheyear.com, and www.nationaldaycalendar.com.