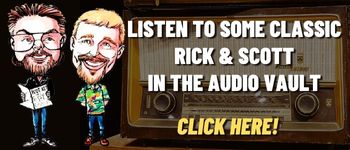 A quick look at Today in History, check out some Celebrity Birthdays, and find out what Days of the Year to celebrate.
TODAY IN HISTORY:
1794 – President George Washington approved a measure adding two stars and two stripes to the American flag, following the admission of Vermont and Kentucky to the union.
1854 – Anthony Faas was granted the first U.S. patent for the accordion. He made improvements to the keyboard and enhanced the sound.
1888 – The National Geographic Society was founded in Washington, DC.
1906 – Hugh Gernsback, of the Electro Importing Company, advertised radio receivers for sale for the price of just $7.50 in "Scientific American" magazine.
1910 – Lee De Forest, the American inventor of the vacuum tube, broadcasted the first ever live radio performance of Enrico Caruso from the Metropolitan Opera. The broadcast could only be heard by a small number of electronics hobbyists who had radio receivers
1928 – Ernst F. W. Alexanderson gave the first public demonstration of television. Experimental television sets were installed in three homes in Schenectady, NY. The RCA and General Electric sets had a 1.5″ square picture.
1942 – Henry Ford patented the "Soybean Car". It was a plastic automobile. The car was 30% lighter than the average car.
1957 – Wham-O produced the first Frisbee.
1966 – Elizabeth Montgomery's character, Samantha, on the television show "Bewitched," had a baby. The baby was named Tabitha.
1966 – Robert C. Weaver became the first black Cabinet member when he was appointed Secretary of Housing and Urban Development by President Lyndon Johnson.
1968 – Dr. K.C. Pollack, of the University of Florida, reported that noise levels at rock concerts are harmful to teenage ears.
1968 – Johnny Cash performed live at Folsom State Prison.
1979 – The Village People were sued by the YMCA, because the organization was not pleased that its name is the title of the group's hit song. The organization soon dropped the lawsuit.
1982 – Shortly after takeoff, Air Florida Flight 90, a Boeing 737 jet, crashed into Washington DC's 14th Street Bridge and fell into the Potomac River, killing 78 including four motorists.
1982 – Hank Aaron and Frank Robinson were elected to the Baseball Hall of Fame.
1989 – Bernhard H. Goetz was sentenced to one year in prison for possession of an unlicensed gun, which he used to shoot four youths he believed were about to rob him on a New York subway.
1993 – Bobby Brown was arrested in Augusta, GA, for simulating a sex act onstage. It was the second time that he had been arrested by the Augusta police department for the same offense.
1993 – The Space Shuttle Endeavor (STS-54) headed for space for the third time when it was launched from the Kennedy Space Center.
1997 – Debbie Reynolds received a star on the Hollywood Walk of Fame.
1998 – NBC agreed to pay almost $13 million for each episode of the TV show "E.R.". It was the highest amount ever paid for a TV show at the time.
1998 – ABC and ESPN negotiated to keep "Monday Night Football" for $1.15 billion a season.
1998 – One of the 110 missing episodes of the British TV show "Doctor Who" was found in New Zealand.
1999 – Michael Jordan, of the Chicago Bulls, announced his retirement from the NBA.
2002 – President George W. Bush fainted after he choked on a pretzel.
2012 – After more than 11,000 episodes, the television soap opera "One Life to Live" ended a nearly 44 year run on daytime television.
2012 – The passenger cruise ship Costa Concordia sank off the cost of Italy due to the captain's negligence and irresponsibility. There were 32 confirmed deaths among the 4,232 passengers and crew.
2018 – A false emergency alert warning of an impending missile strike in Hawaii caused widespread panic in the state.
2021 – Outgoing U.S. President Donald Trump was impeached for a second time on a charge of incitement of insurrection following the storming of the Capitol one week earlier.
BIRTHDAYS:
Billy Gray – 85 years old (1938) – Actor (TV's "Father Knows Best")
Richard Moll – 80 years old (1943) – Actor (TV's "Night Court")
Trevor Rabin – 69 years old (1954) – Guitarist, singer (Yes)
James LoMenzo – 64 years old (1959) – Bass player (Megadeth, White Lion, Black Label Society)
Kevin Anderson – 63 years old (1960) – Actor (TV's "Nothing Sacred", movies "Miles from Home", "Sleeping with the Enemy")
Julia Louis-Dreyfus – 62 years old (1961) – Actress (TV's "Veep", "The New Adventures of Old Christine", "Seinfeld", movies "Enough Said", "Father's Day")
Suggs – 62 years old (1961) – Singer (Madness)
Trace Adkins – 61 years old (1962) – Singer, musician, actor ("The Lincoln Lawyer", "Moms' Night Out")
Penelope Ann Miller – 59 years old (1964) – Actress ("Adventures in Babysitting", "Biloxi Blues", "Big Top Pee-wee", "The Freshman", "Awakenings", "Kindergarten Cop", "Other People's Money", "Year of the Comet", "Chaplin", "Carlito's Way")
Patrick Dempsey – 57 years old (1966) – Actor ("In the Mood", "Can't Buy Me Love", "Some Girls", "Loverboy", TV's "Grey's Anatomy")
Traci Bingham – 55 years old (1968) – Actress (TV's "Baywatch", "The Surreal Life", "Celebrity Big Brother")
Nicole Eggert – 51 years old (1972) – Actress (TV's "Charles in Charge", "Baywatch", "Boy Meets World")
Orlando Bloom – 46 years old (1977) – Actor ("The Lord of the Rings", "Hobbit", "Pirates of the Caribbean" movies, "The Three Musketeers", "Troy", "Elizabethtown")
Ruth Wilson – 41 years old (1982) – Actress ("Suburban Shootout", "Jane Eyre", "Anna Karenina", "The Lone Ranger", "Saving Mr. Banks", TV's "The Affair")
Liam Hemsworth – 33 years old (1990) – Actor ("The Hunger Games" movies, "The Last Song")
TODAY IS:
National Blame Someone Else Day
For additional information check out websites like: www.on-this-day.com, www.born-today.com, www.famousbirthdays.com, www.daysoftheyear.com, and www.nationaldaycalendar.com.