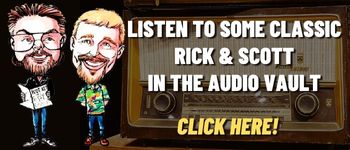 A quick look at Today in History, check out some Celebrity Birthdays, and find out what Days of the Year to celebrate.
TODAY IN HISTORY:
1789 – The first U.S. Federal Government agency, the Department of Foreign Affairs, was established. It would later be renamed the Department of State.
1909 – Orville Wright set a record for the longest airplane flight. He was testing the first Army airplane. He was in the air 72 minutes.
1940 – Warner Bros. released the animated short, "A Wild Hare", introducing Bugs Bunny.
1965 – The Federal Cigarette Labeling and Advertising Act was signed into law. The law required health warnings on cigarette packages.
1974 – Congress asked for impeachment procedures against President Richard Nixon.
1980 – The upper tail of an earthquake centered in Kentucky hit Michigan. The earthquake was felt in Allegan, Coldwater, Flint, Hastings, and Mount Pleasant. During the fifth inning of a ball game at Tiger Stadium, the upper levels swayed.
1981 – Adam Walsh, the 6 year old son of John Walsh, was kidnapped in Hollywod, FL. He was found murdered two weeks later.
1995 – The Korean War Veterans Memorial was dedicated in Washington, DC.
1996 – In Atlanta, GA, a pipe bomb exploded at Centennial Olympic Park during the 1996 Summer Olympics. One woman was killed and a cameraman suffered a heart attack trying to flee the scene. 111 were injured.
1999 – The U.S. Space Shuttle Discovery completed a five-day mission. It was commanded by Air Force Col. Eileen Collins. She was the first woman to command a Shuttle mission.
1999 – Tony Hawk landed the first 900 on a skateboard (2-1/2 complete revolutions) at the 5th annual X Games in San Francisco, CA.
2003 – It was reported by the BBC (British Broadcasting Corp.) that there is no monster in Loch Ness. 600 sonar beams and satellite navigation technology were used in the investigation. Sightings of "Nessie" go back to the 6th century.
2005 – NASA grounded the Space Shuttle, pending an investigation of the problem of the shedding foam insulation from the external fuel tank.
2007 – "The Simpson's Movie" premiered in theaters.
2012 – The opening ceremonies for the 2012 Summer Olympics took place at the Olympic Stadium in London, England.
BIRTHDAYS:
Norman Lear – 100 years old (1922) – TV producer (TV's "All in the Family", "Sanford and Son", "Maude")
Bobbie Gentry – 80 years old (1942) – Country singer ("Ode to Billie Joe")
Peggy Fleming – 74 years old (1948) – Olympic figure skater
Betty Thomas – 74 years old (1948) – Actress, director ("Brady Bunch Movie", "Private Parts", "Doctor Dolittle", "I Spy", TV's "Hill Street Blues")
Maureen McGovern – 73 years old (1949) – Singer ("The Morning After")
Carol Leifer – 66 years old (1956) – Comedian
Bill Engvall – 65 years old (1957) – Comedian ("Blue Collar TV")
Rex Brown – 58 years old (1964) – Bassist (Pantera)
Juliana Hatfield – 55 years old (1967) – Singer
Julian McMahon – 54 years old (1968) – Actor (TV's "Nip/Tuck", "Charmed", "The Profiler", movie "The Fantastic Four")
Maya Rudolph – 50 years old (1972) – Actress, comedian ("Bridesmaids", "Grown Ups", "Away We Go", TV's "Saturday Night Live")
Alex Rodriguez – 47 years old (1975) – Baseball player
TODAY IS:
National Korean War Veterans Armistice Day
Take Your Houseplant for a Walk Day
For additional information check out websites like: www.on-this-day.com, www.born-today.com, www.famousbirthdays.com, www.daysoftheyear.com, and www.nationaldaycalendar.com.