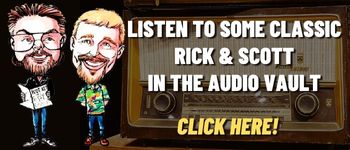 A quick look at Today in History, check out some Celebrity Birthdays, and find out what Days of the Year to celebrate.
TODAY IN HISTORY:
1790 – The first U.S. patent was issued to inventor Samuel Hopkins for a potash process.
1792 – The cornerstone of the U.S. Mint in Philadelphia, PA, was laid. It was the first building to be used only as a government building.
1923 – The State of Michigan began a ferry service from Mackinac City to St. Ignace to connect the Upper and Lower Peninsulas. The service continued until the Mackinac Bridge opened in 1957.
1928 – MGM's "Leo the Lion" roared for the first time to introduced MGM's first talking picture, "White Shadows on the South Seas."
1931 – Experimental television station W2XAB (now WCBS) began broadcasting in New York, NY.
1948 – President Harry Truman helped dedicate New York International Airport at Idlewild Field. It was later renamed John F. Kennedy International Airport in December of 1963.
1955 – Marilyn Bell of Toronto, Canada, became the youngest person to swim the English Channel at the age of 17.
1964 – The American space probe Ranger 7 transmitted pictures of the moon's surface. The images were 1,000 times clearer than anything ever seen from earth-bound telescopes.
1971 – Apollo 15 astronauts become the first to ride in a vehicle on the moon in a lunar rover vehicle.
1981 – The seven-week baseball players' strike came to an end when the players and owners agreed on the issue of free agent compensation.
1984 – Leeza Gibbons made her first appearance on TV's "Entertainment Tonight".
1988 – The last American Playboy Club closed in Lansing, MI.
1989 – The Game Boy handheld video game was released in the U.S.
1991 – President George H.W. Bush and Soviet President Mikhail Gorbachev signed the Strategic Arms Reduction Treaty.
1995 – The Walt Disney Company purchased Capital Cities/ABC for $19 billion.
1998 – Nicolas Cage received a star on the Hollywood Walk of Fame.
1999 – The spacecraft Lunar Prospect crashed into the moon. It was on a mission to detect frozen water on the moon's surface. The craft had launched on January 6, 1998.
2006 – Cuba's Fidel Castro handed over power to his brother, Raul.
2007 – The iTunes Music Store reached 3 billion songs sold and 2 million feature length films sold.
2007 – The Boston Celtics obtained former MVP and 10-time All-Star Kevin Garnett in a 7-for-1 deal with Minnesota Timberwolves. It was the NBA's biggest ever trade for one player.
2012 – Michael Phelps broke the record set in 1964 by Larisa Latynina for the most medals won at the Olympics.
2016 – Harry Potter and the Cursed Child, a play by Jack Thorne with contributions by J.K. Rowling, was published worldwide at midnight.
BIRTHDAYS:
Susan Flannery – 84 years old (1939) – Actress (Played Stephanie Forrester on TV's "The Bold and the Beautiful", played Dr. Laura Spencer Horton on TV's "Days of Our Lives")
Lobo – 80 years old (1943) – Singer, songwriter
Geraldine Chaplin – 79 years old (1944) – Actress ("Dr. Zhivago", "Nashville", "Welcome to LA", "Chaplin")
Gary Lewis – 78 years old (1945) – Musician (Gary Lewis and the Playboys)
Karl Green – 76 years old (1947) – Bass guitarist, backup signer (Herman's Hermits)
Evonne Goolagong Cawley – 72 years old (1951) – Tennis player
Barry Van Dyke – 72 years old (1951) – Actor (Played Lieutenant Detective Steve Sloan on TV's "Diagnosis: Murder")
Alan Autry – 71 years old (1952) – Actor (TV's "In the Heat of the Night")
Michael Biehn – 67 years old (1956) – Actor ("The Rock", "Tombstone", "The Abyss", "Aliens", "Terminator", TV's "Hill Street Blues")
Bill Berry – 65 years old (1958) – Drummer (R.E.M.)
Wesley Snipes – 61 years old (1962) – Actor ("Blade" series, "Unstoppable", "7 Seconds", "White Men Can't Jump", "Demolition Man", "The Fan")
Fatboy Slim – 60 years old (1963) – Musician
J.K. Rowling – 58 years old (1965) – Author and one of the richest women in England ("Harry Potter" series)
Dean Cain – 57 years old (1966) – Actor ("Out of Time", TV's "Lois & Clark: The New Adventures of Superman", TV host "Ripley's Believe It or Not"). Born in Mount Clemens, MI.
Ben Chaplin – 54 years old (1969) – Actor ("The Truth About Cats and Dogs", "Birthday Girl", "Murder by Numbers")
Loren Dean – 54 years old (1969) – Actor ("Enemy of the State")
Annie Parisse – 48 years old (1975) – Actress (TV's "Law and Order")
Will Champion – 45 years old (1978) – Drummer, backup vocalist (Coldplay)
B.J. Novak – 44 years old (1979) – Actor (TV's "The Office", "The Newsroom")
TODAY IS:
Uncommon Instrument Awareness Day
For additional information check out websites like: www.on-this-day.com, www.born-today.com, www.famousbirthdays.com, www.daysoftheyear.com, and www.nationaldaycalendar.com.