On June 6th, 1933, the very first drive-in movie theater opened in n Camden, NJ. Growing up, I think my parents took me to more drive-ins than actual movie theaters to see films. Most of the movies I can remember seeing…were all viewed sitting in a car at a drive-in here in West Michigan.
I thought it would be fun to go back and look back at the many drive-in theaters that used to be found in the local area. Unfortunately, they are all gone now. There is only one drive-in left in operation in the area in 2016 — The Getty Drive-In located in Muskegon. According to the Pure Michigan website, there are total of 8 drive-ins still in operation in Michigan. At one point we had that many just in the Grand Rapids area. The other closest drive-ins would be in either Ionia or Coldwater.
While looking for information on these drive-ins, I discovered a very cool website, www.waterwinterwonderland.com, with great information and pictures. I've included the link with every location, so you can read more and check out the pictures of the old drive-ins. Thank you to Ron Baker, who was able to come up with some of the old photos.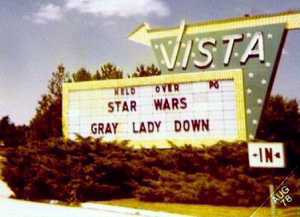 The Vista Drive-In — 4500 Lake Michigan Drive, Walker
This was probably the drive-in the Winters family went to most often. It wasn't that far away from our northwest side home, so it was easy to load up the station wagon and head west to Standale to watch a movie. The Vista opened in 1955.  At one point the corner of Wilson and Lake Michigan Drive seems so far out of town! And you couldn't go to the Vista without stopping at the Meijer Supermarket on the opposite corner! Once the Vista closed in 1978, the property was used for a paint ball activity center and sporting goods store. That land now has the Standale Meijer sitting on it.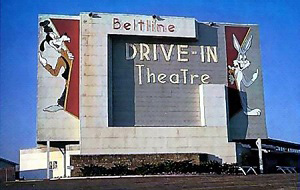 The Beltline Drive-In — 1400 West 28th St, Wyoming
Another popular drive-in for our family. This one could be found right on 28th Street. It opened in 1948 and some of the early pictures I've been able to find online show nothing but a field and then the theater! 28th Street may have even been a dirt road back then! And who could forget the giant Goofy and Bugs Bunny inviting you to turn into the drive for the big screen. For a time, you may remember the trampoline park they had out front of the drive in. I'm sure liability issues are what closed that place down. I wonder how many broken arms or legs resulted from that place. The Beltline Drive-In closed in 1987. The parking lot still exists and I think it is still used for weekend flea markets during the summer.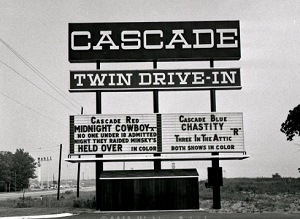 The Cascade Twin Drive-In — 5050 28th St., SE, Cascade
One of the multiple screen drive-ins in the area. It originally started with just two screens when it opened in 1969, but later expanded to three in 1977. The different screens were identified by colors — Red, Blue and Green. One of my biggest memories about this place is that the mosquitoes would carry you away! Even those little mosquito coils provided no relief from these hungry pests. Bring the can of Off with you. After closing in 1987, they built the Showcase Cinemas Theaters on the site. That building has since been bulldozed to make room for a Staples, Bob Evans, Costco, Target and other retailers.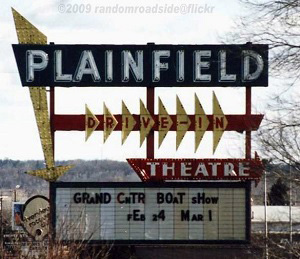 The Plainfield Drive-In — 4900 Plainfield Ave NE, Grand Rapids
I think I was only at this drive-in one single time…and it was after I got my driver's license. I don't really have any memories of this location. It was probably the one screen that was located the furthest from my home, so that's probably why I never got there very often. I don't remember ever going there with the family. I do seem to remember that it was kind of a rough place. If I recall correctly, there were major fights out there on numerous occasions. It was the only drive-in on the northeast side of town. The Plainfield Drive-In opened in 1957 and closed in 1990. That location is now a residential area (Paramount Street).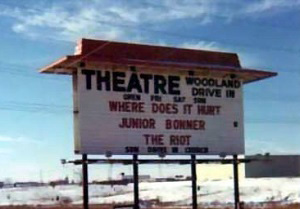 The Woodland Drive-In — 3290 28th St SE, Kentwood
I remember seeing "Jaws" at this drive-in back in the mid 70s. The Woodland Drive-In opened in 1969. There were a set of train tracks not far from this drive-in. I remember at some point during the movie there was going to be a frieght train rolling by sounding its loud whistle along the way. This drive-in also did a "Drive-In Church Service" every Sunday. The first service was in 1970, and Sunday Church Service continued every week at the Woodland Drive-In for 19 years. The Woodland ceased operation in 1988. The location is now a Lowe's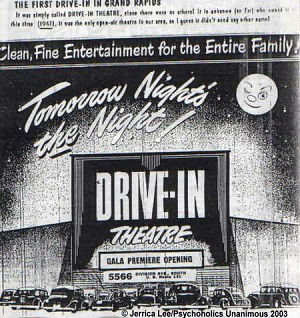 The Stardust Drive-In — 5566 S. Division , Grand Rapids
I don't think I ever went to this drive-in. However, I think the grounds were used for the "Kent County Expo" for many years. The site opened in 1948. At some point this drive-in started showing adult movies (maybe that's why we never went there!) I can't find any information on when it closed. I think the site is about where an RV dealer is today.
It's sad that the drive-ins have just about all disappeared. In 1972 there were 137 drive-ins in Michigan. Now that number has dwindled to just six. So sad, but the good news…The Getty Drive-In in Muskegon is still open for the season through Sunday, September 11th — so get out there and catch a movie at the Drive-In this weekend!
For information about old Drive-Ins throughout the state of Michigan, here is the website for www.waterwinterwonderland.com.
If you have experiences you'd like to share…please submit your comments below.
And if you'd like to see some of the old ads that they would run during intermission, including the countdown until "show time", here is a YouTube video to check out…