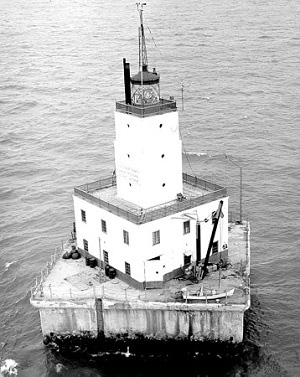 As a child, I remember seeing the lighthouses in Holland and Grand Haven and thinking how cool it would be to live in a lighthouse.
As an adult, I have toured a few lighthouses (including the one in Mackinaw City and at Whitefish Point), and STILL think it would be cool to live in a lighthouse.
Well, if you feel the same way — here is your chance to have your very own offshore lighthouse!
The North Manitou Shoal Lighthouse is up for auction. It comes with four bedrooms, plumbing and generator-powered electrical service. If you want any other utilities, it will be your responsibility to get them out to the lighthouse. The building has a concrete base that is anchored into the bottom of Lake Michigan in about 26 feet of water. You also get some great views of both Sleeping Bear Dunes National Lakeshore and Manitou Islands.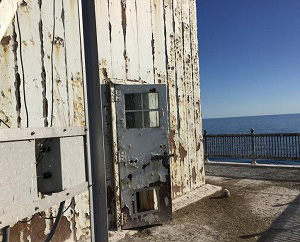 According to documents, the lighthouse was first put into operation 1935. It is, and will still be, operational after the sale. It became automated in 1980.
The lighthouse will be open for tours to qualified bidders on August 30th. The place "needs some updating"! If you tour the building you are asked to bring throw-away shoes, disposable gloves, a flashlight, water, camera, etc. Each bidder is allowed to bring one contractor. Everyone has to sign a liability waiver prior to boarding. The pictures show a lot of peeling paint (possibly lead paint). To become a "qualified" bidder you have to put down a $10,000 deposit.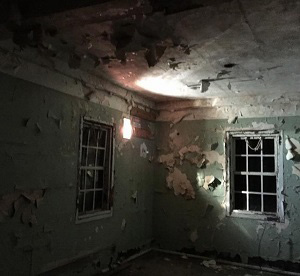 The property description reads as follows: "The Property was constructed in 1935 and consists of a white, square, steel superstructure situated atop a concrete crib. The square base contains 2-stories and was previously used as former Coast Guard living quarters with side rooms, small closets, and evidence of a bathroom. Situated atop the square-shaped 2 stories (approximately 63' high) is a 3-story square steel tower containing ladders and steps for climbing to access the top of the Light. An automated light is situated on top of the 3-story structure. There are sealed portholes and hatches inside the lighthouse as well as a below grade basement area containing what appears to be an empty septic grate-covered area. There is evidence of electricity reportedly powered by a generator; however, the condition of these lines is unknown. There are years of accumulated guano on the Light's deck. The Light may contain asbestos and lead-based paint."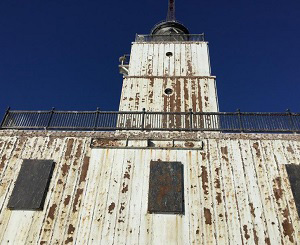 Oh, one other thing…if you are planning on living in this lighthouse for a little peace and quiet — guess again. According to the listing, the U.S. Coast Guard will continue to own, operate, and maintain the aids to navigation which includes the fog signal horn. When in operation, the decibel level for the sound signal is 118 dBC. Hearing protection should be consider for a noise level of that threshold. (And I was so close to putting in an offer!)
Here is the link to GSA Auctions to see the action listing and additional information.
Photos: GSA Auctions