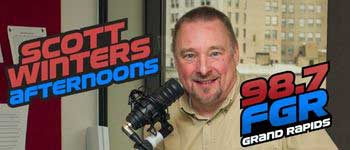 A quick look at Today in History, check out some Celebrity Birthdays, and find out what Days of the Year to celebrate.
TODAY IN HISTORY:
1804 – Congress ordered the removal of Indians east of the Mississippi to Louisiana.
1885 – Eastman Kodak (Eastman Dry Plate and Film Co.) produced the first commercial motion picture film in Rochester, NY.
1910 – Congress passed an amendment to the 1907 Immigration Act that barred criminals, paupers, anarchists and carriers of disease from settling in the United States.
1937 – Spinach growers in Crystal City, TX, erected a statue of the cartoon character "Popeye".
1945 – The battle of Iwo Jima ended.
1951 – The U.S. Air Force flag was approved. The flag included the coat of arms, 13 white stars and the Air Force seal on a blue background.
1953 – Dr. Jonas Salk announced a new vaccine that would prevent poliomyelitis.
1958 – The U.S. Army launched America's third successful satellite, Explorer III.
1969 – The TV movie "Marcus Welby" was seen on ABC. It was later turned into a weekly television series.
1970 – The film "Woodstock" premiered. It chronicled the festival that happened eight months earlier.
1971 – "Cannon" premiered on CBS as a TV movie. It was turned into a weekly series later in the year.
1972 – The Los Angeles Lakers broke a National Basketball Association (NBA) record by winning 69 of their 82 games.
1973 – The daytime TV soap opera "The Young and the Restless" debuted on CBS.
1982 – Ground was broken for the Vietnam Veterans Memorial in Washington, DC.
1983 – The U.S. performed a nuclear test at the Nevada Test Site.
1989 – The TV show "Quantum Leap", starring Scott Bakula, debuted.
1992 – In Indianapolis, IN, heavyweight boxing champion Mike Tyson was found guilty for the rape of Desiree Washington. He was sentenced to six years in prison. He was denied bail and ordered to begin his jail term immediately.
1997 – The 39 bodies of Heaven's Gate members are found in a mansion in Rancho Santa Fe, CA. The group had committed suicide thinking that they would be picked up by a spaceship following behind the Hale-Bopp comet.
1998 – The Federal government endorses new HIV test that yields instant results.
1998 – Unisys Corp. and Lockheed Martin Corp. paid a $3.15 million fine for selling spare parts at inflated prices to the Federal government.
1999 – The "Melissa worm" infected Microsoft word processing and e-mail systems around the world.
1999 – In Michigan, Dr. Jack Kevorkian was convicted of second-degree murder for giving a terminally ill man a lethal injection and putting it all on videotape on September 17, 1998 for the television news magazine "60 Minutes".
2000 – The Seattle Kingdome was imploded to make room for a new football arena.
2007 – A design for the "Forever Stamp" was unveiled by the U.S. Postal Service.
2007 – A medical examiner's report officially stated that Anna Nicole Smith died as the result of an accidental overdose of prescription drugs. Drugs found in her system included methadone, Xanax, human growth hormone and chloral hydrate (a sleep medication).
2010 – The movie "How to Train Your Dragon" opened in theaters.
BIRTHDAYS:
Sandra Day O'Connor – 92 years old (1930) – Retired U.S. Supreme Court Justice (September 25, 1981-January 31, 2006)
Alan Arkin – 88 years old (1934) – Actor ("Little Miss Sunshine", "The Russians Are Coming, the Russians Are Coming", "The Heart Is a Lonely Hunter", "Argo")
James Caan – 82 years old (1940) – Actor ("Rollerball", "Misery", "The Godfather")
Nancy Pelosi – 82 years old (1940) – Politician, Speaker of the United States House of Representatives (January 2019 to present)
Erica Jong – 80 years old (1942) – Author ("Fear of Flying")
Bob Woodward – 79 years old (1943) – Journalist (The Washington Post)
Diana Ross – 78 years old (1944) – Singer (The Supremes). Born in Detroit, MI.
Richard Tandy – 74 years old (1948) – Keyboardist (Electric Light Orchestra)
Steven Tyler – 74 years old (1948) – Singer, TV judge (Aerosmith, judge on TV's "American Idol")
Vicki Lawrence – 73 years old (1949) – Singer, actress (TV's "The Carol Burnett Show", "Mama's Family", "Win, Lose or Draw", song "The Night the Lights Went Out in Georgia")
Fran Sheehan – 73 years old (1949) – Bass guitarist (Boston)
Ernest Lee Thomas – 73 years old (1949) – Actor (Played Roger on TV's "What's Happening", "Everybody Hates Chris")
Martin Short – 72 years old (1950) – Actor, comedian (TV's "Damages", "SCTV", "Saturday Night Live", movies "Three Amigos", "Jiminy Glick")
Alan Silvestri – 72 years old (1950) – Oscar winning film composer ("Back to the Future" movies, "Who Framed Roger Rabbit", "Forrest Gump", "Captain America: The First Avenger", "The Avengers", "Avengers: Infinity War", "Predator", "Predator 2", "The Abyss", "Stuart Little", "The Mummy Returns", "Lilo & Stitch", "Night at the Museum")
Curtis Sliwa – 68 years old (1954) – Anti-crime activist, founder of Guardian Angels
Dean Dillon – 67 years old (1955) – Country singer
Charly McClain – 66 years old (1956) – Country singer ("Who's Cheatin' Who," "Sleepin' with the Radio On", "Radio Heart")
Leeza Gibbons – 65 years old (1957) – TV personality (TV's "Entertainment Tonight", "Leeza", "My Generation", "Celebrity Apprentice")
Marcus Allen – 62 years old (1960) – Football player, analyst
Jennifer Grey – 62 years old (1960) – Actress ("Dirty Dancing", "Ferris Bueller's Day Off", TV's Dancing With the Stars: Season 11″ winner)
Michael Imperioli – 56 years old (1966) – Actor (TV's "Detroit 187", "Life on Mars", "The Sopranos")
Kenny Chesney – 54 years old (1968) – Country singer
James Iha – 54 years old (1968) – Guitarist (The Smashing Pumpkins)
T.R. Knight – 49 years old (1973) – Actor (TV's "Grey's Anatomy")
Amy Smart – 46 years old (1976) – Actress ("Crank", "Crank: High Voltage", "Just Friends", "Varsity Blues", "Road Trip")
Keira Knightley – 37 years old (1985) – Actress ("Bend It Like Beckham", "Pride and Prejudice", "The Imitation Game", "Jack Ryan: Shadow Recruit", "Anna Karenina", "Atonement", the "Pirates of the Caribbean" series, "Love Actually", "A Dangerous Method", "Seeking a Friend for the End of the World")
Josiah Leming – 33 years old (1989) – Singer
TODAY IS:
For additional information check out websites like: www.on-this-day.com, www.born-today.com, www.famousbirthdays.com, www.daysoftheyear.com, and www.nationaldaycalendar.com.