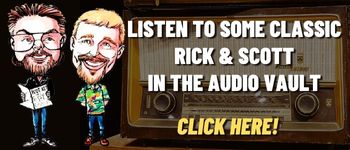 A quick look at Today in History, check out some Celebrity Birthdays, and find out what Days of the Year to celebrate.
TODAY IN HISTORY:
1797 – Nathaniel Briggs patented a washing machine.
1865 – Outdoor advertising legislation was enacted in New York, NY. The law banned "painting on stones, rocks and trees".
1885 – The Salvation Army was officially organized in the United States.
1898 – The U.S. Supreme Court ruled that a child born in the United States to Chinese immigrants was a U.S. citizen. This meant that they could not be deported under the Chinese Exclusion Act.
1904 – The Great Flood of 1904 — The Grand River spilled over the low lying areas of the city of Grand Rapids, MI. 2,500 houses were flooded. Half of the entire west side of the city was flooded.
1908 – Automobile owners lobbied Congress, supporting a bill that called for vehicle licensing and federal registration.
1917 – During World War I, the Women's Army Auxiliary Corps (WAAC) was founded.
1921 – President Warren Harding named William Howard Taft as chief justice of the United States Supreme Court.
1922 – Bradley A. Fiske patented a microfilm reading device.
1938 – In Italy, psychiatrists demonstrated the use of electric-shock therapy for treatment of certain mental illnesses.
1947 – The American Helicopter Society revealed a flying device that could be strapped to a person's body.
1962 – The U.S. Air Force announced research into the use of lasers to intercept missiles and satellites.
1963 – Sonny Werblin announced that the New York Titans of the American Football League was changing its name to the New York Jets. (NFL)
1967 – Raymond Burr starred in a TV movie "Ironside." The movie was later turned into a television series.
1971 – The final episode of TV's "The Ed Sullivan Show" aired.
1973 – Wilt Chamberlain retired from professional basketball after playing 1,045 games over 14 years.
1974 – A streaker ran onto the set of "The Tonight Show starring Johnny Carson".
1979 – A coolant leak at the Three Mile Island's Unit 2 nuclear reactor outside Harrisburg, PA, led to the core overheating and a partial meltdown. The clean-up lasted until 1993.
1979 – Margaret Thatcher became the Prime Minister of Great Britain.
1981 – Blondie's single "Rapture" hits #1 in Billboard.
1983 – Fred Jipp was sentenced to 28 years in prison in Phoenix, AZ, for fraud and bigamy. Over 30 years, he allegedly has married 104 women in 28 countries.
1984 – In the middle of the night, Robert Irsay moved the Baltimore Colts football team to Indianapolis.
1986 – More than 6,000 radio stations all played the song "We Are the World" at 10:15 am EST.
1990 – Olympic runner Jesse Owens was posthumously awarded the Congressional Gold Medal by President George H.W. Bush.
1994 – Two thousand Pearl Jam fans, without tickets, pushed through fences to get into the band's show in Miami, FL, causing riot police to move in. There were five injuries and four arrests.
1999 – The animated TV series "Futurama" debuted.
2001 – Sean "Puffy Daddy" Combs announced that he'd like to be known as "P. Diddy."
2006 – Destiny's Child received a star on the Hollywood Walk of Fame.
2010 – China's Zhejiang Geely Holding Group Co. signed a deal to buy Ford Motor Co.'s Volvo car unit.
2017 – The world's largest dinosaur footprint was found in Kimberly, Western Australia. The footprint was 5-1/2 feet long.
BIRTHDAYS:
Charlie McCoy – 82 years old (1941) – Country musician
Mike Newell – 81 years old (1942) – Director ("Four Weddings and a Funeral")
Dianne Wiest – 77 years old (1946) – Actress (TV's "Law and Order", "In Treatment", movies "Hannah and Her Sisters", "Bullets Over Broadway", "Parenthood")
Reba McEntire – 68 years old (1955) – Actress, country singer (TV's "Reba")
Tracey Needham – 56 years old (1967) – Actress (TV's "Life Goes On", "JAG", "The Division")
Max Perlich – 55 years old (1968) – Actor ("Drugstore Cowboy", "Blow", "Ferris Bueller's Day Off", "Georgia")
Brett Ratner – 54 years old (1969) – Director ("Rush Hour" film series, "The Family Man", "Red Dragon", "X-Men: The Last Stand", "Tower Heist")
Vince Vaughn – 53 years old (1970) – Actor ("Delivery Man", "The Internship", "Couples Retreat", "Four Christmases", "Fred Claus", "The Dilemma", "The Break-Up", "Wedding Crashers", "Mr. & Mrs. Smith", "Psycho", "Swingers", TV's "True Detective: Season 2")
Kate Gosselin – 48 years old (1975) – Reality star (TV's "Jon and Kate Plus Eight", "Dancing With the Stars: Season 10")
Shanna Moakler – 48 years old (1975) – Former Miss USA, actress (TV's "Pacific Blue", "Meet the Barkers", "Hollywood Exes", "Dancing With the Stars: Season 2")
Annie Wershing – 46 years old (1977) – Actress (TV's "24")
Julia Stiles – 42 years old (1981) – Actress ("Silver Linings Playbook", the "Bourne" trilogy, "The Omen", "O", "Down to You", "Save the Last Dance", "Mona Lisa Smile", TV's "Dexter")
Lady Gaga – 37 years old (1986) – Singer
TODAY IS:
National Black Forest Cake Day
National Diabetes Association Alert Day
National Something on a Stick Day
National Weed Appreciation Day
For additional information check out websites like: www.on-this-day.com, www.born-today.com, www.famousbirthdays.com, www.daysoftheyear.com, and www.nationaldaycalendar.com.