I've had many musically talented people in my family. I had a great grandfather that played in the Detroit Symphony. A grandfather that played guitar, a great grandmother who tore up the accordion, another grandmother who tickled the ivories of a piano. My very own father played the violin as well as the harmonica and then the other extreme…the tuba. My niece plays just about everything…flute, saxophone, piccolo, clarinet, piano, etc. I can play NOTHING! There is not a musical bone in my body.
My friend Joe Piesz, who does mornings down in Indianapolis, IN, on RadioNOW 100.9, posted a video this morning of him and his guitar. For his New Year's Resolution in 2017 —  he wants to learn to play the guitar better than he already does.
Here is a link to the video.
Watching the video brought back memories of my "musical" days…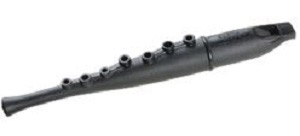 As a third grader at Sibley School, we all had to learn to play those little black flutes (it wasn't a real "recorder" but some type of bland looking knock off). I remember having to learn two songs for the school Christmas show…"Jolly Ol' St. Nicholas" and "Joy to the World". The problem was I could never catch on and figure out the whole music reading thing. To me it was just a bunch of black ovals (which look very similar to those ovals we had to fill in for those scholastic tests) and horizontal lines. I always imagined the black ovals were in a music jail (the lines were the bars of the jail cell) and they were trying to escape. Some of the ovals climbed higher and were closer to scaling the wall than others. Maybe they didn't want to be there either!
So, I learned those two songs…by memorizing the song and where my fingers had to be for each note. I must have done a pretty decent job, because the following year, I was approached about playing an instrument. Knowing my limitations I hesitated a bit…but thought maybe I could figure out this whole music reading thing after all. I wanted to play drums, but I knew there was NO way I'd talk my parents into a drum set. I also wanted to play something that would be easy to carry back and forth to school — no tubas, cellos, harps, etc. So I settled for the clarinet. It broke down and fit nicely into a little carrying case. So I remember going off to Middleton's Music on Plainfield to get a rental clarinet. Oh and don't forget the handful of reeds that you need to play the instrument as well. I was going to become the next Benny Goodman or Henry Cuesta (how many remember that name from "The Lawrence Welk Show"?).

Well I still had the major obstacle of not being able to read music. I tried, but it just never really "clicked" for me. I still just saw black ovals trying to escape from jail on the music sheets.
After trying to make this work for about 3 weeks, I remember being approached by the music teacher…Mr. Linderman. He was less than pleased with my musical abilities. As I was struggling to get a couple of notes out of the clarinet, he reached over and literally yanked the instrument from my lips (I'm surprised I didn't get a sliver in my lips from the reed). He told me it was time to hang it up as a musician. It was time for me to find another class to go attend… perhaps an art class or something.
My music career was over! So much for making it on "The Lawrence Welk Show". And besides, how many famous bands of the 80's, 90's and beyond had a clarinet in the mix? How much of a career could I really have had as a professional clarinet player?
So I wish the very best to Joe in his endeavor to play the guitar. And if you ever need someone for backup clarinet in your band…please DON'T call me!
I do however still have a kazoo in a drawer that I am pretty good at playing.