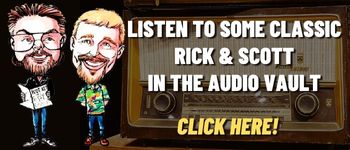 A quick look at Today in History, check out some Celebrity Birthdays, and find out what Days of the Year to celebrate.
TODAY IN HISTORY:
1789 – New Jersey became the first state to ratify the Bill of Rights.
1820 – An 80-ton sperm whale attacked the whaling ship the "Essex" from Nantucket, MA, two-thousand miles from the western coast of South America. Herman Melville's 1851 novel "Moby Dick" was in part inspired by this story.
1866 – Haven and Hettrich received a patent for the whirligig, also known as the Yo-Yo. The toy actually dates back as far as 440 B.C.
1916 – Harry Houdini appeared in Grand Rapids at the Empress Theater. Several thousand people gathered to watch Houdini break free from a police straight jacket and handcuffs while suspended by his feet from the new Grand Rapids Savings Bank building. The intersection of Monroe and Ionia was backed up for two blocks with people who came to watch.
1953 – Birmingham, MI became the second city in the United States to have direct long distance dialing.
1962 – The Cuban Missile Crisis ended. The Soviet Union removed its missiles and bombers from Cuba and the U.S. ended its blockade of the island.
1962 – Mickey Mantle was named the American League Most Valuable Player for the third time.
1967 – The Census Clock at the Department of Commerce in Washington, DC, went past 200 million.
1969 – The Richard Nixon administration announced a halt to residential use of the pesticide DDT as part of a total phase out of the substance.
1973 – The animated special, "A Charlie Brown Thanksgiving", aired for the very first time.
1974 – The U.S. Department of Justice filed its final anti-trust suit against AT&T Corporation. This suit later leads to the breakup of AT&T and its Bell System.
1980 – On Jefferson Island, LA, an oil rig in Lake Pigneur pierced the top of the salt dome beneath the island. The freshwater lake completely drained within a few hours. The Delcambre Canal reversed flow and two days later the previous freshwater lake was a 1,300-foot-deep saltwater lake.
1982 – At the age of 7, Drew Barrymore became the youngest host of TV's "Saturday Night Live"
1983 – An estimated 100 million people watched the controversial ABC-TV movie "The Day After." The movie depicted the outbreak of nuclear war.
1984 – McDonald's sold its 50 billionth hamburger.
1985 – Microsoft Windows 1.0 was released.
1986 – Dr. Halfdan Maher, the director of the World Health Organization, announced the first coordinated global effort to fight the disease AIDS.
1986 – The one billionth Little Golden Book was printed. The title was "The Poky Little Puppy".
1990 – The Space Shuttle Atlantis landed at Cape Canaveral, FL, after completing a secret military mission.
1993 – The U.S. Senate passed the Brady Bill and legislation implementing NAFTA.
1994 – Singer David Crosby got a liver transplant.
1997 – Kenny G. received a star on the Hollywood Walk of Fame.
1998 – Pixar's second feature length film, "A Bug's Life", debuted in theaters.
1998 – The first module of the International Space Station, Zarya, was launched.
1998 – Forty-six states agreed to a $206 billion settlement of health claims against the tobacco industry. The industry also agreed to give up billboard advertising of cigarettes.
2001 – On what would have been Robert F. Kennedy's 76th birthday, the U.S. Justice Department headquarters building was renamed the Robert F. Kennedy building by President George W. Bush.
2006 – The News Corporation bows to pressure and killed O.J. Simpson's upcoming book, "If I Did It", in which he speculates how he would have killed his ex-wife if, of course, he had killed her and a 2-part FOX television special promoting it.
2012 – Veteran Elmo puppeteer Kevin Clash resigned from television's "Sesame Street" after being accused of sexually abusing several underage boys.
2017 – The Georgia Dome in Atlanta was imploded.
BIRTHDAYS:
Estelle Parsons – 95 years old (1927) – Actress ("Bonnie and Clyde", "Rachel, Rachel", TV's "Roseanne")
Dick Smothers – 84 years old (1938) – Actor, comedian (The Smothers Brothers)
President Joe Biden – 80 years old (1942) – 47th Vice President of the United States (2009 to 2017), 46th President of the United States (2021 to present)
Norman Greenbaum – 80 years old (1942) – Singer ("Spirit in the Sky")
Veronica Hamel – 79 years old (1943) – Actress (TV's "Hill Street Blues")
Judy Woodruff – 76 years old (1946) – Broadcast journalist (CNN)
Joe Walsh – 75 years old (1947) – Musician (James Gang, The Eagles)
Richard Masur – 74 years old (1948) – Actor (TV's "One Day at a Time")
Bo Derek – 66 years old (1956) – Actress ("10", "Bolero", "Ghosts Can't Do It", "Tommy Boy")
Sean Young – 63 years old (1959) – Actress ("Ace Ventura: Pet Detective", "Fatal Instinct", "Wall Street", "No Way Out", "Dune", "Blade Runner", "Stripes")
Ming-Na Wen – 59 years old (1963) – Actress (TV's "ER," "Agents of S.H.I.E.L.D.">
Mike D – 57 years old (1965) – Rapper, singer, drummer (The Beastie Boys)
Sabrina Lloyd – 52 years old (1970) – Actress (TV's "Sports Night", "Sliders")
Joel McHale – 51 years old (1971) – Actor (TV's "Community," "The Soup", movies "Deliver Us from Evil", "Blended", "Ted", "Spy Kids: All the Time in the World", "The Informant!")
Marisa Ryan – 48 years old (1974) – Actress (TV's "Major Dad", movie "Wet Hot American Summer")
Dierks Bentley – 47 years old (1975) – Country singer
Joshua Gomez – 47 years old (1975) – Actor (TV's "Chuck")
Dominque Dawes – 46 years old (1976) – Olympic gymnast
Josh Turner – 45 years old (1977) – Country singer
Nadine Velazquez – 44 years old (1978) – Actress (TV's "League", "My Name Is Earl")
Ashley Fink – 36 years old (1986) – Actress (TV's "Glee")
TODAY IS:
National Peanut Butter Fudge Day
–World Day of Remembrance for Road Traffic Victims
For additional information check out websites like: www.on-this-day.com, www.born-today.com, www.famousbirthdays.com, www.daysoftheyear.com, and www.nationaldaycalendar.com.