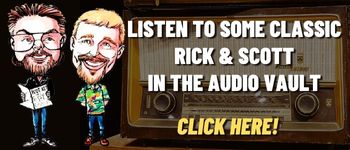 A quick look at Today in History, check out some Celebrity Birthdays, and find out what Days of the Year to celebrate.
TODAY IN HISTORY:
1692 – The Salem witch trials ended with a letter from Massachusetts Governor Sir William Phips.
1773 – America's first insane asylum opened.
1792 – The first celebration of Columbus Day was held in New York, NY.
1892 – The Pledge of Allegiance was first recited by students in many U.S. public schools, as part of a celebration marking the 400th anniversary of Christopher Columbus' voyage.
1901 – President Theodore Roosevelt officially renamed the "Executive Mansion" to "The White House".
1920 – Construction of the Holland Tunnel began. It opened on November 13, 1927. The tunnel links Jersey City, NJ and New York City, NY.
1926 – John Phillip Sousa played in Grand Rapids, MI at the G.R. Armory.
1928 – An iron lung respirator was used for the first time at Children's Hospital in Boston, MA.
1933 – The U.S. Department of Justice acquired Alcatraz Island from the U.S. Army.
1938 – Filming began on "The Wizard of Oz".
1966 – Jimi Hendrix, Noel Redding and Mitch Mitchell officially performed for the first time as The Jimi Hendrix Experience.
1969 – The "Paul is Dead" craze began when a radio DJ played "Revolution #9" backwards.
1973 – Gerald R. Ford was nominated to replace Spiro Agnew as Vice President of the United States.
1979 – "The Hitchhiker's Guide to the Galaxy", the first of five books in the comedy science fiction series by Douglas Adams was published.
1983 – Karen Carpenter received a star on the Hollywood Walk of Fame.
1989 – The House of Representatives approved a statutory federal ban against destroying the American flag.
1994 – NASA lost radio contact with the Magellan spacecraft as the probe descended into the thick atmosphere of Venus.
1998 – Matthew Shephard, a gay student at the University of Wyoming, died five days after he was beaten, robbed and left tied to a wooded fence post outside of Laramie, WY.
1998 – The U.S. House of Representatives passed the Online Copyright Bill.
1999 – Rob Reiner received a star on the Hollywood Walk of Fame.
2000 – The U.S.S. Cole was badly damaged in Aden, Yemen, by two suicide bombers. The blast killed 17 crew members and wounded at least 39.
2001 – Responding to a request by President George W. Bush, "America's Most Wanted" aired a special episode about terrorists.
2005 – It was announced that Daniel Craig would become the sixth "James Bond."
2006 – The Dow Jones industrial average advanced over 11,900 for the first time.
2007 – Former Vice President Al Gore was named a Nobel Peace Prize winner for his work on global climate change.
2019 – The Hard Rock Hotel in New Orleans, LA, which was under construction, collapsed, killing two and injuring 20.
BIRTHDAYS:
Chris Wallace – 75 years old (1947) – TV News Anchor (TV's "Fox News Sunday", "Meet the Press")
Susan Anton – 72 years old (1950) – Actress, singer
Hugh Jackman – 54 years old (1968) – Actor ("Les Miserables", "Real Steel', "The X-Men" movies, "The Wolverine", "Australia", "Van Helsing", "Swordfish", "Kate and Leopold")
Adam Rich – 54 years old (1968) – Actor (Played Nicholas Bradford on TV's "Eight Is Enough")
Martie Maguire – 53 years old (1969) – Musician (Dixie Chicks)
Kirk Cameron – 52 years old (1970) – Actor, evangelist (Played Mike Seaver on TV's "Growing Pains")
Josh Hutcherson – 30 years old (1992) – Actor ("The Hunger Games", "The Hunger Games: Catching Fire", "The Kids Are All Right", "RV", "Journey to the Center of the Earth" and its sequels)
TODAY IS:
Bring Your Teddy Bear to Work & School Day
International Top Spinning Day
National Pet Obesity Awareness Day
National Take Your Parents to Lunch Day
For additional information check out websites like: www.on-this-day.com, www.born-today.com, www.famousbirthdays.com, www.daysoftheyear.com, and www.nationaldaycalendar.com.