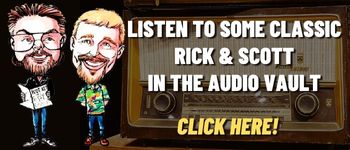 A quick look at Today in History, check out some Celebrity Birthdays, and find out what Days of the Year to celebrate.
TODAY IN HISTORY:
1884 – George Eastman received a patent on his new paper-strip photographic film.
1887 – Thomas Edison and George E. Gouraud reached an agreement for the international marketing rights for the phonograph.
1912 – Theodore Roosevelt was shot while campaigning in Milwaukee, WI. Roosevelt's wound in the chest was not serious. With the fresh wound in his chest, and the bullet still inside, he continued with his planned speech. The shooter, William Schrenk, was captured at the scene.
1922 – Lieutenant Lester James Maitland reached a speed of 216.1 miles per hour to set a new airplane speed record at Selfridge Air Force Base near Mt. Clemens, MI.
1926 – The book "Winnie-the-Pooh," by A.A. Milne, made its debut.
1936 – The first Social Security Board office opened in Austin, TX. The Board's local office took over the assigning of Social Security Numbers.
1943 – The Radio Corporation of America finalized the sale of the NBC Blue radio network. Edward J. Noble paid $8 million for the network that was renamed American Broadcasting Company.
1947 – Over Rogers Dry Lake in Southern California, Air Force pilot Chuck Yeager flew the Bell X-1 rocket plane and became the first person to break the sound barrier.
1954 – C.B. DeMille's "The Ten Commandments", starring Charlton Heston, began filming in Egypt. The film had a cast of 25,000 people.
1960 – Presidential candidate John F. Kennedy first suggested the idea of a Peace Corps.
1968 – The first live television broadcast, by American astronauts in orbit, was transmitted by the Apollo 7 crew.
1972 – In Iraq, oil was struck for the first time just north of Kirkuk.
1977 – Anita Bryant had a pie thrown in her face at a news conference in Des Moines, IA, by gay rights activist Tom Higgins for her anti-LGBT commentary.
1982 – President Ronald Reagan proclaimed a War on Drugs.
1984 – Major League Baseball's George 'Sparky' Anderson became the first baseball manager to win 100 games and a World Series in both leagues
1987 – 18 month old Jessica McClure fell down an abandoned well in Midland, TX. Her rescue took 58 hours and riveted the nation's attention.
1994 – The movie "Pulp Fiction!", starring John Travolta, premiered in theaters.
1995 – The sketch comedy TV show "MADtv" made its debut.
1998 – Eric Rudolph was charged with six bombings, including the 1996 Centennial Olympic Park bombing in Atlanta, GA.
2000 – A lawsuit was filed against Don Henley in Little Rock, AR. The suit claimed that a fan was hit in the forehead with a maraca during on October 4, 2000 concert.
2001 – Toys "R" Us introduced the new version of Geoffrey the giraffe in a 60-second commercial.
2003 – Chicago Cubs fan Steve Bartman became known as the scapegoat for the Cubs losing Game 6 of the 2003 National League Championship Series to the Florida Marlins when he reached over the outfield wall to catch a fly ball.
2004 – The iTunes Music Store reached 150 million songs sold.
2007 – The movie "Paranormal Activity" premiered in theaters.
2007 – The TV show "Keeping Up with the Kardashians" debuted on the E! cable network.
2010 – TV's "The Real Housewives of Beverly Hills" debuted.
2011 – The Apple iPhone 4S was released.
2012 – Felix Baumgartner successfully jumped to Earth from a helium balloon in the stratosphere in the Red Bull Stratos project.
BIRTHDAYS:
Ralph Lauren – 83 years old (1939) – Fashion designer
Cliff Richard – 82 years old (1940) – Singer
Justin Hayward – 76 years old (1946) – Lead singer, guitarist (The Moody Blues)
Greg Evigan – 69 years old (1953) – Actor (TV's "B.J. and the Bear", "My Two Dads")
Arleen Sorkin – 66 years old (1956) – Actress (TV's "Days of Our Lives")
Thomas Dolby – 64 years old (1958) – Musician ("She Blinded Me with Science")
Jon Seda – 52 years old (1970) – Actor (TV's "Homicide: Life on the Street", "Band of Brothers", "The Pacific", "Chicago P.D.", movies "Gladiator", "Selena")
Natalie Maines – 48 years old (1974) – Singer (Dixie Chicks)
Usher – 44 years old (1978) – Singer, actor (TV's "Moesha", "The Bold and the Beautiful", movies "The Faculty", "She's All That", "Scary Movie 5")
Jay Pharoah – 35 years old (1987) – Actor, comedian (TV's "Saturday Night Live")
TODAY IS:
For additional information check out websites like: www.on-this-day.com, www.born-today.com, www.famousbirthdays.com, www.daysoftheyear.com, and www.nationaldaycalendar.com.