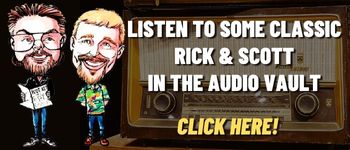 A quick look at Today in History, check out some Celebrity Birthdays, and find out what Days of the Year to celebrate.
TODAY IN HISTORY:
1860 – 11 year old Grace Bedell wrote a letter to Presidential candidate Abraham Lincoln. In the letter she said that Lincoln would look better if he would grow a beard.
1878 – The Edison Electric Light Company began operation.
1892 – The U.S. government announced that the land in the western Montana was open to settlers. The 1.8 million acres were bought from the Crow Indians for 50 cents per acre.
1928 – The German dirigible Graf Zeppelin landed in Lakehurst, NJ, on its first commercial flight across the Atlantic.
1939 – New York Municipal Airport was dedicated. The name was later changed to La Guardia Airport.
1948 – Gerald R. Ford married Elizabeth (Betty) Bloomer at Grace Episcopal Church in Grand Rapids, MI. The reception was held at Kent Country Club.
1951 – The television show "I Love Lucy", starring Lucille Ball and Desi Arnaz, debuted on CBS.
1952 – The children's book "Charlotte's Web" was published.
1955 – The TV show "Grand Ole Opry" premiered on ABC.
1966 – President Lyndon B. Johnson signed a bill creating the Department of Transportation.
1966 – President Lyndon B. Johnson signed a bill creating the Pictured Rocks National Lakeshore along the Lake Superior shoreline.
1966 – In Illinois, Cahokia Mounds was added to the U.S. National Register of Historic Places.
1966 – The First Bank of the United States was listed on the National Register of Historic Places.
1973 – The late night talk show "Tomorrow" debuted on NBC.
1973 – The U.S. Supreme Court refused to review a 1971 Federal Communications directive that broadcasters censor from the airwaves songs with drug-oriented lyrics.
1984 – The Freedom of Information Act was passed.
1989 – Wayne Gretzky, while playing for the Los Angeles Kings, surpassed Gordie Howe's NHL scoring record of 1,850 career points.
1991 – Despite allegations by Anita Hill of crude sexual harassment, the Senate confirmed Clarence Thomas as a Supreme Court justice by a vote of 52-48.
1996 – CSX Corp. announced plans to buy Conrail Inc. for $8.4 billion to create the nation's third largest railroad company.
1996 – Tommy Lee (Motley Crue) was charged with attacking a cameraman that was trying to take pictures of him and his wife Pamela Anderson Lee.
1997 – British Royal Air Force pilot Andy Green broke the land-speed record by driving a jet-powered car faster than the speed of sound.
1997 – The Cassini-Huygens mission was launched from Cape Canaveral, FL. On January 14, 2005, a probe sent back pictures of Saturn's moon Titan during and after landing.
2000 – Larry David's TV show "Curb Your Enthusiasm" debuted.
2001 – A letter sent to the Washington office of Senate Majority Leader Tom Daschle tests positive for anthrax.
2001 – Bethlehem Steel Corp. filed for Chapter 11 bankruptcy.
2001 – NASA's Galileo spacecraft passed within 112 miles of Jupiter's moon Io.
2008 – The Dow Jones Industrial Average closed down 733.08 points, or 7.87% — the second worst percentage drop in the Dow's history.
2009 – A Colorado family named Heene riveted national attention when a homemade balloon tethered in their backyard floated away, reportedly with their six-year-old son on board. After a media frenzy, it turned out to be a hoax by the father, who had dreams of turning his family into reality TV stars. He later pleaded guilty to a felony charge, his wife to a misdemeanor.
2011 – Legoland Florida opened in Winter Haven, FL.
BIRTHDAYS:
Barry McGuire – 87 years old (1935) – Singer ("Eve of Destruction")
Linda Lavin – 85 years old (1937) – Actress (TV's "Alice", "Barney Miller", "Room for Two", "Sean Saves the World")
Richard Carpenter – 76 years old (1946) – Singer, musician (The Carpenters)
Chris de Burgh – 74 years old (1948) – Singer ("The Lady in Red")
Tito Jackson – 69 years old (1953) – Singer (The Jackson 5)
Larry Miller – 69 years old (1953) – Actor, comedian ("Carry On Columbus", "The Nutty Professor", "Nutty Professor II: The Klumps", "Max Keeble's Big Move", "Pretty Woman", TV's "Boston Legal")
Jere Burns – 68 years old (1954) – Actor (TV's "Dear John", "Burn Notice", "Justified")
Tanya Roberts – 67 years old (1955) – Actress ("A View to a Kill", TV's "That '70s Show", "Charlie's Angels")
Sarah (Ferguson), Duchess of York – 63 years old (1959) – Diet spokeswoman, children's book author
Emeril Lagasse – 63 years old (1959) – TV chef
Vanessa Marcil – 54 years old (1968) – Actress ("The Rock", TV's "Las Vegas", "Beverly Hills 90201", "General Hospital")
Paige Davis – 53 years old (1969) – TV host (TV's "Trading Spaces", "Home and Family")
Dominic West – 53 years old (1969) – Actor ("The Wire")
TODAY IS:
International Day of Rural Women
National Chicken Cacciatore Day
National Latino AIDS Awareness Day
National Pregnancy and Infant Loss Awareness Day
National Whole Hog Barbecue Day
For additional information check out websites like: www.on-this-day.com, www.born-today.com, www.famousbirthdays.com, www.daysoftheyear.com, and www.nationaldaycalendar.com.