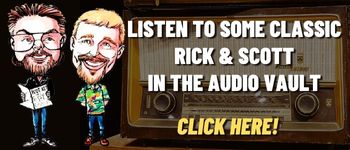 A quick look at Today in History, check out some Celebrity Birthdays, and find out what Days of the Year to celebrate.
TODAY IN HISTORY:
1803 – The U.S. Senate approved the Louisiana Purchase.
1818 – The boundary between the United States and Canada was defined as the 49th parallel.
1873 – A Hippodrome was opened in New York, NY by showman Phineus T. (P.T.) Barnum.
1879 – Thomas A. Edison invented a workable electric light in his laboratory in Menlo Park, NJ.
1910 – For the first time in a World Series game, a baseball with a cork center was used.
1913 – Camel cigarettes were introduced for the first time.
1917 – American troops saw action in World War I for the first time.
1947 – Hollywood came under scrutiny as the House Un-American Activities Committee opened hearings into alleged Communist influence within the motion picture industry.
1948 – Facsimile high-seed radio transmissions were demonstrated.
1967 – In Northern California, two men along the Bluff Creek, filmed 59 seconds of what they claimed to be Bigfoot.
1968 – Former First Lady Jacqueline Kennedy married Greek shipping tycoon Aristotle Onassis.
1973 – The television show "The Six Million Dollar Man" premiered on ABC.
1973 – The Sydney Opera House in Australia was opened after 14 years of construction.
1977 – Three members of the band Lynyrd Skynyrd were killed when their chartered plane crashed near McComb, MS. Lead vocalist/founding member Ronnie Van Zant, guitarist and vocalist Steve Gaines, backing vocalist Cassie Gaines (Steve's older sister), assistant road manager Dean Kilpatrick, pilot Walter McCreary, and co-pilot William Gray all died as a result of the crash while 20 others survived.
1979 – The John F. Kennedy Library in Boston, MA was dedicated.
1993 – Attorney General Janet Reno warned the TV industry to limit the violence in their programs.
1994 – The website WhiteHouse.gov was launched.
1997 – President Bill Clinton's administration endorsed a revised Republican bill to restructure the Internal Revenue Services and shifted the burden of proof from the taxpayer to the government in contested court cases.
1998 – A Florida judge issued a warrant for the arrest of Bobby Brown after the singer violated his probation by showing up drunk and high to begin serving a five-day sentence for drunk driving.
2001 – Paul McCartney, Eric Clapton, The Who, Mick Jagger and Keith Richards, Bon Jovi, Goo Goo Dolls, Elton John, Five for Fighting, John Mellencamp and others performed at the six-hour Concert for New York City at Madison Square Garden. More than five-thousand police officers and firemen attended the benefit for the families of police and firemen killed on September 11th.
2003 – A 40-year-old Michigan man went over Niagara Falls without safety devices and survived. Kirk Jones, an unemployed 40 year old became the first person to survive going over the falls without protection. He was charged with illegally performing a stunt. He drank vodka and Coke before he jumped into the Canadian Horseshoe Falls. He was fined $2,2600, barred from Niagara Park for a year, and ordered to pay $1,600 to make up for the 45 minutes the tourist attraction was closed to the public following the stunt. Sadly, his body was discovered on June 2, 2017 in the Niagara River, about 12 miles from the falls. It appeared he had tried going over the falls again.
2003 – The D.C. sniper trial opened in Virginia. John A. Muhammad served as his own defense.
BIRTHDAYS:
Wanda Jackson – 85 years old (1937) – Singer
Dolores Hart – 84 years old (1938) – Actress, Nun (Co-starred with Elvis Presley in "Loving You and King Creole", "Where the Boys Are))
Al Greenwood – 71 years old (1951) – Keyboardist (Foreigner)
Melanie Mayron – 70 years old (1952) – Actress (Played Melissa on TV's "thirtysomething")
Danny Boyle – 66 years old (1956) – Director ("Slumdog Millionaire", "Steve Jobs", "127 Hours", "28 Days Later", "Sunshine", "Trainspotting", "Trance")
Viggo Mortensen – 64 years old (1958) – Actor ("Eastern Promises", "The Lord of the Rings" trilogy, "Appaloosa", "A History of Violence", "A Perfect Murder", "GI Jane")
Eric Scott – 64 years old (1958) – Actor (Played Ben Walton on TV's "The Waltons")
James G. Sonefeld – 58 years old (1964) – Drummer, backing vocals (Hootie & the Blowfish)
Fred Coury – 55 years old (1967) – Drummer (Cinderella)
Snoop Dogg – 51 years old (1971) – Rapper, actor ("Starsky and Hutch")
John Krasinski – 43 years old (1979) – Actor (TV's "The Office", movies "It's Complicated", "Something Borrowed", "License to Wed")
TODAY IS:
Get to Know Your Customers Day
International Credit Union Day
International Day of the Air Traffic Controller
National Chicken and Waffles Day
National Get Smart About Credit Day
For additional information check out websites like: www.on-this-day.com, www.born-today.com, www.famousbirthdays.com, www.daysoftheyear.com, and www.nationaldaycalendar.com.