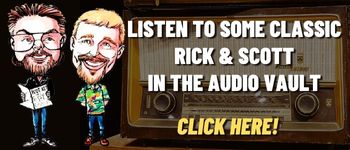 A quick look at Today in History, check out some Celebrity Birthdays, and find out what Days of the Year to celebrate.
TODAY IN HISTORY:
1814 – The first plastic surgery took place in England.
1908 – The Village of Kent City, MI was incorporated.
1910 – Blanche S. Scott became the first woman to make a public solo airplane flight in the United States.
1915 – The first U.S. championship horseshoe tournament was held in Kellerton, IA.
1915 – More than 25,000 women marched on Fifth Avenue in New York, NY, to demand the right to vote.
1929 – After a steady decline in stock market prices since a peak in September, the New York Stock Exchange began to show signs of panic.
1930 – In Chattanooga, TN, J.K. Scott won the nation's first miniature golf tournament.
1941 – Walt Disney's animated movie "Dumbo" was released.
1956 – NBC broadcast the first videotape recording. A tape of Jonathan Winters was seen coast to coast in the U.S.
1965 – The last steam operating locomotive in Michigan (owned by the Canadian National Railroad) traveled from Durand to Detroit on its final run.
1973 – President Richard M. Nixon agreed to turn over subpoenaed audio tapes of his Oval Office conversations.
1978 – CBS Records raised the price of vinyl records by one dollar to $8.98.
1987 – The Senate rejected the nomination of Robert Bork to the Supreme Court by a vote of 58-42.
1988 – The video game "Super Mario Bros. 3" was released.
1996 – The wrongful death suit of O.J. Simpson went to trial in Santa Monica, CA. (Simpson was found liable in the deaths of his ex-wife Nicole and Ronald Goldman.)
1999 – During a training flight, Harrison Ford crash-landed his helicopter about 60 miles outside of Los Angeles, CA. No one was injured.
2000 – The Fox TV show "Boston Public" premiered. "Every day is a fight. For respect. For dignity. For sanity." The show ran until January of 2004.
2001 – NASA's Mars Odyssey spacecraft began orbiting Mars. In 2010, it became the longest-operating spacecraft ever sent to Mars.
2001 – A 2.9 magnitude earthquake was centered near Prairie Lake, MI — north of Albion, in Calhoun County.
2001 – Apple Computers introduced their portable music digital player called the iPod.
2004 – Ashlee Simpson made an infamous lip-syncing gaffe on TV's "Saturday Night Live". A technical snafu caught her off mic when "Pieces of Me," complete with vocals, began playing. She ran offstage after a half-hearted jig and later blamed the goof on her band and then on her "acid reflux."
2012 – The twenty-third James Bond film, "Skyfall ", premiered in theaters, starring Daniel Craig in the lead role. The movie made over a billion dollars at the box office.
BIRTHDAYS:
Pelé – 82 years old (1940) – Soccer player
Dwight Yoakam – 66 years old (1956) – Musician, actor ("Crank", "Panic Room", "South of Heaven West of Hell", "Sling Blade")
Sam Raimi – 63 years old (1959) – Director, actor ("Evil Dead", "Spider-Man", "Darkman", "Oz the Great and Powerful", "Drag Me to Hell"). Born in Royal Oak, MI.
"Weird Al" Yankovic – 63 years old (1959) – Singer
Roberto Trujillo – 58 years old (1964) – Bassist (Metallica)
Al Leiter – 57 years old (1965) – Baseball player, sportscaster
Jimmy Wayne – 50 years old (1972) – Country Singer
Ryan Reynolds – 46 years old (1976) – Actor ("Green Lantern", "X-Men Origins: Wolverine", "Definitely, Maybe", "Chaos Theory", "Smokin' Aces", "Blade: Trinity", "Van Wilder", TV's "Two Guys and a Girl")
Cat Deely – 46 years old (1976) – TV host (TV's "So You Think You Can Dance")
Masiela Lusha – 37 years old (1985) – Actress ("Blood: The Last Vampire", TV's "George Lopez")
Emilia Clarke – 36 years old (1986) – Actress ("Game of Thrones")
Jessica Stroup – 36 years old (1986) – Actress (TV's "90210", movies "Prom Night", "The Hills Have Eyes II")
TODAY IS:
International Snow Leopard Day
National TV Talk Show Host Day
Swallows Depart from San Juan Capistrano Day
For additional information check out websites like: www.on-this-day.com, www.born-today.com, www.famousbirthdays.com, www.daysoftheyear.com, and www.nationaldaycalendar.com.