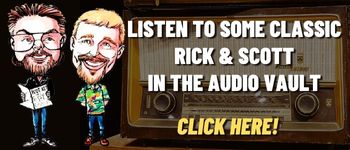 A quick look at Today in History, check out some Celebrity Birthdays, and find out what Days of the Year to celebrate.
TODAY IN HISTORY:
1774 – The First Continental Congress of the United States adjourned in Philadelphia, PA.
1825 – The Erie Canal opened in upstate New York. The 363-mile canal connected Lake Erie and the Hudson River. The cost to build the canal was $7,602,000.
1854 – Charles William Post was born. He was the inventor of "Grape Nuts," "Postum" and "Post Toasties" cereals.
1858 – The rotary motion washing machine was patented by H.E. Smith
1861 – The Pony Express officially ceased operations.
1881 – The "Gunfight at the OK Corral" took place in Tombstone, AZ. The fight was between Wyatt Earp, his two brothers and Doc Holiday and the Ike Clanton Gang.
1936 – The first electric generator at Hoover Dam went into full operation.
1949 – President Harry Truman raised the minimum wage from 40 to 75 cents an hour.
1958 – Pan American Airways flew its first Boeing 707 jetliner from New York, NY to Paris, France.
1965 – The Beatles were made members of the Most Excellent Order of the British Empire in a ceremony at Buckingham Palace presided over by Queen Elizabeth
1970 – "Doonesbury", the comic strip by Gary Trudeau, premiered in 28 newspapers across the U.S. Mel Lazarus's "Momma" also debuted on this day.
1977 – The experimental Space Shuttle Enterprise successfully landed at Edwards Air Force Base in California.
1980 – The video arcade game "Pacman" was released in the United States. It was originally going to be called "Puck Man".
1981 – The song "Under Pressure", by Queen and David Bowie, was released.
1984 – The movie "The Terminator", starring Arnold Schwarzenegger, debuted in theaters.
1984 – "Baby Fae" was given the heart of baboon after being born with a severe heart defect. She lived for 21 days with the animal heart.
1988 – Two whales were freed by Soviet and American icebreakers. The whales had been trapped for nearly 3 weeks in an Arctic ice pack.
1990 – Wayne Gretzky became the first NHL player to reach 2,000 points.
1991 – Former Washington Mayor Marion Barry arrived at a federal correctional institution in Petersburg, VA, to begin serving a six-month sentence for cocaine possession.
1992 – General Motors Corp. Chairman Robert Stempel resigned after the company recorded its highest losses in history.
1996 – Federal prosecutors cleared Richard Jewell as a suspect in the Olympic park bombing.
1998 – A U.S. federal judge refused to issue an injunction against the sale of MP3 players. The device is used to play music downloaded from the Internet. The Recording Industry Association of America had brought the case to court.
2001 – The United States passed the U.S.A. Patriot Act into law.
2001 – It was announced that Fort Worth's Lockheed Martin won a defense contract for $200 billion over 40 years. The contract, for the "joint strike fighter," was the largest defense contract in history.
2010 – Charlie Sheen trashed a New York hotel room in a fit of rage and had to be removed by police. A porn star (and reputed call girl) was discovered locked in the bathroom. Sheen was not charged.
2012 – Microsoft released Windows 8 and made it available on new PCs.
2015 – Daniel Craig's fourth James Bond film, "Spectre", premiered in theaters.
BIRTHDAYS:
Jaclyn Smith – 78 years old (1945) – Actress (TV's "Charlie's Angels")
Keith Hopwood – 77 years old (1946) – Singer, guitarist (Herman's Hermits)
Pat Sajak – 77 years old (1946) – TV host (TV's "Wheel of Fortune", "The Pat Sajak Show")
Hillary Rodham Clinton – 76 years old (1947) – Former First Lady of the United States (1993-2001), U.S. Senator from New York (2001-2009), 67th United States Secretary of State (2009-2013), Democratic Party's nominee for President of the United States (2016).
Keith Strickland – 70 years old (1953) – Drummer, guitarist, keyboardist, singer (B-52's)
Lauren Tewes – 70 years old (1953) – Actress (TV's "The Love Boat")
D.W. Moffett – 69 years old (1954) – Actor (TV's "Friday Night Lights")
James Pickens Jr. – 69 years old (1954) – Actor (TV's "Grey's Anatomy", "The X-Files")
Rita Wilson – 67 years old (1956) – Actress ("Sleepless in Seattle", "Mixed Nuts", "Runaway Bride", "Auto Focus", "Jingle All the Way")
Dylan McDermott – 62 years old (1961) – Actor (TV's "The Practice," "Dark Blue", "American Horror Story")
Cary Elwes – 61 years old (1962) – Actor ("Twister", "Rudyard Kipling's The Jungle Book", "Robin Hood: Men in Tights", "Saw", "The Princess Bride")
Thomas Cavanagh – 60 years old (1963) – Actor (TV's "Ed")
Natalie Merchant – 60 years old (1963) – Singer (10,000 Maniacs)
Keith Urban – 56 years old (1967) – Singer
Rosemarie DeWitt – 52 years old (1971) – Actress (TV's "The United States of Tara", "Standoff")
Anthony Rapp – 52 years old (1971) – Actor ("Rent")
Seth MacFarlane – 50 years old (1973) – Writer, producer (TV's "Family Guy", "American Dad", "The Cleveland Show", movies "Ted", "A Million Ways to Die in the West")
Jon Heder – 46 years old (1977) – Actor ("Napoleon Dynamite", "Blades of Glory", "School for Scoundrels", "Just Like Heaven")
Sasha Cohen – 39 years old (1984) – Olympic Figure skater
TODAY IS:
National Chicken Fried Steak Day
National Financial Crime Fighter Day
For additional information check out websites like: www.on-this-day.com, www.born-today.com, www.famousbirthdays.com, www.daysoftheyear.com, and www.nationaldaycalendar.com.