I was looking through some computer files the other day and found a few audio clips I did not realized I had!
Typically I don't have a lot of audio from the "Rick, Darla and Scott" days at 'KLQ or 'GRD. There were not many inexpensive ways to archive audio back then, so unfortunately, not much of that stuff was ever kept. But, I did find a handful of "classic" files the other day that included all three of us. To be honest, I'm not sure where these files came from. I don't think I ever transferred them over to a digital format, but I don't remember anyone sending me the files either. They were pretty big files so they probably were too big to email.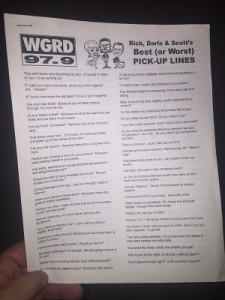 This clip is Rick's list of "Pick-up Lines". There was a time in 1994 or 1995 that we actually had a printed, 4-page list, of the "The Best (or Worst) Pick-Up Lines" that we made available to listeners at the front desk of the radio station. I bet we handed out thousands of these things. I just happened to look through my box of WGRD memorabilia and I found my copy! (Apparently I DON'T ever throw anything away…maybe I'm becoming a hoarder!). If you would like to see a copy of the list, I have scanned it into a PDF, you can view it by clicking here.
Here is the clip of what Rick considered "the best" of the list of "Pick-Up Lines" he found online. You be the judge…