April 22nd and it's still snowing! What an unbelievable year this has been so far. Here are today's "Random Thoughts"…
THE NUMBERS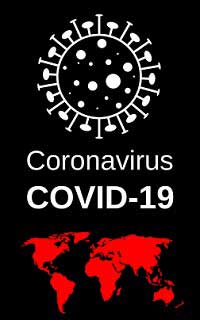 According to the website put together by the Michigan Department of Health and Human Services, as of Tuesday afternoon at 3 pm there are 32,967 confirmed cases of COVID-19 in the state of Michigan. That number jumped up by 967 in 24 hours.
Here in West Michigan, there are 626 confirmed cases in Kent County (up by 76), 160 in Muskegon (up by 11), 129 in Ottawa (up by 10), 47 in Allegan (up by 5), 26 in Barry County (no change), 26 in Montcalm (no change), 26 in Ionia County (up by 3), and ten in Newaygo County (up by 3).
We have had a total of 2,700 deaths in our state due to COVID-19 (an increase of 232). We have had 25 deaths in Kent County (up by 1), ten in Muskegon County (up by 3), seven deaths in Ottawa County (no change), two deaths in Ionia County (no change), one death in Barry County (no change), and one death in Montcalm County (no change).
They are now also giving us the Cumulative Total of Recovered COVID-19 Cases. They will update this number every Saturday. As of April 18th, 3,237 have recovered from the virus.
There are now more than 2.5 million confirmed cases of the coronavirus worldwide, with more than 177,000 deaths. In the U.S., there are more than 825,000 confirmed cases, with more than 45,000 deaths.
Stay Home, Wash Your Hands, and Social Distance Yourself! Please stay healthy.
MORE CANCELLATIONS
A few more cancellations due to the Coronavirus…
The National Spelling Bee has now been cancelled. It will not be held this year. Also not happening as scheduled are Germany's Oktoberfest and Spain's Running of the Bulls.
A CORONAVIRUS DEATH
I have been saying for a few weeks now, that I have been fortunate not to know anyone who has tested positive, or died from, the Coronavirus.
Unfortunately, that changed yesterday.
If you listened to WKLQ back in the early 90's you may remember one of our air staff members named Darrin Arriens. I received word that he has died following a lengthy battle with complications stemming from COVID-19. He was 52.
After KLQ, Darrin had worked at programming stations across the country. He returned to the area in around 2008 to program WLAV.
I was just putting together a list of former KLQ personalities in hopes of putting together a reunion meeting via video — and Darrin's name was on that list.
You can read more about Darrin's career here.
THE GOVERNOR TAKES A PAY CUT — SHOULD WE BE IMPRESSED?
Our Governor Gretchen Whitmer announced the other day that she is taking a 10% pay cut due to the COVID-19 pandemic. Are you impressed?
I'm a numbers guy, so I ran the math on this to see just what this means for her.
The Governor in Michigan makes $159,300 a year. So a 10% pay could would take 15,930 off her salary.
At almost $160,000 she has the 15th highest salary of governors across the United States. The average pay for a governor is $144,046 (which is about what she will be making after her 10% pay cut).
How do other states around Michigan compare with salaries? The Governor of Illinois is not taking a salary, Indiana's Governor makes $121,331. Ohio pays their Governor $153,650 and in Wisconsin the Governor makes $152,756.
Let's break down Gov. Whitmer's salary a little more. She is losing $15,930 a year with  her pay cut. Per week that comes down to a $306.35 pay cut.
Now I don't know about you, but personally I am losing more than $306 dollars a week because of the situation. I don't make anywhere near what the Governor earns, but with Real Estate being deemed a "non-essential" business, I am losing about 2/3rds of my monthly income. Way more than her $1,225.40 monthly pay cut.
I also know others that have lost their jobs completely or just can't work. They are losing probably even more than I am. So for someone who has lost all or more than half of their income — should we be impressed by her 10% pay reduction which comes down to just over $300 a week?
If she really wants to impress me, take a pay cut at a similar percentage rate that the rest of us are having to deal with. Now I know one could argue there is unemployment benefits, but many are frustrated by that whole process and haven't seen a dime yet. Also, people with more than one job (like me), probably won't get much in unemployment if they still have some income coming in. People like me will just have to deal with a 65% cut in pay per month. Or dear Governor, do what the Governor of Illinois is doing and don't take a salary. Or, follow the example of our former Governor Rick Snyder who only took a $1 yearly salary.
BEST OF TIMES
It's sometimes weird how when you listen to the lyrics of songs from the past, they really sum up what is happening in our every day life.
Such is the case for the Styx song "Best of Times".
The lyrics say:
"I know you feel these are the worst of times
I do believe it's true
When people lock their doors and hide inside"
Dennis DeYoung recently performed the song from his home…
He still has the voice!
HOW WE ALL FEEL SOME DAYS
Sometimes we just need to get out and let loose of our frustration!
Maybe we need to find a mud puddle or two to jump in…
EARTH DAY
Today is the 50th anniversary of the very first Earth Day.
Normally I could say "Go Plant a Tree" to celebrate, but not this year. That is not allowed.
Have a WONDERFUL Wednesday. I will be on the air today — local and live — from 3-7 pm on 98.7 WFGR. At 4:30 pm, I'll have your next chance to win $1,000 Social Distance Dollars and also get registered to win the Grand Prize of $10,000! Listen for details. And, it's a "One Hit Wonder" Wednesday. I'll be playing some of your favorite "One Hit Wonders"!
If you have any comments on the above stories, please leave your remarks below…