The rain can stop now. I liked the weather more on Tuesday afternoon…sunny and warm. Can we at least have that while we are stuck at home? Here are today's "Random Thoughts"…
THE NUMBERS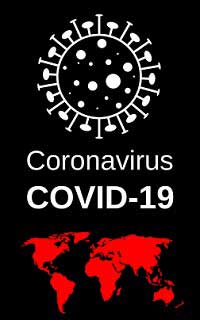 According to the website put together by the Michigan Department of Health and Human Services, as of Tuesday afternoon at 3 pm there are 39,262 confirmed cases of COVID-19 in the state of Michigan. That number jumped up by 1,052 in 24 hours.
Here in West Michigan, there are 1,305 confirmed cases in Kent County (up by 205), 242 in Muskegon (up by 8), 210 in Ottawa (up by 19), 84 in Allegan (up by 12), 53 in Ionia County (up by 6), 37 in Montcalm (up by 5), 31 in Barry County (no change), and 16 in Newaygo County (up by 2).
Why such a big jump yesterday in Kent County? According to the Kent County Health Department it is because of additional testing. The more tests the administer, the higher the changes of larger amounts of positive cases.
We have had a total of 3,567 deaths in our state due to COVID-19 (an increase of 160). We have had 33 deaths in Kent County (no change), 15 in Muskegon County (up by 2), nine deaths in Ottawa County (no change), two deaths in Ionia County (no change), one death in Allegan County (no change), one death in Barry County (no change), and one death in Montcalm County (no change).
They are now also giving us the Cumulative Total of Recovered COVID-19 Cases. They will update this number every Saturday. As of April 25th, 8,342 have recovered from the virus.
There are now more than 3.1 million confirmed cases of coronavirus worldwide, with more than 217,000 deaths. In the U.S. there are now more than 1 million confirmed cases with more than 58,300 deaths.
The latest we have on percentages from WDIV TV in Detroit: These results lag by a few days, but on Sunday, April 26th, the results of 5,330 tests came back with 564 confirmed as positive. That's 10.5% of the tests that came back positive. The previous day, Saturday, April 25th, 12.9% of the tests came back positive. That means we have seen a drop of 2.4% in cases testing positive in just a day. Those numbers are down overall from the peak in April of 41.8% on the 4th of the month.
Stay Home, Wash Your Hands, and Social Distance Yourself! Please stay healthy.
UNEMPLOYMENT — WHAT A JOKE
Like many of you, I too am frustrated with our unemployment system.
Our Governor, Gretchen Whitmer, deemed that real estate is a non-essential business back in March.  That makes it almost impossible for realtors to do their job here in the state of Michigan.
Because of that, I have lost about 66% (or 2/3rds) of my monthly income.
So, like the rest of you that have lost your job and paycheck, I decided to file for unemployment to help me get through financially during this time.
I was finally able to get through on the Michigan.gov/uia website yesterday. I took about 45 minutes filling everything out.
I am in a unique situation because I do have some other "part time" income coming in.
After the determination for the amount of unemployment I am eligible for, minus whatever I will be bringing home, I am pretty much breaking even as far as any unemployment dollars.
So, I've taken a 66% reduction in pay since the last week of March and my unemployment benefits will amount to about $245 from that point to today. That's $49 a week! They think THAT is going to replace my 2/3rds loss in pay?
I would actually do better if I quit my part time work and just collected unemployment. I've heard of others in this same situation.
I just don't think it is right to have to subtract the income from my part time jobs from my unemployment money. I had that part time income prior to March 23rd. Why should that money now count AGAINST my income?
So, after wasting my time to file, now I received notification that I have to fill out paperwork for every pay period back to October of 2018. (That will take a while to figure out. I don't even have those pay stubs anymore — I throw them out at the end of the year when I get my W-2s. I never figured I'd need a weekly breakdown of income again.)
Yes, I'm frustrated, but I guess I just have to be grateful for the almost $50 a week I'm getting to help me get by. And don't worry, I can survive on my savings, but it just sucks that you save that money and now it just dwindles down because of something you have no control over.
A CAT FIGHT LIVE ON LOCAL TV!
Many reporters, anchors, and meteorologists are now working from home.
I love seeing WOOD TV's Chief Meteorologist Bill Steffen broadcasting from his "Man Cave" every afternoon.
Bill makes it a ritual to go around and change things in the background to keep it interesting…
A few days ago, Bill's cats stole the spotlight when they got into a fight on live TV. You can actually hear them growling at each other…
No word on which cat won, or if there will be a rematch in the near future!
ROOM RATER
During this time when everyone is broadcasting from home, someone from Twitter has decided to rate the homes of people we see on TV!
The Room Rater critiques what they see in the background and then rates the room on a scale from 1-10.
Recently they rated WOOD TV's Rick Albin's room at an 8 out of 10, with the remarks:  "Love the columns, depth, stairs. Just enough color/art."
Love the columns, depth, stairs. Just enough color/art. 8/10 @RickAlbinWoodTV pic.twitter.com/iBBwopjfVE

— Room Rater (@ratemyskyperoom) April 29, 2020
You can check out the rest of the ratings here.
Have a WONDERFUL Wednesday! I will be on the air this afternoon — local and live — from 3-7 pm on 98.7 WFGR. At 4:30 pm, I'll have your next chance to win $1,000 Social Distance Dollars and also get registered to win the Grand Prize of $10,000! Listen for details. Plus, today is "One Hit Wonder Wednesday"! We will dig into our music collection and play a few One Hit Wonders!
If you have any comments on the above stories, please leave your remarks below…