"Random Thoughts" for Tuesday, August 11th, 2020
It's been a few days! I wasn't  I wasn't around a computer over the weekend, and then on Monday it was a busy day…doing two air shifts on two different radio stations (mornings on 100.5 The River and afternoons on 98.7 WFGR), plus working in some real estate in the remaining hours of the day. I've got a lot stored up, so here are today's "Random Thoughts"…
WEEKEND HIKING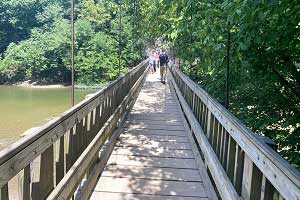 I love the trails we have for hiking in our great state of Michigan, but from time to time it's nice to get away and see what other states have to offer.
Over the weekend I went south to Indiana to check out some trails. I know,  you think Indiana and you think flat land with lots of corn fields. However, if you get to mid or southern Indiana, the terrain does start to change just a bit.
Over the years I have seen pictures of some trails I've wanted to check out. They were at the Turkey Run State Park, located not too far from Terre Haute, IN.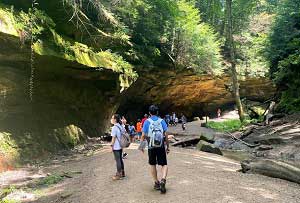 You could easily spend a couple of days checking out all the trails. I was able to do about maybe one-third of them on Saturday. What great trails and scenery.
The trails go from "Easy" to "Very Rugged" and range in length from .5 miles to 3 miles.
A walk into one of the ravines takes you on a trip through time. The sandstone gorges represent 600 to 300 million years of nature's handiwork.
To get to many hiking trails you need to cross the suspension bridge over Sugar Creek.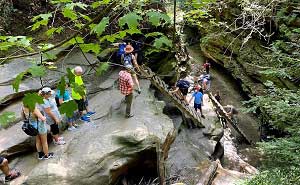 The official Turkey Run State Park website describes the hiking trails as "Deep canyons nestled in the shadows of sandstone cliffs and peaceful hemlock groves harbor some of the most ruggedly beautiful hiking trails in the state. "
It's about a five hour drive down to Turkey Run, but if you are ever looking for some cool hiking trails to check out…it's worth the drive. I will go back again to finish the trails I didn't have a chance to do over the weekend. Maybe I'll see you there!
LOOK TO THE SKY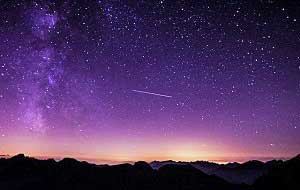 Every year about this time we get a chance to see the Perseid Meteor Shower.
The earth is entering a stream of debris from giant comet 109P/Swift-Tuttle, the source of the annual Perseid meteor shower. Sky watchers are already seeing some of the most beautiful fireballs of the year.
The meteor shower is expected to peak during the next 3 days, Aug. 11th-13th. The best time to look to the sky is the hours before sunrise when the constellation Perseus is high in the sky.
For tonight it looks like skies will be clear, which should make for great viewing of the Perseid Meteor Showers.
You can increase your chances of seeing more meteors by getting away from light pollution. Get away from the city and try to find a place without much light.
If you feel like making a road trip, there are 12 Michigan dark-sky spots that you can check out. Read more about the Perseid Meteor Showers and the dark-sky spots here.
ANOTHER VISIT FROM "WOODY"
I have a couple of pileated woodpeckers that are hanging around my house and eating at my suet feeder.
I've caught them on my security cameras many times and have shared those videos.
Over the last couple of days I've noticed one of my cameras slowly is changing position. I've figured out why…
Apparently he didn't like the positioning of the camera for his close up shot!
NEVER TAKE YOUR LAPTOP TO A NUDE BEACH
Here's why…
If you want to enjoy some naked time at the beach…stay away from wild boars, and leave the laptop at home.
WHAT'S IT CALLED?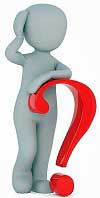 There are many things that we use, or see, every day that we have no idea what they are called. Most of those things actually have names, although we have never learned those names.
The armhole in  your clothes, where the sleeves are sewn, has a name. Do you know what it is called?
I'll have the answer below at the end of this blog…
TODAY IS…
Today is Play in the Sand Day.
I guess that means a trip to the beach! Just leave your clothes on, and your laptop at home!
A LOOK BACK
On this date in 1992, the Mall of America opened in Bloomington, MN. It was the largest shopping mall in the United States.
Is it a mall or is it an amusement park?
Find out what else has happened on August 11th.
WRAPPING UP
I hope you have a TERRIFIC Tuesday! I will be on the air this afternoon — local and live — from 3-7 pm on 98.7 WFGR! I'll talk to you then!
The answer to the question above: The armhole in clothes, where the sleeve is sewn, are called an "armscye".
If you have any comments on the above stories, please leave your remarks below…