"Random Thoughts" for Thursday, August 20th, 2020
The heat returns! It's been nice with the cooler temperatures the last couple of days, but we will be back up into the 80s and not much chance of rain. How crunchy and brown is  your lawn getting?
Here are my "Random Thoughts" for Thursday…
SUCH A CLASSY LADY
I was saddened by the news that the founder of Blandford Nature Center, Mary Jane Dockery, has passed away at the age of 93.
I first met Mary Jane as an elementary school student on a field trip to the nature center. Even as a  young child, I admired the passion she had for creating and running Blandford Nature Center.
That passion continued throughout her life. Even after she retired back in 1990, you would still often find her at Blandford Nature Center.
Her death was announced on the Blandford Nature Center's Facebook page on Wednesday…
Read more about Mary Jane Dockery here.
A NOT SO CLASSY WOMAN
I am still amazed at this video.
While preparing for her virtual speech at the Democratic National Convention earlier this week, Michigan Governor Gretchen Whitmer decided it would be a good time to use a term that is very offensive to many. She said she did it as a joke. She was live from the UAW Hall in Lansing. While waiting to deliver her address, she said, 'It's not just Shark Week, it's Shark Week…" and then she mouthed a word that rhymes with "brothertruckers", which was barely audible.
Here is the video.
Gov. Whitmer (D-MI) jokes before going live: "It's not just Shark Week … it's Shark Week *mouths expletive*" pic.twitter.com/KSndbTvLZi

— The Recount (@therecount) August 18, 2020
So professional and lady like…NOT! Even I don't use that term, but she's our Governor!
MINTS AND MASKS DON'T MIX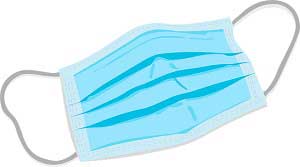 Reports are coming from people complaining of eye irritation, tearing, and eye discomfort. These problems are related to minty lip balms or even gum and breath mints while wearing a mask. According to doctors, the peppermint oil or menthol, depending on the product, will get trapped under the mask in a concentrated amount and migrate toward the eyes, causing irritation. When mint can dissipate in the open air, it's no big deal, but when it's concentrated under your mask and makes its way to the delicate eye area through the space between your nose and the top of the mask it can result in red, irritated, itchy, and watery eyes.
So skip the minty stuff when you're wearing a mask.
CHOCOLATE RAIN
If it's going to rain, it might as well be chocolate rain!
It sounds like a scene from "Willy Wonka", but residents of a town in Switzerland were shocked earlier this week when it suddenly started raining chocolate outside.
A ventilation system at a nearby Lindt chocolate factory malfunctioned and started blowing cocoa powder all over town, leaving a brown dusting on the ground and on cars. The company insisted that the cocoa dust posed no health risks to residents and offered to pay for any cleanup. The ventilation system was eventually fixed and production resumed.
TODAY IS…
Today is National Radio Day.
It was on this date in 1920 that the first commercial radio station, 8MK (now WWJ), began operations in Detroit, MI. The radio station claimed they were the the first radio station in the world to broadcast regularly scheduled programs.
You can celebrate by listening to me from 3-7 pm this afternoon on 98.7 WFGR!
A LOOK BACK
On this date in 2016, tornadoes hit parts of Wyoming and Grand Rapids, MI.
Find out what else has happened on August 20th.
WRAPPING UP
I hope you have a TREMENDOUS Thursday! I will be on the air this afternoon — local and live — from 3-7 pm on 98.7 WFGR! Please join me!
If you have any comments on the above stories, please leave your remarks below…