It's Thursday! It was a snowy start this morning.  Here are my "Random Thoughts"…
"YOU MIGHT BE A HAZARD IF…"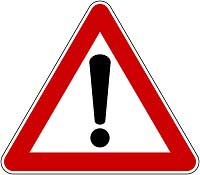 For years we have all heard Jeff Foxworthy's "You Might Be a Redneck" jokes.
He originally came up with the idea for those jokes while performing at a bowling alley that had valet parking — right here in the state of Michigan! You can read and hear more about that on WFGR's website.
This morning, I had a 7:30 meeting in Grand Rapids. Never knowing what the traffic is going to be like, I hit the road at about 6:45 am to make sure I had enough time.
On may way into Grand Rapids I encountered many drivers who — even though they didn't realize it — were a hazard to the drivers around them. Every time I saw another bad driver, I kept hearing Jeff Foxworthy in my mind with a new line of jokes… "You Might Be A Hazard on the Road If…"
You Might Be A Hazard on the Road If…
…You are driving 45 and the rest of the traffic is going 70.
…The traffic in the right lane is moving faster than you are driving in the left lane.
…You spend more time looking at the screen on  your phone than looking at the road ahead of you.
…You are getting onto the freeway and are only going 25 on the on-ramp when merging into traffic going 70.
…You are applying your make-up
…You are driving with your hazard lights on just because it's snowing.
…The snow blowing off your car is creating whiteout conditions for the people behind  you.
…You are driving your semi the same speed as the truck next to you, and both are going 50 on the freeway.
And that was just on my drive in from Cedar Springs to Grand Rapids. I can only imagine how long the list would have been if I needed to drive even farther!
VALENTINE'S DAY BOUQUETS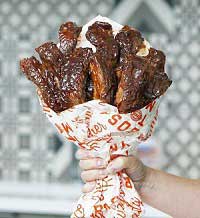 Nothing says "I Love You" more on Valentine's Day (which is this Friday, February 14th), that a nice bouquet…of Baby Back Ribs!
Yes, you read that correctly! Boston Market is making a bouquet out of its Baby Back Ribs. The limited-edition arrangement will only be available on February 14, but you will be able to find it at every Boston Market location across the country. The closest Boston Market to Grand Rapids is in Holland, so you'll have to make a road trip and figure out how you are going to keep that bouquet warm until you deliver it to your sweetheart!
If Baby Back Ribs just aren't your thing, how about a Breadstick Bouquet from Olive Garden!
After introducing the gift last year, a limited supply will be available in-restaurant at all Olive Garden locations starting today, February 13th.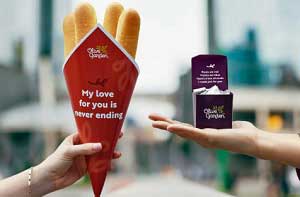 Customers can also buy a special after-dinner mint box with a surprise love poem for their significant other:
"Roses are red
Violets are blue
Here's a box of mints
I made just for you"
Both the bouquet and the mint boxes are included in Olive Garden's Valentine's Day To-Go Dinner for Two. The special features three courses starting at $34.99.
Along with the breadsticks and mint boxes, each dinner will consist of soup or salad, five cheese marinara or alfredo sauce, sharable five-cheese ziti al forno or chicken alfredo for the entree, and a sharable black tie mouse cake or tiramisu for dessert.
PLEASE DON'T DO THIS ON AN AIRPLANE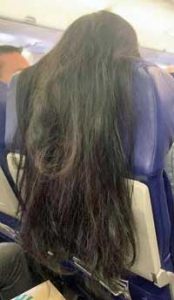 While scrolling through Facebook yesterday, I saw a picture that was posted of an annoying passenger on an airplane.
The woman had longer hair and apparently thought it best if she flung her hair over the seat!
Please don't do this! Nobody wants  your hair in their face or blocking their tray table. That is just gross.
Apparently it is something that happens on a pretty regular basis. I did a Google Image Search for "Hair Over Airplane Seat" and was shocked at all the different photos.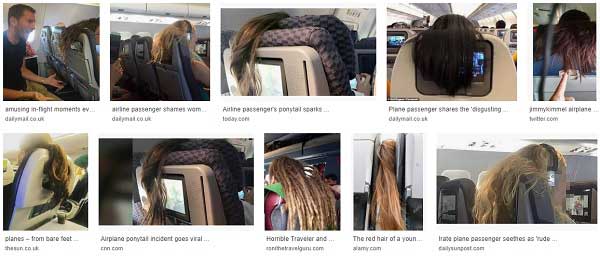 This is almost as bad as the time I had to sit next to a woman who took her shoes off and then crossed her legs. Her bare foot kept rubbing up against my bare knee and leg (I had shorts on). I don't know where those feet have been! She never did get the hint, every time I jerked my leg away, for her to stop doing that!
TODAY IS RADIO DAY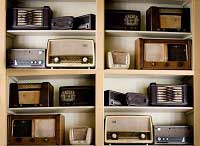 If you need something to celebrate today…it is Radio Day.
According to the Days of the Year website here is how to celebrate…
"Radio Day is a great opportunity to remember all those years we spent travelling with Walkman, and enjoying the best and newest music broadcast from your local radio station. Set aside your CD's and MP3 players, and remember when you discovered new music by what they played on the radio. Dig out that old boom box and drag it down to your local beach or park to reconnect to your local radio community, and remember what the world was like before whatever music we wanted was at our fingertips.
Maybe you'll find we're better for it, or maybe you'll realize that the news broadcasts kept you in touch with your community, the voice of local celebrities accompanying you and bringing a hometown feel to your morning commute, your lunchtime break, or even your road trip."
Enjoy your Thursday! I'll talk to you this afternoon from 3-7 pm, local and live, on 98.7 WFGR and we can celebrate "Radio Day" together!
If you have any comments on the above stories, please leave your remarks below…