Happy Fat Tuesday. I have more "Random Thoughts"…
IT IS FAT TUESDAY!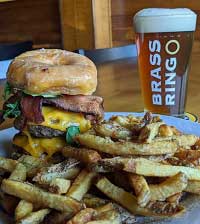 Did you know that "Mardi Gras" is French for "Fat Tuesday"? Fat Tuesday came about as the practice of the last night of eating rich, fatty foods before the ritual Lenten sacrifices and fasting of the Lenten season. So eat up!
It's also the time you see Pączki in the stores. I love those things!
A local brewery has gone a step further with Pączki and Fat Tuesday…How about a hamburger made with Pączki instead of a hamburger bun? It sounds delicious. I wish I had time to go get one.
Through today only, Brass Ring Brewing in Alger Heights is offering up this delight. They are also celebrating Fat Tuesday with a New Orleans-inspired menu and jazz band. Seating starts at 6 pm and the event will be held from 7-9 pm. Tickets are $12. Get more info here.
FREE PANCAKES ON NATIONAL PANCAKE DAY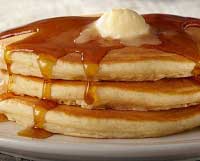 Not only is it "Fat Tuesday", but it is also National Pancake Day. What better way to celebrate than with free pancakes.
And…you will be helping out a great cause while you enjoy your pancakes!
IHOP is hosting Free Pancake Day across the country, including seven West Michigan locations, and collecting donations for Children's Miracle Network Hospitals, Shriners Hospitals for Children and the Leukemia & Lymphoma Society.
The celebration runs until 7 pm tonight. Get one free short stack of buttermilk pancakes per guest! Dine-in only.
See how I did that?! I've planned your entire menu for the day. Pancakes for lunch and a Pączki burger for dinner on this "Fat Tuesday"!
RULES ARE FOR OTHER PEOPLE…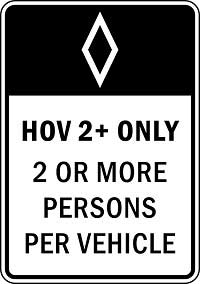 While traveling last week I was amazed at how so many people ignore traffic rules.
I was in a few different cities that had a HOV or a high-occupancy vehicle lane. These are lanes (usually the far left lane) that are set apart to encourage people to carpool. The lane is only to be used by those with two or more people in the vehicle…no single drivers.
Me and my friend kept checking as these cars drove by us in the HOV lane to see if there was more than one person in the car. About 50% of the time it was just a single driver. And this was during the times the HOV lane was scheduled to be enforced.
Now I guess these drivers could have had children in car seats in the back of the car that we couldn't see — but I highly doubt it. Even so, every other car breaking the law seems a little high to me. Apparently the HOV lane rule isn't enforced that much and people just do what they want.
I also noticed many semi truck drivers in the left lane driving right by the sign that clearly stated "NO TRUCKS IN THE LEFT LANE".
It's appears very clear to me now that "rules are for other people"!
MOM UPDATE
Many of you have asked about how my mother, Gloria, is doing with her cancer battle.
She had her second round of chemotherapy early last week.
She shared this on her Facebook page last week: "Just want to thank all my my precious family, my dear sweet husband , Church Family and Facebook friends for all your prayers, cards and loving thoughts as I continue my cancer journey. I had my second chemo treatment yesterday and all went well. I could not make it through this without all your prayers and support. They are all very much appreciated. Blessings to you all."
Also a big THANK YOU to Beautiful You by Profile. I can not say enough good things about this organization.
The mission of Beautiful You is to provide support, comfort, confidence and joy during the difficult time of cancer treatment. Beautiful You by Profile opens its doors the second Monday of each month and dedicates this day to provide complimentary salon services to women and children undergoing cancer treatment. Beautiful You offers full services on this day, including haircuts, scalp treatments, spa services and cosmetics.
The desire at Beautiful You is to nurture the wellness of their clients, the whole person: physically, mentally, and spiritually. They want people to come into the salon as clients and leave as friends.
My mother had her first visit there a week or so ago and she was so happy after her visit. It really boosted her spirits.
That's it for now. Enjoy your "Fat Tuesday"! I will talk to you this afternoon from 3-7 pm, local and live, on 98.7 WFGR.
If you have any comments on the above stories, please leave your remarks below…